Top 5 Pizzelle Makers
Top 5 Pizzelle Makers: Ideas for Baking Homemade Pizzelles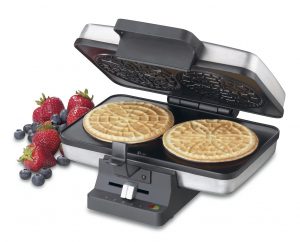 The Pizzelle is Italy's oldest cookie. But even though it is an Italian biscuit, many people from different parts of the world love it. Because of pizzeles' global popularity, most coffee shops have it on their menu. Are you among those who love pizzelles especially with a cup of coffee or tea? If you are, you should have a pizzelle maker home. This way, you need not go out of your way to get a pack of your favorite thin cookies. Don't worry! With our Top 5 Pizzelle Makers here, you'll find the best pizzelle maker that suits your needs and preference.
In our past Top 5 lists, we always prioritize price in our ranking. In our Top 5 Pizzelle Makers, quality and uniqueness are our top priorities. We already picked the 5 best machines to help you decide easily which one's ideal for your home, your family and fondness to hosting get-togethers. Read on and choose the one that interests you the most in our Top 5 Pizzelle Makers list.
No. 1: Piccolo Pizzelle Baker
The Piccolo Pizzelle Baker is our No. 1 best pizzelle baker because of its uniqueness. It is designed for your children's tea party or your afternoon snacks with friends and loved ones. Unlike the other conventional pizzelle makers that can bake only 1 or 2 cookies at a time, this one lets you bake 4 smaller pieces at a time. That's why it's ideal for making pizzelles for your kids because they can eat as much as they want as the cookies are bite-sized. Many parents buy this to guarantee they are serving their kids healthy and light snacks every day.
The Piccolo Pizzelle Baker is the best especially if you or anyone you know cannot finish a piece of a regular waffle but still loves the taste of it so much. Because it is lightweight at 4 pounds and has steam guard to protect the hand, you can bond with your child or any kid you love to spend time with in the kitchen without any worries about safety.  When preparing to bake the mini thin waffles, you can already ask everyone at home how they want their pizzelle done. Indeed, this best-performing baker can make crisp, chewy, hard or soft cookies. For just below $50 to spend, you can already serve small pieces of pizzelle generously be it on an ordinary day or special occasion.
See: Full Review of the Piccolo Pizzelle Baker.
The Piccolo Pizzelle Baker is readily available on Amazon:
No. 2: Chef's Choice Pizzelle Pro Express Bake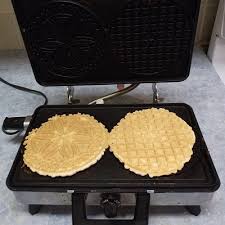 We're ranking the Chef's Choice Pizzelle Pro Express Bake 2nd in our Top 5 Pizzelle Makers because of its high rating on Amazon. It wouldn't be getting a high 4.8/5-star rating if it does not perform excellently. This machine can make two pizzelles at a time in just less than 30 seconds. And since this machine bakes the thin cookies fast, it can make many pieces to please more tummies at home. With this equipment, you can make pizzelles a la chef. It produces even heat for perfect results. If you are a cannoli-loving person, you're sure to love this fast baker too.
The Chef's Choice Pizzelle Pro Express Bake has nonstick baking surface to ensure instant heating. This means that, the machine is always ready to bake pizzelles. You don't need to wait for a long time for heating. Because of its instant temperature recovery, you can pour in the pizzelle mix any second to bake. For only about $45, you can already serve the famous Italian cookies at home as if they are bought from the store.
See: Full Review of the Chef's Choice Pizzelle Pro Express Bake.
You can easily get the Chef's Choice Pizzelle Pro Express Bake on Amazon:

No. 3: CucinaPro Non-Sticke Pizzelle Maker
The CucinaPro Non-Stick Pizzelle Maker is yet another one of the highest-rated in pizzelle makers available in the market today. It comes in at number three on our list of Top 5 Pizzelle Makers. It has an impressive 4.7/5-star rating on Amazon. Because of this almost perfect grade, you are guaranteed of a high-quality product. If you prefer waffle-tasting yet crispy and cookies, this one's for you.
This kitchen gadget can bake two 5-inched pizzelle at a time. The said size is so ideal for anyone who prefers bite-sized cones for their ice cream, yogurt or crepe filling. The steam guard of this pizzelle maker functions as protector for your hands from heat. You don't even need a dishwasher to clean this highly-rated pizzelle machine. You can actually clean it through hand-wash. Aside from the taste, kids love to eat pizzelle cookies baked in this maker because of the artistic design. This is what pizzelle makers are known for—to create beautifully designed pizzelles!
What makes the CucinaPro Non-Stick Pizzelle Maker unique is its ability to make thin waffles according to the eaters' preference. A piece of pizzelle can be hard and crisp. It can be soft and chewy too. And you can achieve your desired crispness depending the ingredients you use and instructions you follow during the preparation. Pizzelle is famously known as the oldest cookie in Italy. Therefore, owning this is like having a vintage appliance in the kitchen. Owning such an antique kitchen item for just around $50 with free shipping, is undeniably a good deal for you.
See: Full Review of the CucinaPro Non-Stick Pizzelle Maker.
You can easily order the CucinaPro Non-Stick Pizzelle Maker on Amazon:
No. 4: Cuisinart Pizzelle Press
The Cuisinart Pizzelle Press is a perfect must-have for light yet nutritional snacks. It is a highly rated product on Amazon with a 4.5/5-star rating. If you're a busy person and you still prefer pizzelle for easy breakfast, this one's for you. This pizzelle press can bake 2 pizzelle cookies at the same time. And since it is easy to use, you can easily bake this artistically designed waffle and consume it instantly with filling or plain. It comes with measuring spoon for accuracy and a rolling dowel to make the all-time favorite cannoli.
For only around $50, the Cuisinart Pizzelle Press inspires anyone who wants to learn to bake pizzelle perfectly. It makes thin and crispy cookies instantly. The 2-light indicator is easy to operate. And, to achieve the perfect crispness, this thin-waffle baker can be operated with 5 different browning levels. If you are a first-time waffle baker, you don't need to worry about unsuccessful results. The nonstick plates of this pizzelle press let you take away the warm pizzelle minus breaking them. Therefore, baked pizzelle can be rolled to make cones or cannolis. This kitchen gadget is so easy to clean. All it takes is a damp cloth to wipe the surface and storing once cooled.
See: Full Review of the Cuisinart Pizzelle Press.
You can easily buy the Cuisinart Pizzelle Press on Amazon Today:
No. 5: VillaWare Prego Nonstick Pizzelle Baker
The VillaWare Prego Nonstick Pizzelle Baker is one of the bestsellers on Amazon today and rounds out our list of Top 5 Pizzelle Makers. It has a 4.6/5-star rating on the popular site. This is your best time to consider this machine especially if you are thinking of buying it as a gift for a special woman in your life. This electronic gadget can bake 2 5-inched Italian cookies at a time. Therefore, your recipient will surely be amazed that this baker can make pizzelles in just 30 seconds!
The VillaWare Nonstick Pizzelle Baker features Xylan nonstick grids for easy handling. The automatic thermostat serves as the indicator when the pizzelles are ready. This way, you or your recipient, won't have a hard time determining whether the pizzelles are ready for serving or more time is needed to add crispness. Your hands are guaranteed protected by this professional baker's steam guard feature. It may be a little more expensive at a little over $360, but it's certainly just a one-time cost for many decades of baking benefits. Even though this kitchen equipment is a little heavy at 6 pounds, it stands upright so as not to eat too much space in the kitchen.
See: Full Review of the VillaWare Nonstick Pizzelle Baker.
Purchase the VillaWare Nonstick Pizzelle Baker on Amazon Today:

Tags: best pizzelle makers, easy-cleaning pizzelle makers, electric pizzelle makers, high-quality pizzelle makers, ideal pizzelle makers, inexpensive pizzelle makers, pizzelle makers, reasonably-priced pizzelle makers, Top 5 Pizzelle makers, user-friendly pizzelle makers


Categorised in: pizzelle maker, Top 5