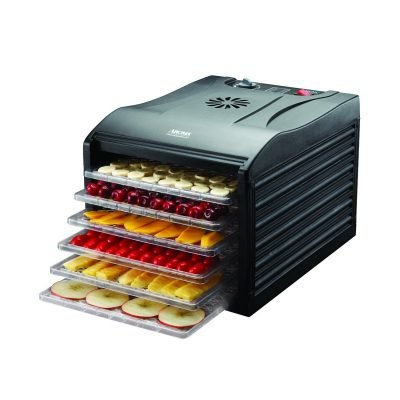 Are you looking for a top-quality food dehydrator that's capable of dehydrating large amounts of food in a short time? Then this one from Aroma Housewares should be at the top of your list.
Read our buying guide packed with information to help you decide if it's the right choice for you.
Aroma Housewares Food Dehydrator Review
The Aroma Housewares Food Dehydrator is one of today's most innovative food dehydrators. One can operate it by just a touch at the button. And since it is digital, it is easier to control and manage the food dehydration process.
Very Easy to Use
This product is so ideal for the millennial homemakers because of its one-touch feature. If the conventional dehydrator takes days to completely dry foods, with this one, you only need hours to take away the food moisture.
Reasonably Priced
At such a reasonable cost, one gets to own a highly-technological kitchen appliance for food preservation. This has large capacity so one can dehydrate foods in ample amounts. What makes this product special is its automatic fan to equally dry the food.
Adjustable Temperature Setting
The user can also adjust the thermostat according to his desire. And, above all, it is easy to handle and manage this food dehydrator especially that it comes with a drip tray to collect all the residues from the drying procedure.
Where Can I Buy It?
The Aroma Housewares Food Dehydrator is available on Amazon. Check for the lowest prices now:

The Specs:
18 x 13 x 12 inches
7 pounds
Includes six trays
With innovative digital control
Adjustable thermostat
With drip tray for residue collection
Ideal for the health conscious
Trays are adjustable
Spacious trays
People that Like the Aroma Housewares Food Dehydrator are Saying:
"It dehydrates quickly. The jerky was done in eight hours, even the pieces on parchment. I just turned those once. Kale took 2-3 hours."
"I received mine on Wednesday and have been using it every day since then. I do lots of backpacking trips and love to prepare dehydrated meals for that. You can also do all kinds of fruit and fruit leather for snacks."
"The design is excellent. You don't have to un-stack the trays to add or remove them like you do with circular ones. The whole door lifts off and you have easy access."
"I like this dehydrator a lot. I use it for toasting sprouted nuts and seeds on a regular basis, and it does a fantastic job."
Aroma Housewares Food Dehydrator Review
Drawbacks of the Aroma Housewares Food Dehydrator:
A few complaints about the plastic smell
No timer to set
Durability might be compromised
Does not work efficiently with vegetables according to some
Compare Food Dehydrators
This one from Aroma Housewares in a top pick, but there are certainly other ones to consider. You can check them out here: The Best Food Dehydrators. Or, take a look at this handy comparison chart below:
The Takeaway on the Aroma Housewares Food Dehydrator:
Have you exhausted your savings much for your favorite dried foods? Then, try them homemade with an Aroma Housewares Food Dehydrator.
Can be Used for a Variety of Things
Here's something else you can do with this Amazon bestseller. You can also make a potpourri for your room's fragrance. You can eve make some to give as gifts to your loved ones. No need to buy dried herbs from the grocery too, as you can make some with the Aroma Housewares Food Dehydrator.
It's truly a versatile machine and is capable of making a huge variety of things.
Top-Quality Kitchen Appliance
See? Foods are not the only things you can dry with this top-of-the-line home appliance. This then, is convincing enough for you to opt for it.
Shop Now
Go, hit the button below and purchase the Aroma Housewares Food Dehydrator today.