Conair Cuisinart Bread Maker Review | Best Bread Machines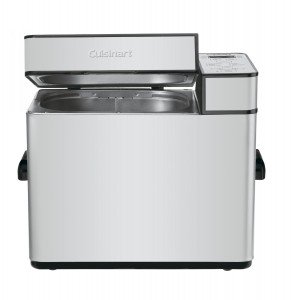 Conair Cuisinart Bread Maker Review
Now, one can make home-made bread and serve it fresh to family and guests. It is more reasonable to spend for a bread maker than allow the health of your loved ones to be at risk. You don't need to be a culinary expert just to bake a loaf of bread or two.
All you need is the ever reliable Conair Cuisinart Bread Maker to make this happen. There may be lots of other similar bread machines out there, but this one is sure to help you make the freshest bread to serve on the table.
The Conair Cuisinart Bread Maker is a programmable kitchen machine with 12 different program menu choices you can choose from. Not only that, this kitchen equipment features 3 crust settings and a viewing window for you to see if the bread is almost baked.
For a busy mom who does multi-tasking at home, this bread-making machine has a delay-start timer that you can set to up to 13 hours of adjustment. What makes this product different from the others is that it has safe handles that will make the beginner baker feel more confident that she can be bake the most delicious (and even the healthiest) bread ever.
The Conair Cuisinart Bread Maker is now available on Amazon:


Compare Bread Machines
For all the options, be sure to check out: Top 5 Bread Machines. Or, take a look at our comparison chart below:
The Specs:
-Bakes up to 2 lb loaves
-With 12 program menu choices
-Free Shipping
-Large viewing window
-Stay-cool handles
-Includes measuring cup and measuring spoon

People that Like the Conair Cuisinart Bread Maker are Saying:
"A great product and the bread is outstanding."
"I've been very pleased with the texture of bread it makes."
"The delay option is easy and convenient if you are busy person like I am."
"The Cuisinart has lived up to my expectations. I have had it now for 10 months and have baked over 150 loaves and quite a few batches of dough for rolls."
Drawbacks of Conair Cuisinart Bread Maker
-The sound upon turning the machine on and when baking is loud
-Has the tendency to overcook the bread
-Some reports of easy-breaking bread pan
The Takeaway on the Conair Cuisinart Bread Maker
It is designed for the busy mother and homemaker with its 13-hour delay-start timer.
There may have been some negatives reported on this product. But that's what the 2- and 3-year-protection are offered for–to give the customers their money's worth! The negative feedback has almost no bearing because of the features this bread machine has.
You'll never go wrong with the 12-programme menu options that allow you to choose the bread you want to serve your loved ones. You don't have to worry either, about your safety in the kitchen as the Conair Cuisinart Bread Maker has stay-cool handles to protect your hands.
Never mind the negatives and imagine your family excitedly waiting for your newly baked breads! Go to the Amazon site and purchase the Conair Cuisinart Bread Maker today while it is still on sale.




Tags: bread maker, multi-functional bread maker


Categorised in: Bread Makers