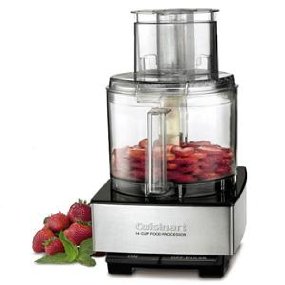 Are you looking for a top-quality food processor at a very reasonable price? Then you'll need to consider this one from Cuisinart. Read our buying guide packed with information to help you decide if it's the right one for you.
Cuisinart Food Processor Review
The Cuisinart Food Processor is a highly recommended kitchen item on Amazon today. Considered heavy-duty for cooking equipment, this product is ideal for large families and big parties. One can prepare generous servings of dishes, from appetizer to dessert with this one.
Large 14-Cup Capacity
The Cuisinart Food Processor features an extra-large feed tube, holding the whole vegetable or fruit. The 14-cup work bowl makes this food processing machine more efficient. No matter how big a family is, the whole household is sure to enjoy palatable meals anytime of the day. Some may find it quite expensive, but it is actually worth the money.
Various Processing Speeds
This state-of-the-art food processor is one of a kind. Its huge food capacity and processor speeds make one prepare dishes quickly and perfectly. This cooking companion is so ideal for everyday meals or special events.
Recipe Book Included
It can produce delicious foods for the whole family to share.  The processor comes with a recipe book too, for easy cooking even for the beginners.
Where Can I Get It?
The Cuisinart Food Processor is available on Amazon. Check now for the lowest prices on this kitchen appliance:

Compare Food Processors
Check out our Top 5 Food Processors article for even more options. Or, have a look at our comparison chart below:
The Specs:
8 pounds
6 x 13 x 9 inches
Has stainless-steel slicing and shredding disc
Chopping blade
14-cup work bowl
With intuitive 'on' and 'off/pulse' buttons
7 food preparation functions
One-touch operation
People that Like the Cuisinart Food Processor are Saying:
"It is everything that I expected it to be and more. It has a huge capacity and I use it almost every single day at my house!"
"This food processor has replaced so many other tools in my kitchen already, and I've only had it a couple of weeks! You'll be surprised like I was at all the things it can do for you which you would normally do manually."
"You can't beat it in the kitchen for just about anything you need to prepare. It's a massive time saver and I use it for so many things. Clean-up is quicker too than with some other devices."
"The Cuisinart handles all chores admirably with power to spare. Locks function simply and effectively, allowing quick, safe work without splatters."
Drawbacks of the Cuisinart Food Processor:
Pricey for some
Lower quality than expected for the price, according to some
Some issues with the ease of use
A few problems with the blade
The Takeaway on the Cuisinart Food Processor:
If your family loves to host parties, the Cuisinart Food Processor is a perfect must-have for you. The 14-cup work bowl processes generous servings of food. Certainly, the finished products of this excellent kitchen performer are cooked for both party and family meals. If you own this food processor, you are guaranteed to impress everyone you're serving the dishes to.
A Beast in the Kitchen
Be your own household's chef without taking up culinary courses! The Cuisinart Food Processor can do all things for perfect results. It mixes, slices, shreds, chops, kneads, purees, emulsifies, and mixes dough.
Magic in the Kitchen
Experience what it takes to be the family chef. Have this total performer food processor and make magic inside your kitchen. This is the appliance that you'll find an excuse to use! It really is that good.
Shop Now
Go to Amazon to buy the Cuisinart Food Processor today:

Have your Say about the Cuisinart Food Processor
What are your thoughts about this top-quality food processor from Cuisinart? Leave a comment below and let us know what you think.