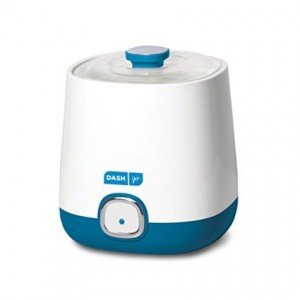 If you're looking to make a large quantity of delicious, creamy Greek Yogurt, you're in the right place! Be sure to read our quick guide to find out if the Dash Yogurt Maker is right for you.
Dash Bulk Yogurt Maker Review
The Dash Bulk Yogurt Maker is the perfect choice for a big family or institution looking to make large quantities of homemade yogurt at one time. This machine makes up to 1 quart per batch. Eat it with granola and fruit in the morning for a healthy, delicious breakfast. Or, in place of some sour cream on savoury things.
Better than Store-Bought Yogurt
Buying yogurt at the grocery store is very expensive! It's also quite unhealthy with all the sugar and chemical additives. It's easier than ever to make delicious, cheap yogurt at home in bulk with the Dash Yogurt Maker.
Dishwasher Safe Parts for Easy Clean Up
The Dash Bulk Yogurt Maker comes with all dishwasher safe parts to make clean-up really easy. It's small, weighing in at around 2 pounds so it'll make a lot of yogurt while not taking up a lot of space on the countertop. This yogurt machine has a 1-year warranty on Amazon.
There really isn't much not to love about this thing.
Where Can I Buy It?
You can easily get this top-rated yogurt maker on Amazon today:

Compare Yogurt Makers
For even more options, be sure to check out our Top 5 Yogurt Makers. Or, have a look at the chart below:

The Key Features: 
Large capacity (1 quart)
Specializes in making Greek yogurt
1-year warranty
Dishwasher safe parts
Weighs 2 pounds
Includes a recipe book
Dash Greek Yogurt Maker Review
People that Like the Dash Bulk Yogurt Maker are Saying: 
—>Read More Customer Reviews on Amazon<—
"An excellent value for the money. I love this machine! It does take a bit of work because it's not really automatic like some of the other machines. However, the process is actually quite easy and it does make delicious Greek yogurt"
"This machine is really good at keeping the yogurt at 100 degrees until you unplug it. We make a jug every few days and eat it with granola and berries for breakfast. I love knowing what's in my the food I'm eating, instead of all those chemicals like the stuff from the store."
"Thick, creamy yogurt. Yum! We use it on all sorts of food as a replacement for sour cream. It's healthy and also delicious!"
Tips and Tricks! Be sure to check out our flavoured homemade yogurt recipe ideas.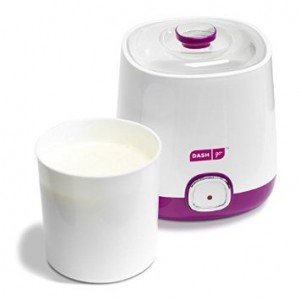 Dash Bulk Yogurt Maker Negatives: 
Not really a "yogurt maker." More of an "incubator."
Heats from the bottom, so some parts get hotter than others.
Not so easy to get perfect results every time.
Container lid doesn't stay on easily for storing the yogurt in the fridge.
The Takeaway on the Dash Bulk Yogurt Maker
If you're looking for a yogurt maker that is capable of making large quantities (1 quart) of yogurt at a single time, look no further than the Dash Bulk Yogurt Maker. 
Very Affordably Priced
Reasonably priced on Amazon, it's an elegantly simple machine that keeps your mix at the perfect temperature. It's 1/2 to 1/3 the price of some of the fully automatic yogurt makers on the market today.
Do You Want to Go Bigger?
If you're looking for something a bit bigger, I suggest the Yogourmet Electric Yogurt Maker, because it's capable of making 2 quarts in a single batch. It just depends on the size of your family and how much yogurt you eat. Remember that homemade yogurt only last for 2-3 days in the fridge because it doesn't have all the preservatives in it.
Simple to Use
If you want a very simple, small, cheap machine that keeps your yogurt mix at the right temperature for as long as you want it, the Dash Bulk Yogurt Maker is a winner! It will do just that.
It does take a while to learn how to use it, but once you do? You'll have homemade yogurt for the rest of your life. This machine is extremely durable and has very few moving parts, which is a bonus as far as kitchen gadgets go.
Where Can I Get It?
You can easily get this product online. Shipping is often free with Amazon Prime:

Have your Say about this Bulk Greek Yogurt Maker
What do you think about this Yogurt Maker Review? Leave a comment below and let us know what you think.