If you're looking for a simple kitchen scale to accurately measure weights when cooking, this one from EatSmart should be at the top of your list. It's reasonably priced, has some excellent reviews and works well.
Read more to find out if it's right for you.
EatSmart Precision Pro Digital Scale Review
The EatSmart Precision Pro Digital Scale is the perfect tool for cooks and dieters looking to count calories of bake with precision. This scale measures in 1g intervals. Manufactured to the highest quality specifications, it' designed to be quick, accurate and easy to use.
11 Pound Capacity
It's capable of measuring up to 11 pounds in the following units: grams/ ounces/ pounds/ kilograms. One of the best features of this scale is the tare (zero) function which allows cooks to add ingredients without doing math on the fly.
Sale
EatSmart ESKS-01 Precision Pro Digital Kitchen Scale, Silver
Easy to use multifunction home scale - Perfect for cooks, dieters and families
Max weight 11lbs; Displays ounces/lbs/grams/kgs; Graduation .05 oz / 1 gram
Includes FREE EatSmart Calorie Factors guide - Portion control and calorie counting made easy!
Tare feature eliminates the weight of a plate; 3 Minute Auto-Shutoff lets you prepare ingredients...
2 AAA batteries included; 100% EatSmart Guaranteed Satisfaction
Very Reasonably Priced
The EatSmart Precision Pro Digital Scale is an economical choice. There's a 100% satisfaction guarantee from EatSmart and they also include a free calorie counting guide.
Order Yours Today
You can get this digital kitchen scale easily on Amazon. Click the button below to check for the lowest prices and also to see if this product is eligible for free shipping with a Prime membership:

Top 5 Food Scales
For all the options, be sure to check out our picks for the best food scales. Or, take a look at this comparison chart below:
Key Features: 
Measures up to 11 pounds in 4 units
Tare (zero) function
Flat surface for easy cleaning
3-minute auto shut-off
Includes a free calories counting guide
Excellent customer service from the company (they read the Amazon reviews and make it right if customers are unhappy)
People that Like the EatSmart Precision Pro Digital Scale are Saying
—>Read More Customer Reviews on Amazon<—
"I did a lot of holiday baking and used this kitchen scale with great results. It's very accurate, and also works well with small amounts of light things (baking soda and baking powder for example). Some of the other digital scales fluctuate and never really settle with very light weights."
"Exactly what I expected. Works well. I'm on a strict diet and use it to keep track of my food intake. It's simple, easy to use and just works well."
"Feels cheap and flimsy but has done well for a few months now. I'm pleasantly surprised that it's lasted longer than some of the very expensive kitchen scales I've used."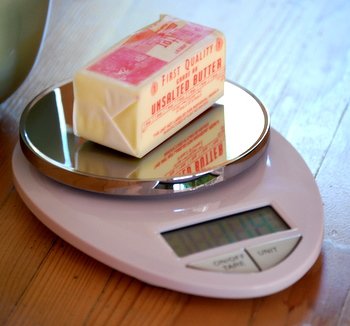 EatSmart Precision Pro Digital Scale Negatives: 
It's very small and not easy to see the readout if you use a large dinner plate.
The buttons are quite small and hard to depress.
Some reports that it came without batteries, despite saying that is does.
Eatsmart Kitchen Scale Review
The Takeaway on the EatSmart Precision Pro Digital Scale
The EatSmart Precision Pro Digital Scale is a nice looking scale in a small package that takes up very little space on a countertop. It's an economical choice for someone looking to count calories accurately and quickly. The tare button makes it a nice choice for bakers who want to zero the scale after adding each ingredient.
Easy to Use
One of the things we love best about this kitchen scale is how easy it is to use. There are very few buttons and menu options. This is actually a positive thing for a scale. They should be simple enough that even a 10 year old could figure it out in seconds.The Eatsmart digital scale certainly meets the bill.
Some Excellent Ratings and Reviews
If you take a look at the digital scales on Amazon, you'll find that many of them have less than 4.0/5 star overall ratings. There are lots of cheap pieces of junk out there! People have issues with durability, inaccurate weights, ease of use, etc.
This one from Eat Smart has a high overall ratings and a ton of satisfied customers. For the price? It's certainly a good value and is durable enough that it should last you for years.
Where to Buy It?
You can easily get this digital kitchen scale on Amazon. Shipping is often free with a Prime membership:

What Should I Look for When Buying a Digital Food Scale?
There are a number of factors that you'll want to think about when buying a digital scale like this one from Deco Brothers. Here are a few of the most important things.
Accuracy
When you buy a scale, you expect it to be accurate. However, you might be surprised to learn that not all of them can really be counted on, particularly for very light things. Check the reviews carefully if this is important to you and you'll often see this being mentioned if a particular scale is not that accurate.
Maximum and Minimum Weights
If you're using the scale to measure ingredients for a triple batch of cookies for example, then you're going to need a higher maximum weight capacity.
On the other hand, if you use it to weight out small amounts of herbs, then it's going to need to be very sensitive.
Whatever the case, be sure to check and see if the specific one you're considering will work well for your needs.
Easy to Use
The best ones have just a couple of buttons and are very simple to use. Seriously, some of them could be used perfectly by a 7 year old. These are the ones you want too!
Legible Display
We strongly prefer digital displays which give a more accurate reading, but they're also easier to see. This is particularly important if you're the type of person who regularly misplaces their reading glasses!
Price
Of course price is an important consideration with any product that you're thinking about buying. In our experience, many of the cheaper products in this category of kitchen appliances perform just as well as the more expensive options.
So, don't be scared to go cheaper for a kitchen scale.
Customer Reviews
Check the reviews online (on a website like this), or on Amazon for any product that you're considering buying. They'll give you an excellent picture of the pros and cons of a specific food scale.
In general, we find the 3-4 star reviews to be the most useful because you'll be able to get an accurate picture of the strengths and weaknesses of each product.
Easy To Clean
The best scales don't have nooks and crannies for food to get stuck in. There should just be a smooth surface, and of the options, we generally prefer stainless steel.
Durability 
A food scale should last for years, if not decades. Anything shorter than this (check reviews)? It may not be a great buy.
Battery Life
There should be battery saving features built-in, such as automatic shut-off. We also prefer scales that use AA or AAA batteries which most people generally have on hand at their houses and for which there are rechargeable options.
Have your Say about this Digital Kitchen Scale
What are your thoughts about the EatSmart Digital Kitchen scale? Leave a comment below and let us know what you think. Also be sure to share this article on Facebook, Twitter, or Pinterest.
Last update on 2019-08-17 / Affiliate links / Images from Amazon Product Advertising API