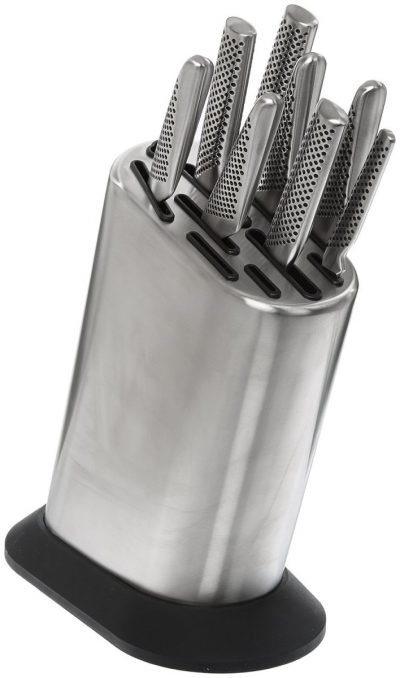 Are you looking for a top-quality, but affordable knife set for your home kitchen? Then this one should be at the top of your list. Read our buying guide packed with information to help you decide if it's the right one for you.
Global G-888/91ST - 9 Piece Knife Set with Block
Thin blades for precision slicing
Face-ground with long taper so edge remains sharp longer
Blades made of high-tech CROMOVA stainless steel
Light weight and perfect balance reduces hand fatigue
Stainless-steel handles are molded for comfort and dimpled for safe grip
Global 9-Piece Knife Set with Block Review
The Global 9-Piece Knife Set with Block among the knife sets with the highest rating on Amazon today. At a cheaper price, this set is already complete with all the knives you need for your food preparation.
Lightweight Stainless Steel
You can guarantee durability in this product as it is made of stainless steel. It is also light in weight so you can easily move it around your kitchen where you find it convenient to put and use. You need not be a good cook or have powerful hands to use the knives in this set. Each knife actually promises safe grip and easy handle.
Perfect for Beginning Cooks
Indeed, this kitchen set is very ideal for mothers with have daughters and sons who have just started to learn how to cook. Because this knife set is lightweight, it is easy to move it around where it is convenient for the family members to cook. And, with the easy grip features of each knife here, the beginner cook at home will be more confident to try new dishes for the whole family.
Where to Buy It?
The Global 9-Piece Knife Set with Block is available on Amazon. Check now for the best prices and also to see if this product is eligible for free shipping with a Prime membership:

Key Features:
14 x 2 x 1 inches
5 pounds
9-piece set
Long-lasting sharpness
Thin blades for excellent slicing
Lightweight for easy handling
Stainless steel knife material
Safe grip and soft handles
People that Like the Global 9-Piece Knife Set with Block are Saying:
"The knives work well and are SHARP! My old ones were dull and poor quality. The first time I cut into a spaghetti squash with the knife I thought I was dreaming."
"Global knives are amazing, and worth the cost! Not only is the design innovative, edgy and slick, the blades are the best! They hold and edge and cut smoothly!"
"These knives are so sharp that they remind me of my surgical blades I use for my operative cases. Japan is the king of knife technology."
"I love these knives they are so sharp and well balanced, highly recommended for anyone that spends much time in the kitchen."
Global Knife Set Review
The Takeaway on the Global 9-Piece Knife Set with Block:
Even the consumers have already attested how ideal the Global 9-Piece Knife Set with Block is for the kitchen. Since the product got an almost perfect rating from Amazon, you won't find a single negative remark from users about it. Meaning, owners of this highly rated kitchen tools set are undoubtedly satisfied with it.
Start Cooking at Home
What makes this cooking gadget an ideal fixture on the counter-top is that, it makes every beginner cook and wannabe feel confident in the kitchen. The ease of use of this product definitely makes cooking a favorite bonding activity between parent and child.
Shop Now
So, if you're a parent who wants to teach his son or daughter the art of food preparation and cooking, invest in this high-scorer now. Hit the button below to buy the Global 9-Piece Knife Set with Block:


What about a Chef's Knife?
If you're looking for just one single knife that can basically do it all, then you'll need to consider a Chef's knife. It's one of the most versatile tools that you can have in the kitchen.
Is it better than a knife set like this one? It really is a matter of personal preference and in reality, the choice is yours.
Here are some of our top picks, or check out this handy chart below:
Have your Say about this Knife Block Set
What are your thoughts about this 9-piece knife set? Is it a win, or are you considering another brand? Leave a comment below and let us know what you think. We'd love to hear from you.
Also be sure to give this article a share on Facebook, Twitter, or Pinterest. It'll help other home cooking enthusiasts, like yourself find this useful resource.
Last update on 2019-08-17 / Affiliate links / Images from Amazon Product Advertising API