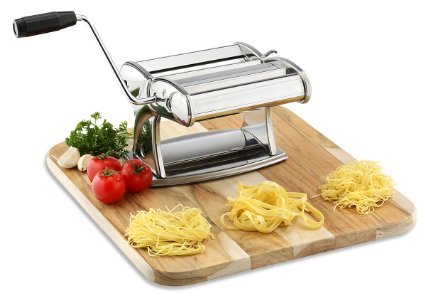 Do you want to make fresh, delicious pasta at home? Then you'll need to check out this popular pasta maker from G&M. Read our buying guide packed with information to help you decide if it's the right one for you.
G&M Professional Pasta Maker Machine Review
The G&M Professional Pasta Maker Machine is a top-quality pasta maker at a very reasonable price.  It's now easier than ever to make pasta at home. Save money and make delicious restaurant-quality meals in your own kitchen.
Top-Quality Construction
Why the G&M Professional Pasta Maker Machine over all the other ones? Because for the price, it has a ton of features that you'll love. There are 7 thicknesses, ranging from 0.5-3mm. It's made from top-quality stainless steel so it will last for decades with proper care.
Stainless Steel Pasta Maker Set - Manual Pasta Roller with Hand Crank by G&M Kitchen Essentials
MAKE FRESH PASTA AT HOME: You can make fresh pasta in the comfort of your own home without any...
DURABLE, RELIABLE, AND EASY TO CLEAN: Made from stainless steel with anodized aluminum blades....
SATISFACTION 100% GUARANTEED: Buy from G&M Kitchen Essentials with confidence. Your happiness with...
ADJUSTABLE PASTA ROLLERS FOR CUSTOM PASTA THICKNESS: Comes with 7 pre-set settings ranging from 0.5...
REAL FRESH PASTA TASTES BETTER: Getting that perfect al dente flavor and texture is a snap when you...
Wide Variety of Shapes
It's also easy to make a wide variety of pasta shapes with this machine, unlike some of the other ones where you have to buy separate attachments.
Where Can I Get It?
The G&M professional pasta maker machine is available for the lowest prices on Amazon. Don't forget to sign up for a Prime membership to get free shipping:

Compare Pasta Makers
Check out our Top 5 Pasta Makers. Or, have a look at our comparison chart below:
Key Features: 
Italian made
Can make a wide variety of noodle shapes
Heavy-duty construction of stainless steel
Easy to clean (includes a cleaning brush)
7 thickness settings
Recipe and instructions included
G&M Pasta Maker Review
Check out this short video below for all the details:
People that like the G&M Professional Pasta Maker Machine are Saying: 
"It's very sturdy and I'm sure it will last for years to come. My family really loves pasta and this machine makes some of the best we've ever tried."
"Easy to put together and my three year old can roll it out. Compared to some other pasta makers, the hand crank is way easier to turn on this one."
"Not too big like some of the other machines I've used in the past. It fits in a cupboard super easily when I'm not using it."
"Has a good weight to it so you can turn the handle without a lot of effort like some of the cheaper pasta machines I've used in the past. That said, I have my eye on the Philips pasta machine that you don't have to roll out at all!"
G&M Professional Pasta Maker Machine Negatives:
The crank does not lock into place and can slip out easily
Some black, greasy marks on the edge of the pasta for the first few times using the machine
The rollers on either side are perhaps not evenly spaced (The dough on one side is thicker than the other)
Not quite as durable or easy to use as the Marcato Atlas
The Takeaway on the G&M Professional Pasta Maker Machine
The G&M pasta maker is a good buy. It's well-made from heavy-duty materials and should last you decades with proper care (don't immerse in water!). It's easy to crank and the rubber feet keep this machine solid on the countertop. These two things alone make it worth a buy, as many other machines have complaints about these two specific things.
Shop Now
It has a high rating on Amazon and overall, very few negatives reviews or specific issues that are mentioned more than once. You can get the G&M Professional Pasta Maker Machine on Amazon today:

Have your Say about this Popular Hand Crank Pasta Maker
What are your thoughts about the G&M pasta maker? Leave a comment below and let us know what you think.
Also be sure to give this article a share on Facebook, Twitter, or Pinterest. It'll help other Italian food enthusiasts, like yourself find this useful resource.
Last update on 2019-09-15 / Affiliate links / Images from Amazon Product Advertising API