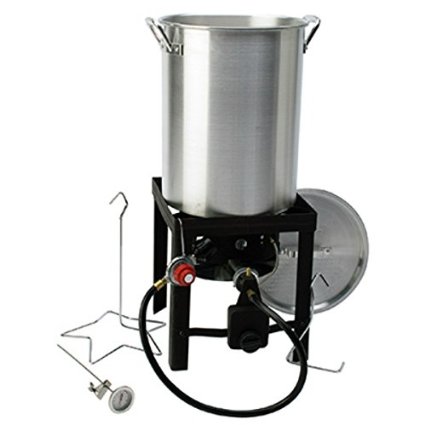 Are you looking for a very affordable turkey frying kit? Then you'll certainly want to consider this one from Kamp Kitchen. Read our buying guide packed with information to help you decide if it's the right turkey deep fryer for you.
Kamp Kitchen Turkey Fryer Review
The 30QT ALU Turkey Fryer is one of the most affordable turkey fryers available in the market today. Despite this, the product is also considered the sturdiest in this kind of cooking equipment. And since it is reasonably priced, many homemakers opt for this item for their everyday home cooking.
Makes Delicious Deep-Fried Turkey
Indeed, since this piece of cookware is made of aluminum which is a durable material, one can certainly use it frequently without compromising its condition. And not matter how old this turkey fryer becomes, it will remain producing high-quality and flavorful turkey.
Cast-Iron Burner
It has a cast iron burner for the even distribution of heat so this means excellent and perfect cooking. One needs not worry about accidentally burning his hands as this high-quality fryer has a heat-shield feature.
Where Can I Buy It?
The Kamp Kitchen Turkey Fryer Kit is available on Amazon:

The Specs for the Kamp Kitchen Deep Fryer:
13 x 13 x 19 inches
24 pounds
Made of aluminum
With heat protection feature
Timer control for accurate cooking
Compare Turkey Deep Fryers
Besides this one from Kamp Kitchen, there are a number of other options for turkey fryers. They're available in a variety of price ranges to suit any budget. Take a look at this handy comparison chart below:
People that Like the 30QT ALU Turkey Fryer are Saying:
"It's great. The turkey was perfect and my family is threatening me with all kinds of things if I don't do it again for the next holiday feast. And the price is very reasonable too."
"This fryer is perfect! This is just what my son wanted and he was so happy to get it for a gift! The stainless steel pots are better quality, but also far more expensive. For the price, I'm very happy with it."
"I love this thing. My family can't wait to get it out every holiday or special occasion! Thanksgiving changes from just the regular old thing to extra-special with a deep fried turkey."
Drawbacks of the 30QT ALU Turkey Fryer:
Complicated instructions according to some
Expensive for a few people for what it is
A few complaints of not being user-friendly
It takes a lot of oil to deep fry a turkey (consider the Char-Broil Big Easy for a healthier alternative)
Turkey Fryer Safety Tips
If you're going to deep fry anything, you'll want to keep safety in mind first of all. Check out some of the best turkey frying safety tips in this short video below:
The Takeaway on the 30QT ALU Turkey Fryer:
If you are sick and tired of frying from your old pan or deep fryer, now is the time to change it with something new. Don't just settle for a new frying pan. Opt for something more, instead, like, the 30QT ALU Turkey Fryer.
Safe Cooking Features
Aside from excellent cooking, you are guaranteed of protection with this product's aluminum pot with cover and handles. And aside from the burner and steel stand, this fryer also comes with a rack to safely secure your turkey before and after cooking. It doesn't matter if you have no turkey-frying experience yet.
Timer Included
This fryer's timer will help you come up with best result! Here's another bonus: It will be easier for you to clean this cooking equipment. With its oil drain spout, you are sure to effortlessly remove the oil after frying.
Get Your Turkey Deep Fryer Today
Fry turkey as if you are just frying pork chop and chicken and turn simple meals into special ones with this affordable turkey fryer. Go to the Amazon page to buy the 30QT ALU Turkey Fryer today.

Are there Higher Quality Fryers?
If you don't mind spending a bit more money on a turkey deep fryer, then you may want to consider a higher-quality one. It'll last you for longer, and clean-up is easier because the pot or cooking area isn't low-quality aluminum.
Some of the ones we recommend here are as follows:
Masterbuilt Butterball Electric Deep Fryer
Have your Say about the Kamp Kitchen Turkey Fryer
What are your thoughts about this outdoor deep frying kit? Is it the right one for you or do you have your eye on another brand? Leave a comment below and let us know what you think. We'd love to hear from you.
Also be sure to give this article a share on Facebook, Twitter, or Pinterest. It'll help other turkey deep frying enthusiasts find this useful resource.