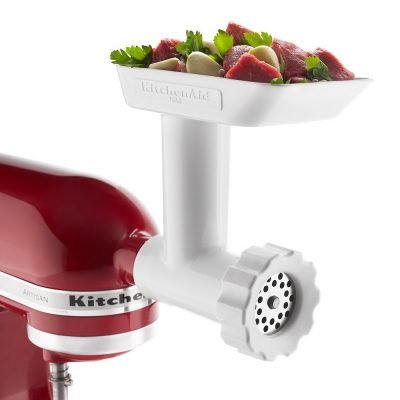 Are you looking for a top-of-the-line food grinder at a very reasonable price? Then this one from KitchenAid should be at the top of your list. Read our buying guide packed with information to help you decide if it's right for you.
KitchenAid Food Grinder Review
The KitchenAid Food Grinder is one of today's bestselling meat grinders available. It has impressive features that make one feel confident when preparing food in the kitchen. Certainly, this food preparation machine requires no expertise to come up with fresh and clean ground meat.
Easy to Use
It is easy to operate and it so convenient to clean, too. What's god about this electric grinder is that, it does not cost that much so any homemaker, even those on a tight budget, can undoubtedly afford it.
Sale
KitchenAid FGA Food Grinder Attachment
Powered by your KitchenAid Stand Mixer. Fits all Household KitchenAid Stand Mixers. (Grinder not...
Fine Plate to grind meats and dried breads.
Coarse Plate to grind firm fruits, vegetables and cheeses.
Grinder attachment greatly expands a stand mixer's flexiblity
Ideal for grinding meats, grating cheese, making bread crumbs and combining dips, salsas, spreads
Reasonably Priced
The better news about this cost-oriented electric grinder is that, it has an attachment that lets the user make homemade pasta, too. Truly worthy to spend for because a homemaker doesn't need to spend more and buy a pasta maker to make her own version of spaghetti noodles.
But, please note that you will require a KitchenAid Stand Mixer to use this meat grinder. Of course, if you already have one of those, this can be a very economical purchase!
Where Can I Get It?
The KitchenAid Food Grinder is available on Amazon. Check now for the lowest prices, and don't forget to sign up for a Prime membership because you can often get free shipping along with your order:

The Specs:
4 x 7 x 7 inches
3 oz.
Comes with a grinding plate to grind raw meats
Ideal for making bread crumbs and grinding hard cheese, too
Compatible with any KitchenAid mixer with stand
Comes in set of knife, housing, securing wring, wrench, and fine and course grinding plates
Also functions as stand mixer attachment
People that Like the KitchenAid Food Grinder are Saying:
—>Read More Customer Reviews and Ratings on Amazon<—
"I've used this attachment more times than I ever thought I would. I've used it to prepare food items for my family as well as for crowds as large as 200 and it has rolled through it without complaint."
"I love my meat grinder and have not any problems with it. After I slice the meat into strips, I partially freeze the meat before grinding it."
"This food grinder's "knife" is double the thickness of the one that broke and the whole unit is robust."
"I was impressed that the unit could handle the semi-frozen meat fed continuously without hangup or overheating, and it only required ONE grinding to obtain terrific results."
Drawbacks of the KitchenAid Food Grinder:
A few complaints about difficulty in cleaning
Very small food tray according to some
Some issues with the plastic material affecting quality and durability
Not worth the price according to some
KitchenAid Meat Grinder Review
The Takeaway on the KitchenAid Food Grinder:
If your family loves to eat a lot, you should not run out of new dishes to offer them. Consider having the KitchenAid Food Grinder at home. With this one in the kitchen, you can do anything and everything for the whole family that no one will ever want to go out and eat at a fancy restaurant anymore.
Cook More at Home
Why spend much for restaurant foods when you can prepare the same (or even better) quality on the table? Isn't it nice to eat spaghetti with both the noodles and ground meat both processed in this branded electric grinder?
Makes a Variety of Foods
If you're a busy mom, don't let your schedule hinder you from serving your loved ones homemade burgers, pastas, sausages and meatloaf.  This heavy duty grinder is so easy to use and clean. In fact, most parts of this machine are dishwasher safe.
The Perfect Attachment to your KitchenAid Mixer
And, if you have a KitchenAid mixer with stand, this grinder is a perfect attachment to it too, to make more of your specialties. So, what are you waiting for? Visit the Amazon Page to buy the KitchenAid Food Grinder today:


Factors to Consider When Choosing a Meat Grinder
There are a number of things you'll want to consider when choosing the meat grinder that's right for you. Here are just a few of the most important ones.
Price
You can find meat grinders at a range of price points. In our experience, the most expensive ones aren't really necessary for most home cooks and you can get away with spending a far more reasonable amount.
That said, the more expensive ones may have some extra features that you want such as dishwasher safe parts, or a ton of grinding power.
Grinding Power
If you plan to grind meat, then you'll want a unit with lots of power. It's usually measured in watts, or horsepower and the higher the number, the more power the machine has.
Durability
Take a look at what the appliance is made of. Things like stainless steel are more durable than plastic parts.
Check out the blade as well. Both carbon steel and stainless steel are a good choice. However, carbon steel requires a bit more care, although it is a little bit sharper.
How Easy it it to Use
Are there various speeds? This can sometimes be a nice feature, but we often find that it's not really strictly necessary in many cases, depending on what you plan to use it for. Besides that, is there a reverse function in case something gets stuck? This can be super convenient and save a ton of time.
Cleaning
Is the meat grinder dishwasher safe? And, is it easy to take apart and put back together. Are there any parts that need to be oiled regularly, and is some oil included?
Warranty
At minimum, you'll want to get a meat grinder with at least a 1 year warranty. Something like a 30 or 60 day money-back guarantee is a nice bonus as well so that you can return it after using it if you're not happy.
Compare Food Grinders
If you're looking for a top quality meat grinder, then there are a number of top options besides this KitchenAid one. This is especially helpful if you don't happen to have a Kitchen Aid Mixer already because you can just buy one thing, instead of two.
You can find them in a wide variety of price points, and of course, the more money you spend, the more features you can get. You can get everything from automatic burger makers to sausage makers. Learn more here: The Best Meat Grinders.
Or, check out this comparison chart below with some of our top picks:
Have your Say about the KitchenAid Food Grinder
What are your thoughts about this top-quality food or meat grinder? Is it the right one for you, or are you considering another option? Leave a comment below and let us know what you think. We'd love to hear from you.
Also be sure to give this article a share on Facebook, Twitter, or Pinterest. It'll help other home cooks, like yourself who love homemade burgers or sausages find this useful resource.
Last update on 2019-10-16 / Affiliate links / Images from Amazon Product Advertising API