Are you looking for the ultimate wedding or Christmas gift for that foodie or wine lover that you know? Then this electric wine opener from Oster should be at the top of your list. Read our buying guide packed with information to help you decide if it's right for you.
Oster Cordless Electric Wine Bottle Opener Review
Did a friend invite you to his or her wedding but you are hesitant to attend because you cannot afford to buy the marrying couple a gift? Don't feel bad because we have a brilliant yet practical gift idea for you. Give the pair an Oster Cordless Electric Wine Bottle Opener.
Very Reasonably Priced
This is very affordable and yet it is very functional. The newlyweds will surely love this as a great addition to their kitchen tools. It is lightweight, so easy to operate and it opens a wine bottle at an instant!
Perfect for a Wedding Gift
You definitely won't regret buying the Oster Cordless Electric Wine Bottle Opener for a wedding gift for the special couple. It is the #1 Bestseller in Amazon's Lighter Gifts and Starter Kits category.
Easy to Use
Imagine shelling out a very small amount for a cordless electric wine bottle opener. Isn't it exciting? This kitchen gadget has a foil cutter to so the user can easily remove the seals.  Not only that. Your recipients are sure to find this bottle opener so convenient to use with its soft-grip handle.
Where to Buy It?
The Oster Cordless Electric Wine Bottle Opener is available on Amazon:


The Specs:
6 x 15 x 5 inches
1 pound
Runs on electricity
Opens wine bottle in seconds
One-touch operation
With foil cutter for easy unsealing
Cordless
Sleek design
Can open up to 30 bottles
Rechargeable base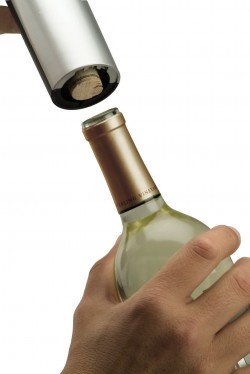 People that Like the Oster Cordless Electric Wine Bottle Opener are Saying:
"Bought this thing just to see how it would do and I have been very pleased with it. It works great every time, even on those older bottles with really stick corks."
"Over all I'm pretty happy with the purchase, despite the quirks of the unit. It does take a couple of bottles to hang of lining this up properly."
"I really liked this opener. It worked really well and looked pretty sleek. It's a great idea for a gift, or for someone who likes to drink wine but has some hands problems like arthritis. I bought one for my grandma and she uses it all the time."
Drawbacks of the Oster Cordless Electric Wine Bottle Opener:
Produces some noise when in use
Space consuming according to some (check out this smaller one: compact wine opener)
Quite difficult for the aged people to use as it may be difficult to handle
A few complaints about not getting their money's worth
Oster Electric Wine Opener Review
The Takeaway on the Oster Cordless Electric Wine Bottle Opener:
Price Disclaimer
Now, who says you must have a lot of money to attend a wedding and buy the marrying couple a special gift? With the Oster Cordless Electric Wine Bottle Opener, you can make your present very special without having to spend much.
One Touch Operation
There's no need to exert extra effort when opening a bottle of wine with this handy opener. Since it is an electric gadget, operating it is just one touch of the button. Any user will find total convenience when using this product. It guarantees to totally remove the cork smoothly.
Easy to Use
Stop that hesitation and say 'yes' to your friend's invitation. With this user-friendly kitchen item, your receivers are sure to feel special and loved.
Shop Now
Go to the Amazon page to buy the Oster Cordless Electric Wine Bottle Opener today:


Have your Say about this Top-Quality Wine Opener
What do you think about the Oster electric wine opener? Leave a comment below and let us know what you think.
Also be sure to give this article a share on Facebook, Twitter, or Pinterest.