OxGord Electric Wine Opener Review
Do you always break the cork each time you open a wine bottle? Does it take too much effort before you get to enjoy some red or white wine? If your answer to both is YES, then, it's high time that you buy the OxGord Electric Wine Opener.
This guarantees you convenience and ease of use especially when there's a special occasion at home. You can open many bottles of wine with just one opener at an instant. And the best news about this product is that, you don't need an ample amount to own it.
This is one of the cheapest wine openers you can find today. And, at such a low cost, you will witness a high-quality and multi-functional kitchen tool. With its one-touch operation, you don't have to exert too much effort opening a wine bottle. You won't have to worry either, about leaving a cork stocked and broken on the bottle's opening.
The OxGord Electric Wine Opener is available on Amazon:


The Specs:
11 x 5 x 3 inches
2 oz.
Stainless steel material
Features automatic corkscrew
Comes with a foil remover
One-touch operation
Does not break the cork
People that Like the OxGord Electric Wine Opener are Saying:
"This product works great. The foil remover is also pretty handy and had the top bit of foil removed after a second or two."
"I love this wine opener! My wine opener just broke and I needed a new one."
"WELL it is sooooo easy!! I just placed it on the top of my wine bottle and pressed the button…. that is it! NO broken corks or muscles used with opening my wine bottles! How did I live without this for so long?"
"This thing is cool. We have been throwing around the idea of getting an electric wine opener and I just so happened to have the opportunity to come across this one."
Drawbacks of the OxGord Electric Wine Opener:
Doesn't open quickly according to some
A few complaints about now worth their money
Might need extra effort to completely pull the cork
Not for those who prefer the manual opener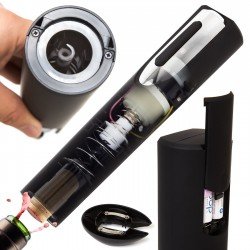 The Takeaway on the OxGord Electric Wine Opener:
If you want an effortless wine bottle opener, opt for the OxGord Electric Wine Opener. It is battery-operated so expect an easy, fast and effortless bottle-opening from it. With this affordable kitchen gadget, you will longer experience sore hands and broken corks.
Plus, you can even store and preserve the wine at its best flavor because of the high quality and flawless functions. Don't let muscle pain and arthritis hinder you from opening a wine bottle and having a glass of wine with your loved one.
This is one of the easiest to use wine openers you can find. All you have to do is remove the foil or wax with this tool's foil cutter, place the opener on the cork and press the rotation button.
There's no way for you not to get satisfied with this top-of-the-line kitchen item. You get a 100-percent money back guarantee if the product appears untrue with its descriptions and functions committed.
This special offer is on top of the 2-Year Warranty you get to make sure this opener meets all your expectations. You can enjoy this kitchen must-have not just for your own use but for others' too. Indeed, it is best to give this away as an 'any-occasion' present.
Go to the Amazon page for your purchase of the OxGord Electric Wine Opener: