Panasonic Rice Cooker & Multi-Cooker SR-G06FGL, 3-Cup (Uncooked) with One-Step Automatic Cooking,...
Makes 6 Cups of Freshly Cooked Rice and Other Foods: This Panasonic rice cooker prepares up to 3...
One-Step Automatic Cooking: Simple, one-step operation with the push of a button; Includes automatic...
Durable Non-Stick Coated Aluminum Pan: The resilient, non-stick aluminum-coated inner pan is...
Glass Lid with Plastic White Knob: A tempered see-through glass lid with plastic knob lets you...
Included Accessories: A measuring cup and rice scoop are included for easy cooking and serving
Are you looking for a top-quality rice cooker that also comes at an affordable price? Then the Panasonic rice maker should be at the top of your list. Read our buying guide packed with information to help you decide if it's right for you.
Panasonic Automatic Rice Cooker Review
The Panasonic Automatic Rice Cooker is one of the most affordable rice cookers available today. It is compact and so ideal for couples and solo-living individuals. Since it cooks about two to three (uncooked) rice maximum, this rice cooker doesn't leave any room for spoilage.
Can Cook all Kinds of Rice
One can cook rice just enough for him or a companion to finish. Not only does a regular rice eater will enjoy this. Even the Japanese food lovers will be happy with this kitchen gadget because of its ability to cook sticky rice for sushi. Or, brown rice for the health conscious.
Easy to Use
Featuring a one-touch function, this highly-rated cooker automatically cooks rice. It shuts off by itself when the rice is fully cooked. One needs no expertise to perfect this carb dish.
No Need to Measure
All it takes is one press at the button and he is good to go. There's no need to worry about the accurate measurement of water either. This automatic rice cooker comes with a measuring cup for perfect cooking.
Where Can I Buy It?
The Panasonic Automatic Rice Cooker is available on Amazon. Don't forget to see if this kitchen appliance is eligible for free shipping along with an Amazon Prime membership:

The Specs:
9 x 9 x 7
2.6 pounds
Cooks up to 3 cups of (uncooked) rice
Clear glass for easy viewing
Comes with a measuring cup and rice scoop
Can also cook sticky rice for sushi
One-touch button for automatic rice-cooking
Panasonic Rice Maker Review
People that Like the Panasonic Automatic Rice Cooker are Saying:
—>See More Customer Reviews and Ratings Here<—
"This is a really great, basic rice cooker. It doesn't have the bells and whistles of the more expensive rice cookers, but it works well for cooking rice. It's compact, and reasonably priced."
"This is a great small, basic rice cooker. Our old rice cooker had a 3 cup minimum which was overkill for a family of 3, especially when we started eating fewer carbs."
"This rice cooker is the perfect size for a single or couple. You will not have to throw away extra rice."
"It works well for about 2 cups uncooked rice. We especially like the non-stick pan."
Compare Rice Cookers
Besides this small one from Panasonic, there are lots of rice cookers on the market, in a wide variety of price ranges. Check out our top picks here: The Best Rice Cookers.
Or, have a look at this handy comparison chart below:
The Drawbacks of the Panasonic Automatic Rice Cooker:
Hard-to-understand manual according to some
Tends to spill so only 2-3 (uncooked) rice should be cooked
No function or steaming function
Not recommended for bigger families or groups (check out this rice cooker instead)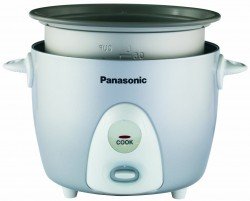 The Takeaway on the Panasonic Automatic Rice Cooker:
If you are a couple, newly married, or solo living, the Panasonic Automatic Rice Cooker is perfect for you. The three-cup capacity lets you cook just enough to fill your stomach.
You'll Love It
You don't have to worry anymore where to put leftovers since not even a single grain is definitely not going to be left uneaten. What's good about this kitchen bestseller is that, it costs reasonably. You need not shell out a lot with this high-quality rice cooker. In fact, you might not even feel any movement in your savings when you spend for it.
Small and Compact
So what if you can't cook brown rice with this one? Here's the best part! You don't have to consume a lot of space for this rice cooker as it is compact. Not only that. It is lightweight too so you can easily carry it around the kitchen for your convenience.
This is the best time for you to own a rice cooker just for one or two.
Shop Now
Hit the button below and be led to the Amazon page to purchase the Panasonic Automatic Rice Cooker today.


Have your Say about the Panasonic Rice Cooker
What are your thoughts about this top-quality rice maker from Panasonic? Leave a comment below and let us know what you think.
Also be sure to give this review a share on Facebook, Pinterest, or Twitter.
Last update on 2019-09-15 / Affiliate links / Images from Amazon Product Advertising API