Are you looking for an affordable food dehydrator that you can use to make jerky, fruits or veggies, and other dried foods? Yes? Then the Presto Dehydro should be at the top of your list.
Read our complete buying guide packed with information to help you decide if it's the right kitchen appliance for you.
Presto Dehydro Electric Food Dehydrator Review
The Presto Dehydro Electric Food Dehydrator is a perfect must-have for individuals who opt to preserve foods without any additive. Those who are living a healthy lifestyle will find this kitchen equipment perfect for their all-natural diet.
You can make healthy snacks like apple or kale chips, fruit leather or beef jerky quickly and easily with this affordably priced dehydrator.
4 Large Trays
What's good about this appliance is that, one can use this for parties and special occasions at home. Its four-tray feature allows for large amounts of fruits to dehydrate. This means that guests can enjoy desserts and appetizers in generous serving.
If you want more capacity, you can purchase additional trays and then stack them on top of each other.
Sale
Presto 06300 Dehydro Electric Food Dehydrator
Four-tray system for dehydrating foods at a fraction of the cost of commercially dehydrated foods...
See-through cover to monitor drying progress on top tray; Bottom-mounted fan and heating element...
Drying trays and cover are fully immiscible and dishwasher safe; Fruit roll sheets, nonstick mesh...
Easy to store; Drying trays nest for compact storage; Cord stores in base
Four drying trays included; Expands up to eight trays for added capacity
Clear Cover
The clear cover allows the user to monitor closely the drying status. It has a heating component and bottom-mounted fan that offers consistent and equal air flow for optimal dehydration. There's no problem cleaning this homing product. It is safe to use in the dishwasher so this means less effort and more time saved for you.
Very Reasonably Priced
When compared to other popular dehydrators on the market today, you'll probably notice that this one from Presto is around half or even 1/3 the price of some of the more expensive ones. That's quite impressive, and although it doesn't have all the features of this more expensive appliances, it's a nice, basic unit that does a great job.
Where Can I Buy It?
The Presto Dehydro Electric Food Dehydrator is available on Amazon. Check now for the lowest prices and also to see if this product is eligible for free shipping with a Prime membership:

Key Features:
15 x 15 x 6 inches
5 pounds
600 watts of power
Comes with a 4-tray food dehydrating system
Clear cover for easy monitoring of dehydrating status
With consistent air flow
Dishwasher safe
With fruit roll sheets
Compact and doesn't take up a lot of space on the countertop
Easy to get up and running with minimal hassle
Presto Dehydro Review
People that Like the Presto Dehydro Electric Food Dehydrator are Saying:
—>Read More Customer Reviews on Amazon.com<—
"This little machine makes 'amazing' dried fruits and vegetables. I ordered the slick sheets and extra trays. We use it for making backpacking and camping meals and snacks."
"I cannot say one bad thing! It's a great dehydrator for the price. I've made apple/banana chips and beef jerky so far."
"I bought one of these to use primarily for making jerky and it is excellent. Fairly easy to clean and isn't quite as loud as other dehydrators."
"This unit is excellent for the price. I've used it several times to make beef jerky and a variety of other stuff too. I'm actually preparing for a thru-hike on the Pacific Crest Trail and this is the ultimate device!"
Compare Food Dehydrators
If you're looking for a top-quality food dehydrator, then you'll need to consider one of our top picks: The Best Dehydrators. Or, take a look at this handy comparison chart below:
Drawbacks of the Presto Dehydro Electric Food Dehydrator:
No temperature control
Some find it too basic
A few issues about the quality
Not durable enough according to some
Quite small in size so not ideal for large amounts of food
No timer (but you can view the food through the transparent cover)
Vertical air flow (bottom to top)
Temperature range between 135-145 degrees F
Dishwasher safe parts
1 year warranty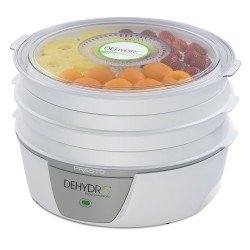 The Takeaway on the Presto Dehydro Electric Food Dehydrator:
Are the four trays not enough for you? Fret not! The Presto Dehydro Electric Food Dehydrator can accommodate up to eight trays for bigger capacity. With the huge space available, you can dry fruits, veggies, spices and herbs all at the same time.
Closely Monitor the Drying Process
And, since the cover is see-through, you can closely monitor the status of your dried foods. Your health is not at risk either, because again, there are no additives or preservatives in every food you put inside for dehydration.
Reasonably Priced
It's not frequent that you get the chance to own an Amazon bestseller at such a reasonable price. So, what are you waiting for? Now is the best time to get something for your food dehydration.
Shop Now
Go to the Amazon page to buy the Presto Dehydro Electric Food Dehydrator today:


Have your Say about the Presto Dehydro
What are your thoughts about this affordable food dehydrator? Leave a comment below and let us know what you think about it.
Also be sure to give this article a share on Facebook, Twitter, or Pinterest. It'll help other home cooks, like yourself find this useful resource.
Last update on 2019-07-16 / Affiliate links / Images from Amazon Product Advertising API