If you want to make yourself a delicious cup of coffee, then you'll want to consider this top-quality French Press from SterlingPro. Read more to find out all the details about this affordable, popular coffee maker.
SterlingPro French Coffee Press Review
The SterlingPro French Coffee Press is the number one best selling french press on Amazon and for good reason! It's a serious 8-cup/1 L French press at a decent price. The unique design of durable/heat-resistant glass along with plastic ensures that you'll make the perfect cup of coffee, every time as well as not hurt yourself during the brewing process.
Unique Double Screen System
Plus the unique double-screen system will ensure that the coffee grounds stay where you want them-not inside your coffee cup. This French press also comes with two extra screens so you can keep making delicious coffee daily, year after year after year.
Where Can I Get It?
Priced affordably, the Sterling Pro French Press makes an excellent gift for a coffee or tea lover. You can get this quality machine easily on Amazon today:

Compare French Presses
For all the options, check out our: Best French Presses. Or, take a look at this comparison chart below:

The Specs:
Unique double-screen system (also comes with two extra screens)
Brews 1 liter/ 8 cups of coffee or tea
Made of durable, heat-resistant glass
Solid packing. Guaranteed to arrive at your house in one piece
Non-toxic materials that won't rust easily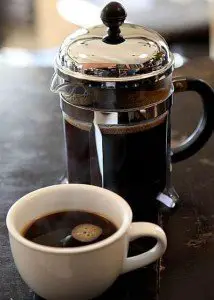 People that Like the SterlingPro French Coffee Press are Saying: 
—>Read More Customer Reviews Here<—
"Very well constructed and it makes a nice cup of coffee. I love this machine! It comes packaged up very nicely (to protect from breaking I think) and even comes with some extra screens when the original one starts to wear out."
"The double screen system ensures that no grounds or dust get into your cup. It just makes an excellent cup of coffee and I'm very happy that we decided to get this one! For the price, it's a top-quality product."
"Really easy to disassemble and clean. Makes a nice cup of coffee too. The screens and lid is a little bit loose and I find that I have to screw it in there once in a while, but it's not actually a big deal."
How to Use a French Press
To learn how to make the perfect cup of coffee, you'll want to check this out: How to Use a French Press. Or, take a look at this short video below:
SterlingPro French Coffee Press Negatives: 
Some reports of rusting after years of use
Can't use this machine with fine grinds
The glass is not as heat-resistant as the company claims
The Takeaway on the SterlingPro French Press
The SterlingPro French Press is a quality machine at a reasonable price. It has a few unique features that the true coffee-lover will appreciate. The double mesh system is unique among French presses and will help ensure that the grounds stay out of your cup.
Double Screen System
Some French presses leave quite a bit of sediment in the coffee after you plunge it. This is usually because they have a single screen system. However, the Sterlingpro double screen system does a great job at ensuring a cup of coffee without any impurities. The result is delicious.
Try it for yourself and we're sure that you'll notice a difference.
Excellent Customer Reviews
While there are a few negative reviews on Amazon, they are very minor complaints and you'll be happy with this French Press for years to come. It's durable, easy to use, and most importantly, makes a delicious cup of coffee.
Where Can I Get It?
You can easily get the SterlingPro French Coffee Press on Amazon today:

Have your Say about this Popular French Press
What do think about the Sterlingpro French Press? Leave a comment below and let us know what you think. Also be sure to share this article on Facebook, Twitter, or Pinterest.