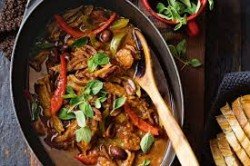 Top 10 Healthy Slow Cooker Recipes for a Happier and Longer Life
More and more people are getting health conscious these days. They invest on digital devices to count the calories in their every food intake. These same health gadgets can also record the number of steps an individual takes, or the amount of energy exerts in his every activity.
If you have the same device, you must really be so serious about living a healthy lifestyle. Here's something to add to your advocacy—a slow cooker for another investment. Yes! Another way to guarantee you're eating the right food is when it is cooked well and you can definitely be sure about it if you prepare males with a slow cooker.
Don't worry about which dishes to try because we have already listed the Top 10 Healthy Slow Cooker Recipes for you.
Before you try a dish, be sure you already have the slow cooker. If you don't have one yet, check out the Black & Decker Slow Cooker. You need not spend much for this. For a reasonable price, you can already prepare meals for you and your family and guarantee a happy and longer life.
When you have this high quality cooking gadget, take it out from the box and get ready with your ingredients. Read on and see which among the Top 10 Healthy Cooker Recipes we have here suits your food preferences.
You can actually try them all since these are all oh-so-easy to follow! Happy slow-cooking!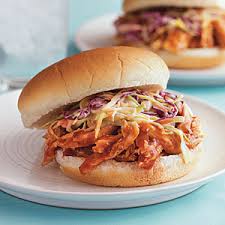 This recipe is a fantastic representation of pulled meat, slow-cooking chicken in lots of tomato sauce. What make this pork dish flavorful are the sliced onions, jalapenos and sour cream—all combined and poured on top.
The best thing about our No. 1 in the Top 10 Slow Cooker Recipes is that, you can eat it any way you want. Eat it as is (from the cooker), or as sandwich. You can also pair it with mashed potatoes or make it your pasta sauces for carbo-loading.
The Barbecue-Pulled Chicken is best served with shredded cabbage that's tossed with cider vinegar, low-fat or nonfat mayonnaise, honey and celery seed.
If you want your family to survive a day with full energy, serve them this. Simply arrange it in your slow cooker at night before you sleep. Enjoy and benefit when you wake up, from a bowl of this nourishing and nutritional hot oatmeal.
The slow cooker takes away the need for consistent stirring guarantees an excellent creamy consistency. Here's one helpful tip for you: cook the steel-cut oats or the old-fashioned ones as they turn very soft  as you slow-cook them.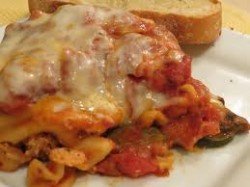 Now, you can binge out on your favorite pasta dish minus the guilt. Indeed, low cooker is great not just for soups and stews but for lasagna, too! With this healthy recipe that's filled with carbohydrates, all you need is to chop your vegetables.
Layer them all, raw, into the crockpot. Your Lasagna is yummier when you serve it with green salad and garlic toast on the side.
Do you feel reminiscent about the olden days when grandma or mom would cook pot roast for the whole family? The difference is that, you mix this with onion-soup mix. Don't you worry because the true flavors remain!
This is a perfect must-have on a cold or rainy day. Like any other soup dish, the Moroccan Lentil Soup tastes even better with healthy mixes of your choice.
It is ideal to make this soup one day before you consume it if you have the time and chance.
This simple slow cooker recipe variant makes you love the soup even more!
If you prefer the classic stew, this is a perfect dish to try. This idea has been embraced to the crockpot to make it lighter and healthier through the use of chicken thighs. If you want more excitement, add a little amount of whip cream to the sauce. It adds richness too. This is certainly a healthy meal especially when put on egg noodles for topping.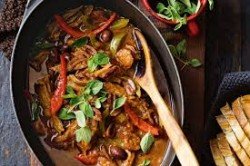 This is yet another yummy stew recipe. It has a set of easy to find and simple ingredients. Indeed, they are simply and yet they are flavorful because of the flank steak. It's a cut popular for its perfect meaty savor.
More so, the flank famous too, for its long, grainy, and, at times, tough texture. In this stew recipe, you will really find the texture a great asset. The meat on the other hand, shreds separately into flavorful strips after cooking in the slow cooker.
Your kids will surely love this! This is an ideal substitute to the conventional chicken barbecue marinated in tomato sauce.
Both the adults and children will surely make these drumsticks their new favorites. It has honey-sweetened sauce with garlic and orange.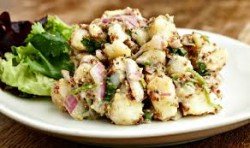 If you love potato salad, you'll find this very interesting especially its German-style twist. This recipe is a lighter substitute to your traditional potato salad rich in mayonnaise.
The Slow-Cooker German Potato Salad is a whole lot healthier than the salad you know. And, as an alternative to boiling, you simmer the potatoes using your slow cooker. This healthy potato salad variant tastes great especially when you serve it warm.
Having a party? Wait 'til your health-conscious guests discover that the pasta sauce you're pouring the noodles are slow-cooked .The difference in preparation is that, both the meatballs and sauce spend a long time in the slow cooker to perfection.