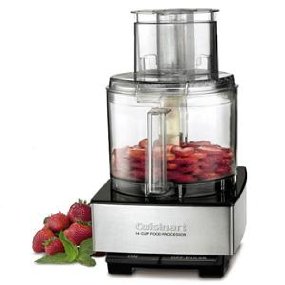 Are you looking for  the best, top-quality food processors? You've come to the right place! We'll get into more details about each one, but here's the sneak peek:
Top 5 Food Processors
Gone are the days when it took a lot of time and effort to prepare food. In order to prepare food quickly, all you need is a reliable food processor that can do all the food preparations effortlessly!
To help you decide which one is the best your kitchen needs, we present the Top 5 Best Food Processors. Whether you are on a tight budget or have saved more than enough for a food processor, there is surely one here that is within your budget.
There is a whole range of units that you'll find online. But certainly, instead of finding one, you'll end up getting overwhelmed and might just opt for the wrong one. That's what we're here: to help you choose the best one for your needs and budget. We specialize in helping you find the best kitchen appliances for the money.
We've filtered the items for you and chosen only the best ones. Whether you need it for your everyday meal or for special occasion, you are guaranteed of a "good buy" with these ones! Read on for all the details about out top picks.
No. 1: Hamilton Beach Food Processor
We always start off with the most affordable product in our Top 5 list. The Hamilton Beach Food Processor is a perfect must-have for families on a tight budget. And even though it is the cheapest, its features are priceless!
Quick and Versatile
In fact, this kitchen gadget is even the No.1 bestseller in Amazon's food processors category. With this one, it is now easier to prepare food with this high-performing machine. It's fast and versatile features allow the user to chop, slice, shred, grate, and mix ingredients in an instant.
Reduce Prep Time
So, if you're looking for a food processor that will help you reduce preparation time the Hamilton Beach Food Processor is the ONE. It is easy to use and it's equipped with the materials that will process best dishes for the family.
Learn More about It
See: Full Review of the Hamilton Beach Food Processor.
You can easily get the Hamilton Beach Food Processor on Amazon today:
Hamilton Beach Review
Compare the Top Food Processors
No. 2: Conair Cuisinart Food Processor
The Conair Cuisinart is our 2nd best in the Top 5 not just for its price, but for its efficiency too. It chops and grinds with its patented reversible stainless-steel blade. Its body is made of plastic for easy handling.
The light weight makes it easy for the user to bring around the kitchen as well. This food processor's bowl and lid are dishwasher-safe and are easy to hand-wash too. Processing time using this kitchen equipment is shorter than any other food processor in the market today.
Chopping and Grinding is Effortless
Because of the reversible blade, chopping and grinding come easier and effortless. The machine is also very durable and will last you for years. The affordable price-tag makes this one of our top-rated kitchen appliances.
Does a Variety of Things in the Kitchen
At such a reasonable price you also get to own a kitchen appliance with special and unique feature. Indeed, this highly-recommended product's SmartPower blade offers an excellent sharp edge for delicate chopping of herbs. It is also best for blending and pureeing fruits and veggies, as well as the other soft foods.
Easy Clean-Up
Included with this one are a dishwasher safe bowl and spatula. So use the spatula to scrape everything out of the bowl, and then just throw it into the dishwasher. Clean up really can be that easy!
Read the Full Review
See: Review of the Cuisinart Food Processor.
It's available on Amazon today:
No. 3: Braun Food Processor
The Braun Food Processor is a little bit more expensive than our first two products here but it definitely deserves to be in the list. We included it in our Top 5 Food Processors because of its superb food prep features!
The Braun Food processor is undoubtedly a bestseller because it does multi-tasking with its large 12-cup food capacity. It chops, whisks, and kneads. Slicing and shredding? No problem for this thing.
Juicer Attachment is Unique to Braun
The juicer attachment is a nice feature that you won't find with other  ones. You will never go wrong opting for the Braun Food Processor especially that it is so easy to clean. All parts are dishwasher safe except for the chopper bowel and motor.
We also love the shredding disc that comes along with it. This machine can do just about anything you could possibly imagine!
European Made
It is a European-made kitchen appliance that has an impressive German Engineering that comes with 9 different attachments and sharp, stainless steel blade. Aside from the attachments, it has a bonus mini-processing bowl, too. We highly recommended this for special family events and party hosting.
Where to Buy It?
See: Full Review of the Braun Food Processor.
You can purchase the Braun Food Processor on Amazon today:
No. 4: Breville Sous Chef Food Processor
The Breville Food Processor may be the last in our list but it is certainly a star in the kitchen! It may appear the most expensive of all, but like as it always say, it is worth your money!
Next to price, we always consider quality. And we swear, this product is a total performer in the kitchen that you will realize why it's worth that much.
The sturdy base is secure and feels well made. The speed and power are equally impressive. It's actually one of our most-used kitchen appliances and all of us use it for different purposes.
Extra Wide Feed Chute
It features a 5.5-inch Super Wide Feed Chute. This special feature reduces (or even eliminates) the need to pre-cut most vegetables and fruits. This saves more time for the person cooking. The 8 discs and blades allow the user to cook different dishes with a lot of ingredients.
Perfect for the Home Cook
This is certainly a price worthy enough to spend for decades of benefits. Throwing a party at home is so possible now with this heavy duty processor. You need not be a professional cook or chef either to come up with the dishes to serve on the buffet table. With this kitchen gadget's 24-slicing settings, you can prepare the food your family or guests crave for.
The durable stainless steel blade stands up to years of use.
Where Can I Buy It?
See: Full Review of the Breville Sous Chef
You can easily buy the Breville Sous Chef Food Processor today:
How we Chose the Top Food Processor
It was a difficult task, but we were up to it. Here are the factors we considered when choosing the best one.
Capacity
Although you may want to consider a mini food processor to save on counter space, this is usually not a great idea. You'll often find that it's not enough for even basic things. Instead, you'll want to choose one that has room for at least 10 cups, although if you have a lot of space or a big family, you may want 12 or even 14 cups.
Reputation
There are some trusted names in the kitchen appliance space. Stick with one of these reputable brands instead of something you've never heard of.
Ease of Cleaning
We LOVE bowls and attachments that you can put straight into the dishwasher. Seriously, it's just so, so, so much easier than washing all the parts by hand trying to get that last little bit of shredded carrot off.
Cuisinart DLC-2011CHBY Prep 11 Plus 11-Cup Food Processor, Brushed Stainless
Set includes a stainless steel medium slicing disc (4mm), a stainless steel shredding disc and 1...
Speed automatically adjusts to ensure proper dough consistency
Includes spatula, recipe/instruction book; dishwasher-safe parts
One-piece Supreme wide mouth feed tube holds whole fruits and vegetables
Product Built to North American Electrical Standards.BPA Free
Power of Motor
We tried making pizza dough to see which food processor was up to the test. It's thick, gooey and can easily destroy the cheaper units out there.
If it slowed down at all, we immediately took it out of running. What's left are the ones that have some serious power.
Bowl Design
Do you hate having to constantly scrape down foods off the side of the bowl with your spatula. Yeah, us too. It's annoying and makes an easy job take way longer than it needs to.
We tested the design of the bowls to find out which ones cause the food to fall back into it naturally and not stick to the sides too much.
Have your Say about the Top Rated Food Processor
Leave a comment below and let us know your top pick for a food processor is.
Also be sure to give this article a share on Facebook, Twitter, or Pinterest. It'll help other foodies, like yourself find this useful resource.
Last update on 2020-03-30 / Affiliate links / Images from Amazon Product Advertising API