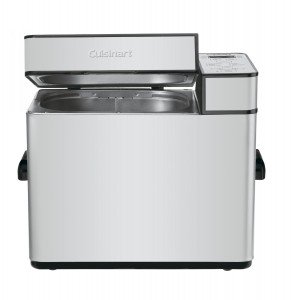 Does your family love to eat warm, fresh bread right out of the oven? Everybody does! But, who has time to do this? Now, it's easier than ever with a bread machine. Keep on reading to find out our top picks, but here's a sneak peak at our favourites:
The Best Bread Makers 
Being a mom is such a challenging role. She thinks about her family's welfare, day and night. Above all, she thinks of the best food to serve on the table. Can you relate to this? Best food doesn't just mean delicious eats, but more importantly, healthy eats too.
Good Health Starts with a High Quality Breadmaker
One of the best ways to make sure that what your family is eating is good for their health is to prepare their food from scratch, including bread. To make this happen, you should invest in a high-quality bread maker.
Durable, but Affordably Priced
Here are the best bread machiens, that we highly recommend. They are durable and of highest quality but they are not necessarily expensive.  We came up with what we think, the best bread makers, to help you decide more easily about what specific brand choose for your baking needs and preference.
# 1: Conair Cuisinart Bread Maker
The Conair Cuisinart Bread Maker is one of the most innovative bread makers which is why we ranked it No. 1 on our list of top 5 bread makers. Its programmable feature is beyond ordinary.
3-Crust Settings
You can choose how your bread is cooked with this bread machine's 3 crust settings. You can have crusty and crunchy. Or, soft and delicious home baked bread.
And, if you are too busy to do other things either before or even while baking, there is a 13-hour delay-start timer to help you get all things done right on time.
Up to a 2 Pound Loaf
You can treat the whole family with a generous serving of bread as the Conair Cuisinart Bread Maker can bake up to 2-pound loaves. There are few reports of inaccurate recipes that come with the machine, but almost all users have announced success in baking.
Learn More About It
See: Full Review of the Conair Cuisinart Bread Maker.
You can get the Conair Cuisinart Bread Maker on Amazon today:

Cuisinart Bread Maker Review
Bread Machines Comparison
#2: Hamilton Beach Bread Maker
The Hamilton Beach Bread Maker is another top-of-the-line bread maker. We ranked it second in our list of the best breadmakers  because it has 12 different cycles which gives the user the privilege to choose the kind of bread to serve on the table.
3 Easy Steps
Though there is a report or two though of the bread not rising, the blame cannot still be put on the Hamilton Beach Bread Maker.  The 3 easy steps that come with this kitchen gadget are enough proof of its being user-friendly.
Just be sure to follow the instructions in the manual for best results.
Gluten Free Bread Setting
One can prepare a whole grain or gluten-free bread as this multi-cycled cooking machine includes recipes ranging from gluten-free to French breads.
Learn More About It
See: Full Review of the Hamilton Beach Bread Maker.
You can get the Hamilton Beach Bread Maker on Amazon:

#3: Oster 2-Pound Expressbake Breadmaker
We included the Oster Expressbake Breadmaker in our list because of its affordability. Ideal for large families, this Oster product can bake up to 2-pound loaf of bread.
Programmable Timer: Perfect for Busy People
If you're a busy person and still want to serve the freshest breads for the family, you can still do so. This top-of-the-line bread maker features a 13-hour programmable baking timer. This then makes the breads fresh all the time.
Express Bake Setting: Bread in Less than an Hour
For those who want their bread baked quick yes still delicious, it is still possible with the Oster Pound Expressbake Breadmaker. With its 'express bake' setting, you can prepare bread for your loved ones in less than an hour.
Convenient Viewing Window for this Bread Machine
We know that it can be tempting to open up the lid to see what's going on with your bread. However, the second that you do that, a cold draft can get in there and ruin it!
That's why we love breadmakers with a viewing window so you can keep an eye on things without comprising your bread. This one is large, and easy to see through.
Great for People on a Budget
If you're looking for an affordable bread machine, this one may be at the top of your list. It's very reasonably priced compared to some of the other ones on the list.
The best part? After a few months of use, you'll have your money back when compared to buying bread at the store. This is especially true if you like bread with fruit and nuts, gluten-free bread, or other kinds of speciality bread which can be very expensive.
Where Can I Buy It?
See: Full Review of the Oster 2-Pound Expressbake Breadmaker.
You can get the Oster Express Bake Breadmaker on Amazon. Homemade bread has never been easier or more delicious!

Oster Expressbake Breadmaker Review
# 4: Sunbeam Programmable Breadmaker
It can bake up to 2-pound loaf. It also has a dozen cooking functions with 3 shade choices. We recommend this item because it is also ideal for a busy homemaker who does other things while baking. The 13-hour delay bake lets the user attend to other tasks and sets the baking aside for a while.
Touch Control Panel with Lots of Options
If you're new to baking, don't get intimidated with the Sunbeam Programmable Breadmaker. Its touch-control panel guides you to easily follow the how-to's.
Easy to Read Display
The LED display gives you a clear vision of the status of the bread you're cooking. But be sure not to use the utensils with the nonstick pan so as not to break the machine.
Makes a Variety of Breads
There are a number of options that you'll love, including:
3 crust settings (light, medium or dark)
12 cooking functions (whole wheat, fruit and nut bread, raisin bread, sourdough, traditional white bread, buttery dinner rolls, pizza dough, jam, and cake)
The sky is the limit with this thing and we love that it's such a versatile kitchen appliance. And the delay timer allows you to have fresh bread any time of the day, no matter what time you put the ingredients into the machine.
Shop Now for this Popular Bread Machine
See: Full Review of the Sunbeam Programmable Breadmaker.
You can get the Sunbeam Programmable Breadmaker on Amazon:

#5: Zojirushi Home Bakery Virtuoso Breadmaker
The Zojirushi Home Bakery Breadmaker is an amazing bread machine! We're ranking it 5th in our list because it is a bit more expensive than the four other machines here.
High Capacity for Large Families
We are not saying though that the price of the Zojirushi Breadmaker is a little higher than the others, it is not affordable anymore. Rather, we are highly recommending it to baking enthusiasts with large families.
Gluten-Free Setting
Its gluten-free menu setting accommodates organic ingredients for healthy breads. Not only that, like the other in this list, this kitchen machine can also bake up to 2-pound loaf of bread. It has a fast baking cycle too, that can prepare the bread in two hours or even less.
Find out More
See: Zojirushi Home Bakery Virtuoso Breadmaker Review
You can get the Zojirushi Bread Machine here. Shipping is often free with Amazon Prime:

Why Make Bread at Home?
There are a number of reasons why you might opt to make homemade bread, instead of buying it at the store. Here are just a few of them.
You Control What Goes in the Bread
There's a lot of things you probably don't want to be eating in the bread from the store, including high fructose corn syrup and preservatives.
Avoid this by making bread at home. The best part? You know exactly what's in it.
Easy to Customize
It's very easy to customize your bread to suit your health and dietary restrictions. If you're gluten free, that's no problem.
Or, perhaps you're looking for heart-healthy bread filled with nuts, seeds and whole grains. It's easier than ever with a bread machine.
Cheaper than Store-Bought
If you use it consistently for a few months, you'll make your money back. It's an economical way to feed your family breakfast each morning.
In general, you'll save about 50% by making your own at home.
More Delicious
Most importantly, who doesn't like a slice of warm bread that's just finished cooking?
Have your Say about the Best Bread Machines
What is the best bread maker? Leave a comment below and let us know what you think. And, don't forget to share this on Facebook, Twitter, or Pinterest.