Are you looking for one of the best pasta machines on the market today? Then you're most definitely in the right place. Keep on reading our buying guide packed with information to help you decide which pasta maker is the right one for your needs.
But, here's a sneak peak at our top picks:
Top 5 Pastas Makers 
It's easier than ever to make restaurant-quality fresh pasta at home with your own pasta maker. Save money and eat healthy with these easy to use pasta machines. These top 5 pasta makers are high-quality, made of stainless steel and can last for decades with proper use.
However, it can be difficult to find the best pasta maker when there are so many choices out there. A quick look on Amazon can be kind of overwhelming. But we've done the hard work for you and found the top 5 pasta makers. Read on for help in choosing the best pasta machine for you and your family.
Make pasta at home quickly and easily!
#1: Marcato Atlas Pasta Maker
The Marcato Atlas Pasta Maker is a top of the line machine that is our #1 choice. It's an Italian made beauty, with chrome-plated steel and there have been reports of this machine lasting for decades.
The machine is entirely free of heavy-metals so you can be sure that nothing harmful is getting into your fresh pasta.
10-Year Warranty
It also comes with a 10-year warranty. That's better than just about anyone else in the business.
This is a serious pasta machine for serious Italian cooks. If you want to control the thickness of your pasta, this is the machine for you.
Bring the authentic flavour of life to your home kitchen! Oh yeah, it also makes the ultimate gift, in case you're wondering what to buy that foodie in your life!
Features:
Rolls and cuts pasta dough
Can make lasagne (cut the sheets to size), fettuccine, and tagliolini pasta types
Made in Italy
10 year warranty
Includes instruction booklet (in English)
Equipped to attach to a pasta drive motor for easier rolling
10 thickness settings
Easy clean-up (wipe with a clean cloth or dry brush)
The choice of traditional Italian cooks (and grandmothers!)
It's a great machine to get started with, and it'll also last you a lifetime!
What People are Saying about the Marcato Atlas
—>See More Customer Reviews on Amazon<—
"This thing works like a champ at making whole wheat and veggie pastas (I'm a diabetic). It did take a little while to learn how to use it correctly, so don't give up on too quickly. I've recently gotten into ravioli and my family is obsessed. You just have to roll out sheets and then cut them to the correct size for this. It's super easy."
"The Marcato Atlas is a premium pasta machine. DO NOT consider buying anything else because you'll probably regret it. It's sturdy, makes perfect pasta, and is easy to learn how to use. Just be sure to not drink too much wine when you're using it, or it starts to get quite difficult!"
Learn More About It
You can get the Marcato Atlas on Amazon today. Check now for the lowest prices and also to see if this product is eligible for free shipping with a Prime membership:

Review of the Marcato Atlas
Pasta Machine Comparison
#2: Cucina Pro Imperia Pasta Maker
The Imperia Pasta Maker is another Italian made machine that will last for decades with proper care. It's built to last and that's why it gets our #2 pasta machine recommendation.
It's capable of making basic noodles right out of the box, but you can also buy additional attachments if you wish. Most people use it with the hand crank operation, but you can also attach a motor to it if you plan on making large batches with it.
One Small Negative
The only real negative (and why it's not #1) is the lack of good instructions in English. However, it's easy enough to find the information online. If you're on a budget, consider this one over the Marcato Atlas Pasta Maker.
Features: 
Heavy duty, chrome plated steel that is very durable
Makes spaghetti and fettuccini noodles
6 inch wide roller
Easy lock adjustment
Comfortable wooden handle for the pasta roller
Easy to roll, even years later (kids can help too!)
Made in Italy
Attachments for other pasta shapes sold separately
Includes a recipe book
Customer Ratings and Reviews for one of the Best Pasta Makers
—>See Customer Ratings on Amazon<—
"I took a cooking class in Italy and this was the machine my instructor used. I was impressed by how easy it was to use, so I bought one when I returned home. You can buy a motor attachment, but it's easy enough to make a small batch without it."
"My parents got this in the late 60's, I inherited in the early 80's, and still use it at least once a week today. It's a serious machine that'll last for decades. Experiment with some different pasta dough recipes until you find the one that you love."
Learn More About It Here
See: Full Review of the Cucina Pro Imperia Pasta Maker.
You can get the Imperia Pasta Maker on Amazon. Click the button below to learn more about it:

#3: Philips Pasta Maker: The Best Pasta Maker for Home Use?
If you're looking for a top-of-the-line automatic pasta machine, look no further than the Philips Electric Pasta Maker. It's much faster to use than any of the other machines on this list.
You add the ingredients, press the button and in 15 minutes, you'll have delicious homemade pasta. It comes with cutting tools to make four different pasta shapes.
Don't Want to Crank?
Although it's a bit more expensive than the other machines on this list, this is the only one that basically does everything for you. Don't want to crank? You'll need to buy this one!
Simply delicious results are close at hand.
Features
Automatic mixing, kneading, and rolling
Start to finish time: 15 minutes
Includes 4 shaping disk: Spaghetti, Fettuccini, Penne and Lasagne
Cleaning tools make clean-up a breeze (one push)
Storage drawer in the bottom of the machine holds all the attachments
Easy to read dial
Sleek design
What People are Saying About this Electric Pasta Maker
—>Read More Customer Reviews on Amazon<—
"I debated for a long time before buying this because it's kind of expensive. I finally did and couldn't be happier with it! It's a beauty of a machine and turns out the most delicious pasta in just a few minutes. The best part? I just throw in the ingredients, push start and then wait."
"It's ridiculously easy to use. Seriously. We make fresh pasta at least once a week at our house and it just tastes so much better than the stuff you buy at the store. It can turn out some beautiful pasta!"
More Details about this Pasta Machine:
See: Full Review of the Philips Pasta Maker. 
You can get the Philips Pasta Maker on Amazon today. Check now for the best prices on this automatic pasta maker:

Philips Pasta Machine Review
#4: G&M Professional Pasta Maker Machine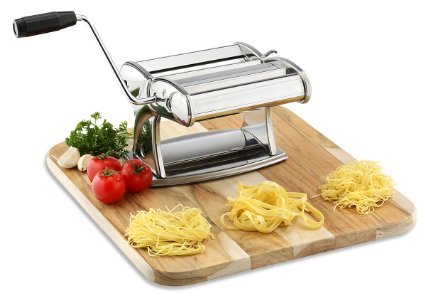 The G&M Professional Pasta Maker Machine is an excellent choice if you want to make delicious fresh pasta.
It's Italian made from heavy-duty materials and will last you for decades. It's got a comfortable hand crank for rolling out your pasta dough.
All Kinds of Pasta Shapes
The thing that really sets this machine apart is that you can make various types of pasta shapes without having to buy separate attachments.
You can also control the thickness of your pasta with this machine.
Learn More Here about one of the Best Pasta Makers
See: Full Review of the G&M Professional Pasta Maker Machine.
You can buy the G&M Pasta Maker on Amazon today:

#5: VonShef 3 in 1 Stainless Steel Pasta Maker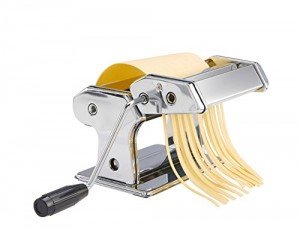 The VonShef 3 in 1 Pasta Maker comes in at number five of the top 5 pasta makers. It can help you create that perfect Italian meal at home.
It's a serious machine at a very reasonable price (cheaper than the others on this list). So, if you want a machine that makes fresh pasta, minus all the bells and whistles, this might be the one for you.
Eat it fresh, or put it on drying racks to save for later.
Specs
3-in-1 function
Different thickness settings
Includes a table clamp
Stainless steel construction
What People are Saying About One of the Top Pasta Makers
—>See More Customer Reviews Here<—
"It makes delicious fresh pasta, but I found it a bit hard to clamp it to my countertop. I had to experiment until I found just the right spot."
"This pasta maker worked quite well for a few years, but it got more difficult to turn the crank over time. I kind of wish I'd stuck with something like the Marcato Atlas that last for decades."
Learn More About It
See: Review of VonShef 3 in 1 Stainless Steel Pasta Maker. 
Buy the VonShef 3 in 1 Stainless Steel on Amazon today:

#6: Hamilton Beach Pasta Machine
Sale
Hamilton Beach Electric Pasta and Noodle Maker, Automatic, 7 Different Shapes, White (86650),
Make 2-3 servings of fresh, homemade pasta in 15 min. This pasta machine automates pasta making by...
Includes discs for 7 noodle shapes. Choose from thick spaghetti, lasagna, spaghetti, Angel hair,...
No drying required. Once the noodles are extruded, you can boil them right away - there's no drying...
Internal scale helps measure ingredients. This pasta maker weighs ingredients and helps calculate...
Customize with flours, vegetable purees & juices. Try everything from gluten-free to spinach pasta...
Okay, so I know that we promised five of the best pasta makers today, but we have a bonus one that's just been released. It's the Hamilton Beach Pasta Maker, an electric automatic machine that rivals the Philips pasta maker.
It's super easy to use. All you basically have to do is put the ingredients into the machine, push a button and then in 15 minutes, you'll have fresh, delicious pasta that's ready to cook. It mixes, kneads and extrudes the pasta for you.
Key Features
Fully automatic
1.5 pounds of pasta in less than 15 minutes
7 noodle shape options
Storage drawer for disks not in use
No drying required. Just go straight from the machine into the pot of boiling water
Internal scale makes is very easy to use. It calculates the amount of flour and tells you how much water to add
4 recipes included
Can make gluten free pasta as well
What are People Saying About the Hamilton Beach Automatic Pasta Machine
—>Read More Reviews on Amazon<—
"Kind of the ultimate device for the very lazy chef like myself. It is as simple as just adding the ingredients into the machine and pressing the button. Clean-up isn't as difficult as you might think either. However, it does require a little bit of fiddling around to find the perfect recipe."
"The most fully automated pasta machine that I've ever used. I love the internal scales that tell you how much liquid to add. Seriously, couldn't be a whole lot easier than that."
"Basically all you need is a pair of kitchen scissors to cut the pasta as it comes out of the machine. It's really that simple!"
Shop Now for the Hamilton Beach Pasta Maker
Does it sound like the right electric pasta machine for you? You can easily find it on Amazon. Check now for the lowest prices and also to see whether or not this product is eligible for free shipping with a Prime membership:

Need Pasta Recipe Ideas?
You'll want to check out the following for some sauce ideas to use with your pasta from pasta makers:
Pasta Machine FAQs
Here are some of the most common frequently asked questions.
What are Pasta Makers?
It's a very simple machine that allows you make pasta at home. The basic ones just require you to put the dough in, turn the crank, and then keep rolling it until it's your desired thickness.
It's easy to make fettucine, spaghetti, lasagna, or even angle hair pasta.
Most pasta makers clamp to your kitchen counter or table, which gives it more stability. Depending on the thickness of your dough, it can require some force to turn the hand crank.
Most machines have additional rollers or cutters to make different shapes. Some even allow you to attach a motor if you don't want to roll it by hand.
What Should I Consider When Buying a Pasta Machine?
If you're going to buy a noodle maker, here are a few of the factors to consider.
#1: Electric or Hand Crank
If you want easy, go for the electric ones. All you have to do it put your ingredients in, and then out comes pasta at the end!
On the other hand, the hand crank ones require you to make the dough, and then feed it through the machine by using the hand crank. To make this slightly easier, use a motor attachment.
#2: Thickness Adjustment
The best machines have a one-click way to adjust the thickness of the dough. Fiddling around with this is just too annoying!
#3: Clamp 
You'll want a very sturdy clamp because this will make rolling the dough much easier. If you don't, the machine will move around too much when you're turning the crank.
#4: Ease of Cleaning
The best machines require just a quick wipe. The electric ones often require more extensive cleaning.
You may also want to consider how easy it is to take the machine apart for a thorough cleaning every year or two.
#5: Attachments
Most machines include attachments (or the basic unit includes them) that allow you to make 3-4 kinds of pasta. If you want to make a specific kind, be sure to check if your machine includes this, or has something you can buy to do it.
#6: Quality and Durability
In general, the pasta machines made in Italy are designed to last for years and be passed down to the next generation. The ones made in North America or China? Not so much! They are kind of like a regular kitchen appliance that you can get a couple hundred uses out of.
#7: Customer Reviews for Pastas Makers
Before buying any kitchen appliance, you should take a quick look on Amazon and see what customers are saying about it. Pay particular attention to the 3-4 star reviews because they usually give the most accurate picture of a product's pros and cons.
How to Use a Pasta Maker?
There are a few simple steps you can follow when using pasta makers. We'll assume that you're using one of the hand crank pasta makers and not a fully automated one like the Hamilton Beach or Philips. Here's what you need to do:
Step 1: Combine the Ingredients
Recipes of course vary widely, but the basic recipe consists of flour, eggs, salt and water if required. Crack the eggs into a well in the centre of the flour and mix in with a fork. Use your hands when it's not so sticky.
Step 2: Knead the Dough
Use a bit of extra flour if necessary. Knead for 3-4 minutes, then cover with plastic wrap and let it rest on the counter for 20 minutes.
Step 3: Divide and Flatten the Dough
Most of the time, you should divide your dough into 4 pieces. But, use your discretion and you'll get to know how much your machine can handle with more experience.
Step 4: Get your Machine Set Up
Follow the manufacturer's instruction, but you'll usually have to clamp it to the counter and then turn the dial to the widest settings when you're just starting out.
Flatten the dough into a rectangular shape with your hands so that it fits into the machine.
Step 5: Begin Rolling the Dough
Feed one end of the dough through the rollers and then crank. Fold each end into the middle, like you're making a business letter and then press lightly on the top of the dough to seal it.
Step 6: Feed the Dough Through Again
Fold the dough and put it through the machine again on the widest setting for 5 times.
Step 7: Begin Rolling it Thinner and Thinner
Begin adjusting the machine to thinner settings and keep rolling your sheet of pasta through. It's helpful if you have two people at this stage so that the dough doesn't crack or tear. One is turning the crank, while the other person is feeding and catching the dough.
Step 8: Form the Noodles
Use the attachment that came with your pasta maker or a knife and cut the pasta to the desired shape.  Be sure to put them onto a special drying rack or put on a baking sheet covered with cornmeal and toss them around.
Norpro 1048 Pasta Drying Rack
If you love making homemade pasta as much as we do, this is a definite must have! Our traditional...
The wooden rack stands 16 ½ inches tall, including a heavy, stable 7/8 inch thick base. Then...
Made of environmentally friendly Rubberwood, the unfinished wood is perfect for keeping the pasta...
Disassembles in seconds for easy storage.
Making homemade pasta will never be the same! Easy to use, easy to clean, easy to store, saves time...
Step 9: Boil the Pasta, Coat With Sauce and Eat It
Fresh pasta cooks way more quickly than dried pasta from the store. Generally 2-3 minutes is all it takes to cook it to al dente. Coat with sauce and serve!
Learn How to Use a Pasta Machine
More details about how to make fresh, homemade pasta here:
Have your Say About the Best Pasta Makers!
What are your thoughts about the best pasta machine? Leave a comment below and let us know what you think.
Also be sure to give this article a share on Facebook, Pinterest, or Twitter. It'll help other pasta enthusiasts, like yourself find this useful resource.
Last update on 2019-09-15 / Affiliate links / Images from Amazon Product Advertising API