Top 5 Uses for a Vacuum Sealer for the First-Time Users
Do you want to lessen the frequency of food spoilage at home? Then do some vacuum packing.  According to the world-famous website, Wikipedia, vacuum packing cuts down the atmospheric oxygen, restricting the growth of fungi or aerobic bacteria.
More so, this packaging process is also typically used for dry food storage for a long time. Most foods that usually undergo the vacuum packing include cured meats, nuts, cheese, cereals, coffee, potato chips and smoked fish, among others.
On a shorter term, this process is also ideal for the storing of fresh foods including meats, liquids and vegetables as it inhibits the growth of any bacteria. It helps make food preparation easier and quicker.
With the information about the vacuum packing given, we can already say that a vacuum sealer plays an important role in every household. It works not just for foods but non-food products, as well.
If you have valuables that you want to bring and protect from any harm outdoor activities can bring, vacuum-seal them. Vacuum sealer and the bags that come with it can help save space in one's bag or luggage.
Instead of having another bulky vanity kit and toiletries, you can use safely keep your cosmetics, soaps, toothbrush and toothpaste inside a vacuum sealer bag.
Below are the top uses for a Vacuum Sealer. If you're a first-time user of this appliance, these uses will be helpful for you. Read on!
#1: For Weekly Food Preparation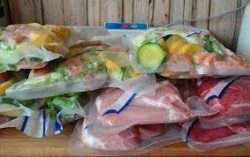 Our 1st in the Top 5 Uses for a Vacuum Sealer allows you to prepare the family's week-long meals. If you are a busy homemaker and career mom, this will surely matter to you.
You can buy chicken or pork meat and vacuum seal it to retain its freshness. You will find the vacuum sealer helpful if you are a parent who needs to be away from home for a couple of days. This way, you children can just dig in the fridge or freezer and pick the sealed food you stored for them for lunch or dinner.
#2: For Wine, Vinegar or Oil Resealing
Usually, the moment a liquid ingredient's (like oil, wine or vinegar) seal is broken, its lifespan reduces remarkably. Among the aforementioned, wine has the shortest shelf life when opened.
Therefore, the vacuum sealer's wine stopper attachment will help you prolong the usefulness of the ingredient.
This has an attached wine stopper that will help you make your wine still flavorful even you've already broken its seal.
#3: For Fresh Fruits for Smoothies All the Time
Do you regain energy after a heavy workout with some smoothies? Then, our third in the Top 5 Uses for a Vacuum Sealer is a must. You need a vacuum sealer to make your fruits fresh all the time, no matter how long they have been inside the fridge.
Usually, individuals who only have weekends to buy from the grocery stores stock apples, bananas and other fruits for their treats of smoothies all week invest in a high-quality vacuum sealer.
If you are a smoothie aficionado and your fruits tend to overripe because of wrong storage, this is the perfect time to make things right!
#4: For Crispy and Crunchy Chips All Day During Trips
Are you scheduled for a long trip that doesn't allow you to eat heavy frequently? Don't leave home without a bag of crackers and chips. And, as you do so, be sure that you and everyone in the trip are enjoying crunchy and crispy chips.
Using your vacuum sealer, store a few plastic bags of these chips and crackers just enough for one eating. There are many great ideas you can store and vacuum-seal.
Among these are banana chips, potato chips, sweet potato chips, fries, and soda crackers. Peanuts are also perfect to munch, not just for the starving passengers, but for the sleepy driver too!
#5: For Non-Food Items' Protection
If you're going boating, fishing and attending other fun outdoor activities, you must do our last in the Top 5 Uses for a Vacuum Sealer. You can still bring your valuables like jewelry, smartphone, camera or even laptop without fearing it might get wet.
With your mobile phone safely stored in a vacuum sealer bag, you won't miss an important call or text. Boating and fishing are not the only activities you can safely keep your things from.  Wherever you go and the weather is bad, you can make sure that your things retain their highest quality.
Have your Say about Uses for a Vacuum Sealer
What do you like to use a vacuum sealing system for? Leave a comment below and let us know what you think. We'd love to hear from you.
Also be sure to give this article a share on Facebook, Pinterest, or Twitter. It'll help other vacuum sealing enthusiasts, like yourself find this useful resource.