Yogourmet Electric Yogurt Maker Review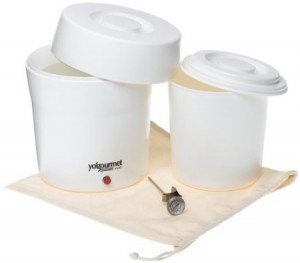 Yogourmet Electric Yogurt Maker Review
The Yogourmet Electric Yogurt Maker is a top-quality machine that makes an excellent choice for you and your family. It's now easier than ever to make delicious, nutritious yogurt without all the chemicals and additives at home.
 It has a unique water bath system that helps maintain an even temperature and results in yogurt with a very nice consistency.
The Yogourmet large-capacity yogurt maker is capable of making up to two quarts in just 4.5 hours, which is up to half of the other machines on the market today. This makes it an excellent choice for large families, summer camps, or other institutions. Weighing in at around 4 pounds, it will leave a very small footprint in your kitchen. This versatile machine can also make fresh cheese, sour cream and buttermilk.
You can easily get this top-quality yogurt maker on Amazon today:

Compare Yogurt Makers
For all the options, have a look at our: Best Yogurt Makers. Or, check out this chart below:
The Specs: 
Makes 2 quarts per batch
Takes only 4.5 hours
Dishwasher safe container with lid for easy storage
4 pounds
Can make fresh cheese, sour cream, and buttermilk
Unique water bath system
Includes a thermometer, instruction manual and cotton bag
Need some ideas? Check out our favourite flavored yogurt recipes.
People that Like the Yogourmet Yogurt Maker are Saying: 
"This machine makes the best yogurt I've ever tasted."
"It's works great for 2% milk. Planning on trying out a coconut recipe now."
"I've used this product daily for more than a decade. I love it!"
Yogourmet Electric Yogurt Maker Negatives: 
Some reports that the temperature is too high for proper yogurt making if the ambient temperature is warm/hot
Thermometer is small and not that easy to read
The Takeaway on the Yogourmet Electric Yogurt Maker
If you're looking for a large-capacity machine for a large family or institution, the Yogourmet Electric Yogurt Maker is your machine! It can make two quarts per batch, far more than almost all the other yogurt makers on the market today.
The one negative for this machine is that there is no adjustment for the outside, ambient temperature. It will keep the water bath at a perfect level for making yogurt if the temperature in your house is cool, or normal room temperature.
However, if you live in a hot climate and don't have air conditioning in your house, the machine can get up to 120 degrees, which will destroy the bacteria cultures that turn milk into yogurt.
Overall, the Yogourmet electric yogurt maker is an excellent choice for someone who lives in a cool climate looking to make large batches of yogurt. You can buy it easily on Amazon today: