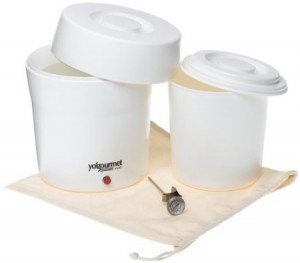 Are you looking for a top-quality yogurt maker that makes fresh, delicious yogurt quickly and easily? Then this one from Yogourmet should be at the top of your list. Read our buying guide packed with information to help you decide if it's right for you.
Yogourmet Electric Yogurt Maker Review
The Yogourmet Electric Yogurt Maker is a top-quality machine that makes an excellent choice for you and your family. It's now easier than ever to make delicious, nutritious yogurt without all the chemicals and additives at home.
Water Bath System
 It has a unique water bath system that helps maintain an even temperature and results in yogurt with a very nice consistency. This results in delicious yogurt, every single time.
Yogourmet 104 Electric Yogurt Maker
Specially designed to maintain the ideal temperature required for preparing healthy, natural and...
Perfect for anyone on the specific carbohydrate diet
Has dishwasher-safe inner container with seal-tight lid, to keep your yogurt fresh
Kit comes with instructions, and a simple thermometer
2 Quarts in 4.5 Hours
The Yogourmet large-capacity yogurt maker is capable of making up to two quarts in just 4.5 hours, which is up to half of the other machines on the market today. This makes it an excellent choice for large families, summer camps, or other institutions. Weighing in at around 4 pounds, it will leave a very small footprint in your kitchen. This versatile machine can also make fresh cheese, sour cream and buttermilk.
Where Can I Buy It?
You can easily get this top-quality yogurt maker on Amazon today. Check here for the lowest prices on kitchen appliances and to learn more about this popular yogurt machine.

Compare Yogurt Makers
Besides this one from Yogourmet, there are a number of other machines to choose from. They come at a wide variety of price points and range from very simple to fully automated. For all the options, have a look at our: Best Yogurt Makers. Or, check out this chart below:
Key Features: 
Makes 2 quarts per batch
Takes only 4.5 hours
Dishwasher safe container with lid for easy storage
4 pounds
Can make fresh cheese, sour cream, and buttermilk
Unique water bath system
Includes a thermometer, instruction manual and cotton bag
Need some ideas? Check out our favourite flavored yogurt recipes.
Learn How to Make Homemade Yogurt with Yogourmet
People that Like the Yogourmet Yogurt Maker are Saying: 
—>Read More Customer Reviews on Amazon<—
"This machine makes the best yogurt I've ever tasted It's very easy to use and makes a large batch of homemade yogurt in just a few hours. My family makes at least a couple batches a week and eats it on granola with berries for breakfast."
"It's works great for 2% milk. Planning on trying out a coconut recipe now for my friend who is a vegan. Curious to see how it turns out. Really good value as this is one of the cheaper yogurt makers out there."
"I've used this product daily for more than a decade. I love it and it's still going strong. Love kitchen appliances that are built to last and this thing makes some awesome homemade yogurt. We love to eat ours every morning with berries and homemade granola. Yum!"
Yogourmet Electric Yogurt Maker Negatives: 
Some reports that the temperature is too high for proper yogurt making if the ambient temperature is warm/hot
Thermometer is small and not that easy to read
The Takeaway on the Yogourmet Electric Yogurt Maker
If you're looking for a large-capacity machine for a large family or institution, the Yogourmet Electric Yogurt Maker is your machine! It can make two quarts per batch, far more than almost all the other yogurt makers on the market today.
The Perfect Temperature
The one negative for this machine is that there is no adjustment for the outside, ambient temperature. It will keep the water bath at a perfect level for making yogurt if the temperature in your house is cool, or normal room temperature.
If you Live in a  Hot Climate…
However, if you live in a hot climate and don't have air conditioning in your house, the machine can get up to 120 degrees, which will destroy the bacteria cultures that turn milk into yogurt.
The Best Yogurt Maker
Overall, the Yogourmet electric yogurt maker is an excellent choice for someone who lives in a cool climate looking to make large batches of yogurt. You can buy it easily on Amazon today. Click the button to find out more about it and don't forget to check and see if it's eligible for free shipping with a Prime membership:

Have your Say about this Top-Quality Yogurt Machine
What are your thoughts about this premium yogurt maker from Yogourmet? Is it a winner, or are you considering another yogurt maker? Leave a comment below and let us know what you think.
Also be sure to give this article a share on Facebook, Twitter, or Pinterest. It'll help other homemade yogurt enthusiasts, like yourself find this useful resource.
Last update on 2019-09-15 / Affiliate links / Images from Amazon Product Advertising API