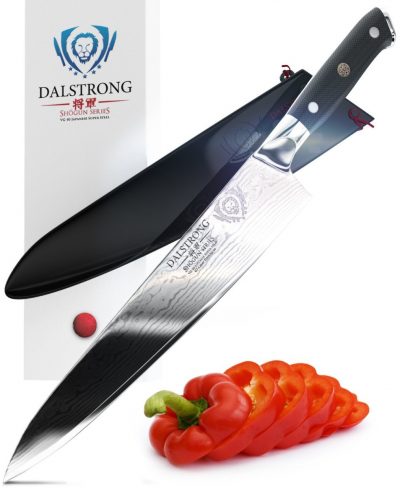 If you're looking for a top-quality chef's knife that can do just about anything in the kitchen, then look no further than this Dalstrong Knife. It's reasonably priced, but a top-of-the-line knife that you'll be using for decades to come.
Dalstrong Chef Knife Review
The Dalstrong Chef Knife is among the chef's knives with the highest rating on Amazon today. If you try to check out reviews from users, you'll hardly ever find negative feedbacks about the product. The price of this kitchen item is reasonable too, so you definitely won't regret buying one.
Easy Grip Handle
When it comes to durability, this kitchen must-have is sure to last for many years with high quality. The blade has excellent sharpness. And the handles are designed for easy grip. You'll be able to use it for hours without feeling fatigued like you do when using knives will dull, cheap blades.
Long-Lasting Sharpness
This cooking item is ideal for those who are in the culinary field. It is good for those who just started to learn how to cook. The long-lasting sharpness of this knife allows you slice, chop and mince ingredients perfectly and confidently. The other advantage is that the blade is thick, meaning you can sharpen it for decades to come.
Flawless Food Preparation
Indeed, if you are new to cooking, you'll have a worry-free experience in the kitchen. The handle is so easy on the grip and the blade's thickness is just enough for flawless food preparation.
Lifetime Warranty 
If you're not happy with it, you can return it for a full refund. In addition, there is a lifetime warranty against defects. We LOVE a company that stands behind their products and Dalstrong is a serious winner in this area.
Where to Buy It?
The Dalstrong Chef Knife is available on Amazon:


The Specs:
17 x 3 x 1 inches
1.4 pounds
Comes with free shipping
Smooth handle for easy grip
Durable materials
Power slicer, chopper and cutter
High quality material
Comes with Lifetime Warranty and money-back guarantee
People that Like the Dalstrong Chef Knife are Saying:
—>Read More Customer Reviews on Amazon<—
"This is a professional quality chef's knife, there is no doubt about it, and it is EXCEPTIONALLY effective, beautiful and way too inexpensive for that you get for it. This wouldn't be out of place in a professional kitchen.."
"Dalstrong bills their Shogun Series Chef Knife as 'the ultimate kitchen tool'. This knife is truly a masterpiece and we use it for literally almost every single meal at our house."
"This is a fantastic knife. Buy one for yourself and another as a gift and you will be an instant favorite of whoever you give it to."
"First off the knife is beautiful, its design is great and it has there lion head logo etched into it. Second the handle feels great and the whole knife has a perfect balanced feeling to it. I've sharpened it a few times now and it holds an edge extremely well."
Dalstrong Knife Unboxing
Compare Chef's Knives
If you're looking for a chef knife, this one from Dalstrong is only one choice. You can check out some more options here: Top 5 Chef's Knives. Or, check out this handy comparison chart below:
The Takeaway on the Dalstrong Chef Knife:
If you love cooking, you will surely love the kitchen activity even more. With the Dalstrong Chef Knife, you'll always feel excited to prepare food for the whole family. The high-quality blade will turn you into a professional chef at your own home.
The Perfect Gift for a Foodie
And, the best thing about this product is that, you can buy another one for a loved one. Since the price is very reasonable, you can definitely afford to give a person something valuable without spending much. Don't let this chance of owning a best-selling chef's knife and being able to give it as a present for special occasion, as well.
Top-Quality Japanese Steel
This Dalstrong knife features an extra sharp, vacuum heat treated Japanese steel cutting core. It measures 62+ on the Rockwell hardness test. What does this mean for you? Serious performance in the kitchen and some amazing edge retention.
The 66 layers of stainless steel offer excellent strength, durability and stain resistance. You'll find that the knife feels well balanced in your hands.
A Premium Knife Option
You may notice that this knife isn't cheap! However, for what you get, it's actually quite a good deal. Some comparable knifes get up into the $500-1000 range.
But, if you're looking for a cheaper option, then you may want to consider the Oxo Good Grip Knife, or the Orblue Knife. Both are a decent quality, but are priced more affordably.
Shop Now
Go to the Amazon to purchase the Dalstrong Chef Knife:


How to Take Care of a Kitchen Knife
Okay, so you've spent some serious money on a nice kitchen knife, and now you want to know how to look after it? Here are a few of our top tips for keeping it sharp for the decades to come:
Never put it in the dishwasher, but hand wash only.
Dry the knife immediately after washing it.
Don't put it into a drawer, especially one with other metal kitchen utensils.
Always use a cutting board (plastic or wood) to cut on.
Sharpen the blade regularly.
Use a rocking or sliding motion instead of an up/down one to keep it sharp for as long as possible.
Have your Say about this Dalstrong Knife
What do you think? Is it a serious win, or are you considering other knives? Leave a comment below and let us know what you think.