Welcome to Kitchen Gadget Reviews. If you're looking for the best in home cooking and want to level up with some top kitchen gadgets, then you're certainly in the right place. Our goal is to provide you with unbiased, informative reviews of all things kitchen and cooking products. Nobody wants to spend their hard-earned cash on a dud, right? We'll help you avoid that by giving you some solid recommendations for all things kitchen gadgetry.

We have everything you need to make delicious meals at home, including coffee, tea and SodaStream makers, knives and cutting boards, blenders, mixers and food processors, skillets, frying pans and fryers, ice cream makers, and slow cookers and rice cookers.
You can also find the best in breakfast food, and Italian cooking tips and gadgets.
Have a look around at some of the best household gadgets that are just plain awesome if you want to level up your eating and drinking this upcoming year. Kitchen Gadget Reviews: They're our specialty and it's quite literally all we do. The result? Kitchen product reviews you can trust.
The Top 5 for Kitchen Equipment Reviews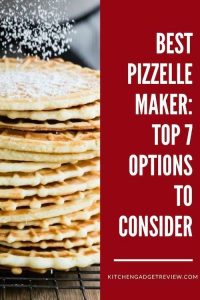 If you're looking for some cool kitchen gadgets, then you'll certainly want to check out some of our top picks. Here are some of the most popular gadgets for the kitchen that you might want to consider:
Want to see the complete list? Have a look here at the best products in each category:
Recipes and How-To at Kitchen Gadget Reviews
Besides just product reviews, we have all sorts of other good stuff, including recipes, cooking tips and tricks, and general "how-to" articles, including how to store cucumbers and what you can substitute for cornstarch. Have a look at them all right here:
Or, you may want to check out a few of our favourites:
Our Best-Selling Products
Want to know what people are buying when it comes to kitchen products. Here are some of the best-selling products:
You might also want to check out some of the most popular products right here:
Villaware Pizzelle Maker Review
Farberware Air Fryer Toaster Oven Review
Microban Antibacterial Cutting Board
Contact Kitchen Gadget Reviews
Want to get in touch with us? Have a kitchen or cooking gadget that you'd like us to review. A question about a product? We'd love to hear from you. Get in touch here:
Kitchen Gadget Reviews Contact
Last update on 2021-04-09 / Affiliate links / Images from Amazon Product Advertising API