As an Amazon Associate, I earn from qualifying purchases. What does this mean? I recommend products (only ones that I like) and if you purchase a product through that link, I earn some money.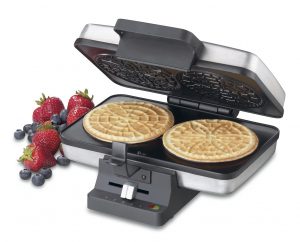 The Pizzelle is Italy's oldest cookie. But even though it is an Italian biscuit, many people from different parts of the world love it. Because of pizzeles' global popularity, many coffee shops have it on their menu. Keep on reading because we'll help you find the best machine to make this traditional Italian cookie.
We'll Help you Find the Perfect Pizzelle Maker
Are you among those who love pizzelles especially with a cup of coffee or tea? If you are, you should have a pizzelle maker home. This way, you need not go out of your way to get a pack of your favorite thin cookies. Don't worry! With our Top 5 Pizzelle Makers here, you'll find the best pizzelle maker that suits your needs and preference.
In our past Top 5 lists, we always prioritize price in our ranking. Quality and uniqueness are our top priorities. We already picked the 5 best machines to help you decide easily which one's ideal for your home, your family and fondness to hosting get-togethers. Read on and choose the one that interests you the most.
Check out our top picks here:
No. 1: Piccolo Pizzelle Baker
The Piccolo Pizzelle Maker is our No. 1 best pizzelle baker because of its uniqueness. It is designed for your children's tea party or your afternoon snacks with friends and loved ones.
4 Small Cookies at a Time
Unlike the other conventional ones that can bake only 1 or 2 cookies at a time, this one lets you bake 4 smaller pieces at a time. That's why it's ideal for making pizzelles for your kids because they can eat as much as they want as the cookies are bite-sized.
Many parents buy this to guarantee they are serving their kids healthy and light snacks every day.
Lightweight and Easy to Store
This one is the best especially if you or anyone you know cannot finish a piece of a regular waffle but still loves the taste of it so much. Because it is lightweight at 4 pounds and has steam guard to protect the hand, you can bond with your child or any kid you love to spend time with in the kitchen without any worries about safety.
When preparing to bake the mini thin waffles, you can already ask everyone at home how they want their pizzelle done. Indeed, this best-performing baker can make crisp, chewy, hard or soft cookies.
Among all the machines, this one makes the most uniform pizzelles. They come out looking nice, have an even thickness and, are ready to serve just about anyone!
What do People Think about This Pizzelle Iron?
—>Read More User Reviews and Ratings Here<—
"I finally found this one! It was exactly what I wanted. It makes 4 3-inched cookies per batch instead of just one or two bigger 5-inched pizzelles which most common makers make."
"In my family pizzelle is more than just a Christmas cookie! I came across this mini (piccolo) pizzelle baker on Amazon and decided to give it a try. I'm impressed! It heats up fast and stays hot batch after batch. I love the smaller cookies too, and so does the rest of my gang."
"This pizzelle machine is awesome! I love the petite size of each waffle and that it makes FOUR at a time. The prompt shipping is also a big plus for me!"
More Information and Where to Buy It
See: Full Review of the Piccolo Pizzelle Iron.
The Piccolo Pizzelle Baker is readily available on Amazon. Check now for the lowest prices and to learn more about it:

Compare Pizzelle Makers
Check out some of the other options in our handy comparison chart below:

No. 2: Chef's Choice Pizzelle Pro Express Bake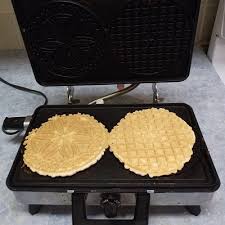 We're ranking the Chef's Choice Pizzelle Pro Express Bake 2nd in our Top 5 Pizzelle Makers because of its high rating on Amazon.
This machine can make two pizzelles at a time in just less than 30 seconds. And since this machine bakes the thin cookies fast, it can make many pieces to please more tummies at home.
Perfect for Cannoli Too
With this equipment, you can make pizzelles a la chef. It produces even heat for perfect results. If you are a cannoli-loving person, you're sure to love this fast baker too.
The Chef's Choice Pizzelle Pro Express Bake has nonstick baking surface to ensure instant heating. This means that, the machine is always ready to bake pizzelles. You don't need to wait for a long time for heating. Because of its instant temperature recovery, you can pour in the pizzelle mix any second to bake.
Key Features:
12 x 10 x 5 inches
4.5 pounds
Can make pizzelles in less than 30 seconds
Produces even heat
With non-stick baking iron
Ideal for cannolli
Comes with a recipe book
Customer Reviews
—>Read More Customer Reviews on Amazon<—
"This machine makes super thin cookies. It is extremely quick to have a cookie done in just about 15-17 seconds. It's also heavy-duty and I have a feeling this thing is going to last a lifetime."
"This is the best of the bunch, not to mention the decent price. The machine heats fast and evenly. Nothing sticks to this and cleaning is so easy. Each batch takes exactly 30 seconds, and there is no delay in waiting for it to heat up."
"This is absolutely the best pizzelle iron we have ever owned. We are able to make hundreds at a time and they are always perfect! The machine's very easy to use and clean. Simply wipe with a damp cloth. And that's it! We love it!"
Where to Buy It?
See: Full Review of the Chef's Choice Pizzelle Pro Express Bake.
You can easily get the Chef's Choice Pizzelle Pro Express Bake on Amazon. Click the button below to learn more about this popular option for delicious, homemade cookies:


Learn How to Make Pizzelles
Check out this short video below for some tips and tricks on making delicious homemade cookies:
No. 3: CucinaPro Non-Stick Pizzelle Maker
The CucinaPro Pizzelle Maker is yet another one of the highest-rated in pizzelle makers available in the market today. It comes in at number three on our list.
Because of this almost perfect grade, you are guaranteed of a high-quality product. If you prefer waffle-tasting yet crispy and cookies, this one's for you.
2, 5-Inch Pizzelles
This kitchen gadget can bake two 5-inched pizzelle at a time. The said size is so ideal for anyone who prefers bite-sized cones for their ice cream, yogurt or crepe filling.
The steam guard of this pizzelle maker functions as protector for your hands from heat. You don't even need a dishwasher to clean this highly-rated pizzelle machine. You can actually clean it through hand-wash.
Aside from the taste, kids love to eat these cookies baked in this maker because of the artistic design. This is what pizzelle makers are known for—to create beautifully designed pizzelles!
Make According to your Preferences
What makes the CucinaPro Non-Stick Pizzelle Maker unique is its ability to make thin waffles according to the eaters' preference. A piece of pizzelle can be hard and crisp. It can be soft and chewy too. The even heat distribution allows for reliable results.
And you can achieve your desired crispness depending the ingredients you use and instructions you follow during the preparation. Pizzelle is famously known as the oldest cookie in Italy. Therefore, owning this is like having a vintage appliance in the kitchen.
The locking lid is a safety feature that we love as well on this machine. It's also durable and will last you for decades.
Key Features
Can make 3 5-inch pizzelle cookies at a time
Very thick baking or non-stick plates guaranteeing even distribution of heat
Easy to clean, with a food-grade nonstick surface
One of the most trusted brands among Italian cooks and chefs
Polished, stainless steel exterior looks nice on your countertop
Includes a warranty
User Reviews
—>See More Customer Ratings and Reviews<—
"This is such a beautiful machine! Its heavy, blinding chrome finish makes this machine's high quality. Also, it has the most beautiful small flower pattern or waffle weave. I am very happy with it and so happy that I got the recommendation from my Italian friend!"
"This pizzelle baker is quick and easy to use. It creates perfect pizzelles in just about one minute. Not only is it the perfect baker, but the aluminum plates clean up in seconds with just a quick wipe of a clean, damp cloth!"
"This pizelle maker comes with recipes that can be used. I tried one, which was great and then I tried a different one I received from a relative. Both recipes turned out great cookies! A nice, even heat distribution."
Learn More About It
See: Full Review of the CucinaPro Pizzelle Iron.
You can easily order the CucinaPro Non-Stick Pizzelle Maker on Amazon. Click the button below to find out more about it here:

This company also makes an excellent homemade pasta machine. Check it out right here: Cavatelli Machine Reviews.
No. 4: Cuisinart Pizzelle Press: One of the Best Pizzelle Makers
The Cuisinart Pizzelle Press is a perfect must-have for light yet nutritional snacks. If you're a busy person and you still prefer pizzelle for easy breakfast, this one's for you.
It makes thin and crispy cookies instantly. The 2-light indicator is easy to operate.
5 Browning Levels with this Best Pizzelle Iron
And, to achieve the perfect crispness, this thin-waffle baker can be operated with 5 different browning levels. If you are a first-time waffle baker, you don't need to worry about unsuccessful results.
Nonstick Plates Make for Easy Clean Up
The nonstick plates of this pizzelle press let you take away the warm pizzelle minus breaking them. Therefore, baked pizzelle can be rolled to make cones or cannolis. This kitchen gadget is so easy to clean. All it takes is a damp cloth to wipe the surface and storing once cooled.
It's compact, and easy to store as well when not in use. What's not to love?
Key Features of one of the Best Pizzelle Makers:
10 x 10 x 4 inches
4 pounds
2 artistically designed patterns for beautifully-printed pizzelle
With measuring spoon for accuracy
With rolling dowel to make cannoli
Locking lid to result in even cooking
Makes 2, 4 inch Pizzelles at a time
5 settings for browning control (hard and crispy, or soft and chewy?)
3 year warranty
Non-stick plates that are removable for easy cleaning
People that Like the Cuisinart Pizzelle Press are Saying:
—>See More Customer Ratings and Reviews<—
"This is exactly what I was looking for! It works great and I was making perfect pizzelle in no time at all. I got the recommendation from my Italian friend for a cheaper Pizzelle iron and I'm super happy with it."
"I baked a perfect pizzelle with this machine! It is a great pizzelle maker and you can't beat the price. It heats instantly, not to mention evenly! I personally prefer mine a bit chewy so I use the second lowest setting."
"Just so you know, I bought this item hoping it would make a Scandinavian cookie called Krum Kake. I wasn't disappointed. Everything was non-stick heaven and the removable plates aren kind of amazing for easy clean-up."
Where Can I Buy It?
See: Full Review of the Cuisinart Pizzelle Press.
You can easily buy the Cuisinart Pizzelle Press on Amazon Today. Click the button below to learn more about one of the best pizzelle makers:

No. 5: VillaWare Prego Nonstick Pizzelle Baker
The VillaWare Prego Nonstick Pizzelle Baker is one of the bestsellers on Amazon today and rounds out our list.  This is your best time to consider this machine especially if you are thinking of buying it as a gift for a special woman in your life.
2, 5-Inch Cookies
This electronic gadget can bake 2 5-inch classic Italian cookies at a time. Therefore, your recipient will surely be amazed that this baker can make pizzelles in just 30 seconds!
The VillaWare Nonstick Pizzelle Baker features Xylan nonstick grids for easy handling. The automatic thermostat serves as the indicator when the pizzelles are ready. This way, you or your recipient, won't have a hard time determining whether the pizzelles are ready for serving or more time is needed to add crispness.
Safety Features you'll Love
Your hands are guaranteed protected by this professional baker's steam guard feature.  Even though this kitchen equipment is a little heavy at 6 pounds, it stands upright so as not to eat too much space in the kitchen. We love the durable brushed stainless steel construction.
VillaWare V3600-NS Prego Nonstick Pizzelle Baker
Electric appliance bakes 2 5-inch Italian pizzelles every 30 seconds
Imprints traditional fiori pattern on each waffle-like cookie
Xylan non-stick grids; automatic thermostat with "ready" light
Steam Guard protects hands; cord wrap; instructions with recipes included
Product Built to North American Electrical Standards
Key Features:
11 x 11 x 5 inches
6 pounds
Can bake 2 5-inched pizzelles
Bakes fast for 30 seconds per batch
With nonstick grids (Xylan coating)
'Ready' light indicator
With easy instruction
Built to North American electrical standards
Convenient upright storage, with a handy cord wrap
User Reviews for One of the Most Popular Pizzelle Makers
—>See More Customer Reviews and Ratings Here<—
"It's been almost 5 years since I've purchased this pizzelle iron. I'm happy to say that it's still functioning just as well as the first day I got it. I got the recommendation from several of my Italian friends and it hasn't let me down!"
"I love this pizzelle iron – it's fast, clean, and helps me make one mean pizzelle! Last year, I bought this for my husband for Valentine's Day and he's been asking for more pizzelles ever since!"
"This pizzelle baker is very nice. The non-stick coating is easy to clean and the pizelle don't stick. The iron heats fast and keeps constant temperature. I found that they just cook consistently, without burning or getting too doughy in places like some of the other irons that I've tried."
Find Out More About this Electric Pizzelle Maker
See: Full Review of the VillaWare Nonstick Pizzelle Baker.
Purchase the VillaWare Nonstick Pizzelle Baker on Amazon Today:

What Should I Consider When Choosing a Pizzelle Press?
That's a great question and we're happy that you asked. There are a number of factors that you should consider when buying your pizzelle maker. Here are a few of the most important ones for buying pizzelle makers.
Storage and Pizzelle Makers
There are a number of different designs that can help you save space in your cupboards when it's not in use. You may want to look for:
Cords that tuck away, or wrap around the machine
Upright storage
Foldable handles
Heat Up Time
The older units take more than 10 minutes to heat up, while the newer ones only take a minute or two. Plus, they're stay warm between batches very easily.
If time is an issue, opt for one of these newer, faster ones.
Temperature Controls with Pizzelle Makers
Some presses allow you to customize your browning level. You can turn the dial, pour the batter in and then the machine does all the work for you. It'll beep, or an indicator light will go on when your pizzelle is done.
Older style ones require far more management on your part, and the results are often inconsistent.
Materials
You can find pizzelle makers in aluminum, iron or stainless steel. There are a number of advantages and disadvantages to each. Stainless steel is quite durable and sturdy, as well as resistant to rust.
The other materials are less durable.
Size and Pattern for Pizzelle Makers
While not important to most people, it may matter to you. Some units make small, or large pizzelles, and the patterns vary among each one.
Locking Mechanism
These devices have a lock mechanism to make sure no heat escapes during the cooking process. Make sure it's easy to use, and also that it won't fall apart after a few uses.
Overflow Channels
Some presses have a channel that collects excess batter. This can make clean-up much easier. The ones that don't have it? It just flows out the side and sticks to the machine.
Tips for Making the Perfect Pizzelle
There are a few simple tips you can follow for making some delicious traditional Italian cookies! Check them out here:
Read the instruction booklet that's included with your machine thoroughly. Each one has specific things you need to do.
It takes time and patience to make a big batch of these things. P
ut on a TV show, or get your favourite podcast going!
Make sure that the iron is heated up completely before starting (most machines have an indicator light).
There are a million and one recipes so keep trying new ones until you find one that you love.
Most machines have a non-stick surface. However, you may want to use a bit of vegetable oil, or a cooking spray to assist with this. Just put some on the surface every few cookies for best results.
There will be imperfections in each pizzelle. Don't worry about this! As with any homemade product, it's not easy to achieve perfection in both taste and appearance.
For a uniform thickness, ensure even distribution of the batter before closing the lid. Although the machine does some of the work, it's best to spread it out a bit first too.
Have your Say about these Pizzelle Maker Reviews!
What are your thoughts about the best pizzelle maker? Do you have a brand that you're considering over the rest? Leave a comment below and let us know. We'd love to hear from you.
Also be sure to give this article a share on Facebook, Pinterest, or Twitter. It'll help other aspiring home cooks, like yourself find this useful resource.
Last update on 2019-11-13 / Affiliate links / Images from Amazon Product Advertising API