Are you looking for a top-quality pizzelle press at a reasonable price? Then this one from Chef's Choice should be at the top of your list. Read our buying guide, packed with information to help you decide if it's the right pizzelle maker for your needs.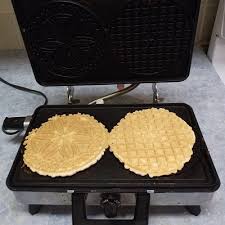 Review of the Chef's Choice Pizzelle Maker
It makes two pizzelles at a time in just less than 30 seconds. And since this machine bakes the thin cookies so quickly, it can make many pieces to please more tummies at home! With this equipment, one can make pizzelle's a la chef. It produces even heat for perfect results.
Delicious Cannolis as Well
Those who love cannolis are sure to love this fast baker too. They'll definitely eat all they can without having to spend a lot of time preparing and cooking.
Easy to Clean Non-Stick Surface
The Chef's Choice Pizzelle Iron has a nonstick baking surface to ensure instant heating. This means that the machine is always ready to bake pizzelles. The baker needs not to wait for a long time for heating.
Cooks an Entire Batch Quickly 
Because of its instant temperature recovery, this kitchen gadget's user can pour in the pizzelle mix any second to bake. It cooks very quickly and a whole batch will be done in no time!
Even Thickness 
What sets this express pizzelle baker apart from the others is its combined locking latch that offers even thickness. With this feature, one can make perfect thin waffles from thickness to texture, design and taste. Not all kitchen products are offered with warranties but this one comes with a 1-year warranty to ensure customer satisfaction.
Shop Now
The Chef's Choice Pizzelle Maker is available on Amazon. Check now for the best prices and also to learn more about this popular pizzelle press:
Key Features
12 x 10 x 5 inches
4.5 pounds
Can make pizzelles in less than 30 seconds
Produces even heat
With non-stick baking iron
Ideal for cannolli
Comes with recipes
People that Like the Chef's Choice Pizzelle Iron are Saying:
—>Read More Customer Reviews on Amazon<—
"This machine makes super thin cookies. It is extremely quick to have a cookie done in just about 15-17 seconds. It's also heavy-duty and I have a feeling this thing is going to last a lifetime."
"This is the best of the bunch, not to mention the decent price. The machine heats fast and evenly. Nothing sticks to this and cleaning is so easy. Each batch takes exactly 30 seconds, and there is no delay in waiting for it to heat up."
"This is absolutely the best pizzelle iron we have ever owned. We are able to make hundreds at a time and they are always perfect! The machine's very easy to use and clean. Simply wipe with a damp cloth. And that's it! We love it!"
Drawbacks of the Chef's Choice Pizzelle Maker:
So fast that it cannot just be left unattended
Uneven shape and edges, according to some
Some issues with the instant heating feature
Some people prefer other brands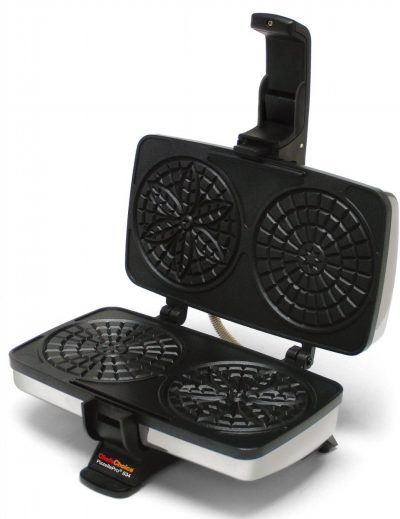 The Takeaway on the Chef's Choice Pizzelle Maker:
If you want bakeshop quality for your homemade pizzelle, invest in a Chef's Choice Pizzelle Pro Express Bake. Investing though, won't cost you too much. It comes in silver color and can make about 2 4-inch cookies at the same time in just less than half a minute.
Delicious, Thin Italian Cookies
Guaranteed to produce perfectly thin pizzelles, this highly recommended kitchen machine is also ideal for making cannollis.
Doesn't Require Much Time
This won't take too much of your time so don't attempt to leave the machine while baking your pizzelles. You only have 30 seconds to completely cook every batch. This means that the Chef's Choice Pizzelle Baker is always hot and ready for cooking.
Imagine yourself preparing cannollis and pizzelles in the kitchen. In reality, with this pro baker, you'll discover that you can make more than a hundred cookies in less than an hour.
Easy to Use
Are you worried about the negatives you read online and hear from other people?  Worry no more! You won't need to leave the machine anymore because baking with this pizzelle maker is continuous.
Where Can I Get it?
As earlier mentioned, this product comes with 1-year warranty. This is more than enough time for you to experience satisfaction.  Go to Amazon page to purchase the Chef's Choice Pizzelle Iron today.
Learn How to Make Pizzelles
FAQs
There are a number of common questions that people have about this handy kitchen tool. Here are the answers to some of the most popular ones.
How do pizzelle irons work?
Pizzelle irons have two heated plates that press and cook the batter, creating thin and crispy pizzelles in a short amount of time.
How long does it take to cook pizzelles with the Chef's Choice Pizzelle Maker?
Cooking times may vary, but typically, pizzelles can be cooked in 30 seconds to 1 minute using the Chef's Choice Pizzelle Maker.
Can I adjust the temperature with the Chef's Choice Pizzelle Maker?
Yes, the Chef's Choice Pizzelle Maker usually has adjustable temperature settings, allowing you to control the level of browning and crispiness of the pizzelles.
Does the Chef's Choice Pizzelle Maker come with different pattern plates?
Yes, some models of the Chef's Choice Pizzelle Maker come with interchangeable pattern plates, allowing you to create various designs on your pizzelles.
Are pizzelle makers easy to clean?
Pizzelle makers are typically easy to clean. The nonstick plates can be wiped clean with a damp cloth or sponge after they have cooled down.
Can I make other treats besides pizzelles with the Chef's Choice Pizzelle Maker?
While primarily designed for making pizzelles, the Chef's Choice Pizzelle Maker can also be used to make other thin, crispy treats like waffle cones or tuiles.
Are pizzelle makers compact and easy to store?
Pizzelle makers are usually compact and have a sleek design, making them easy to store in a kitchen cabinet or drawer when not in use.
Can I make gluten-free or vegan pizzelles with the Chef's Choice Pizzelle Maker?
Yes, you can adapt pizzelle recipes to be gluten-free or vegan and use the Chef's Choice Pizzelle Maker to cook them. Simply substitute the necessary ingredients accordingly.
Does the Chef's Choice Pizzelle Maker come with a warranty?
The warranty coverage may vary depending on the specific model, but many Chef's Choice Pizzelle Makers come with a limited warranty to cover manufacturing defects.
Have your Say about the Chef's Choice Pizzelle Press
What are your thoughts about this top-quality pizzelle iron? Is it a win, or are you considering another brand? Leave a comment below and let us know what you think.
Also be sure to give this article a share on Twitter, Pinterest, or Facebook. It'll help other Italian cooking enthusiasts, like yourself find this useful resource.
Last update on 2021-04-09 / Affiliate links / Images from Amazon Product Advertising API