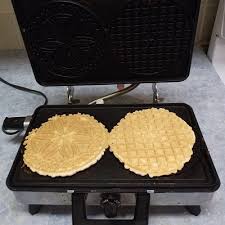 Review of the Chef's Choice Pizzelle Pro Express Bake
It makes two pizzelles at a time in just less than 30 seconds. And since this machine bakes the thin cookies so quickly, it can make many pieces to please more tummies at home! With this equipment, one can make pizzelle's a la chef. It produces even heat for perfect results.
Those who love cannoli's are sure to love this fast baker too. They'll definitely eat all they can without having to spend a lot of time preparing and cooking.
The Chef's Choice Pizzelle Pro Express Bake has a nonstick baking surface to ensure instant heating. This means that the machine is always ready to bake pizzelles. The baker needs not wait for a long time for heating.
Because of its instant temperature recovery, this kitchen gadget's user can pour in the pizzelle mix any second to bake.
What sets this express pizzelle baker apart from the others is its combined locking latch that offers even thickness. With this feature, one can make perfect thin waffles from thickness to texture, design and taste. Not all kitchen products are offered with warranties but this one comes with a 1-year warranty to ensure customer satisfaction.
The Chef's Choice Pizzelle Pro Express Bake is available on Amazon:

Pizzelle Maker Comparison 
For even more options, check out our Top 5 Pizzelle Makers. Or, take a look at our comparison chart below:

The Specs:
12 x 10 x 5 inches
4.5 pounds
Can make pizzelles in less than 30 seconds
Produces even heat
With non-stick baking iron
Ideal for cannolli
Comes with recipes
People that Like the Chef's Choice Pizzelle Pro Express Bake are Saying:
"This machine makes super thin cookies. It is extremely quick to have a cookie done in just about 15-17 seconds."
"This is the best of the bunch, not to mention the decent price. The machine heats fast and evenly. Nothing sticks to this and cleaning is so easy. Each batch takes exactly 30 seconds, and there is no delay in waiting for it to heat up."
"This is absolutely the best pizzelle iron we have ever owned. We are able to make hundreds at a time and they are always perfect! The machine's very easy to use and clean. Simply wipe with a damp cloth. And that's it! We love it!"
Drawbacks of the Chef's Choice Pizzelle Pro Express Bake:
So fast that it cannot just be left unattended
Uneven shape and edges, according to some
Some issues with the instant heating feature
Some people prefer other brands
Takeaway on the Chef's Choice Pizzelle Pro Express Bake:
If you want bakeshop quality for your homemade pizzelle, invest in a Chef's Choice Pizzelle Pro Express Bake. Investing though, won't cost you too much. It comes in silver color and can make about 2 4-inch cookies at the same time in just less than half-a-minute.
Guaranteed to produce perfectly thin pizzelles, this highly recommended kitchen machine is also ideal for making cannollis.
This won't take too much of your time so don't attempt to leave the machine while baking your pizzelles. You only have 30 seconds to completely cook every batch. This means that the Chef's Choice Pizzelle Pro Express bake is always hot and ready for cooking.
Imagine yourself preparing cannollis and pizzelles in the kitchen. In reality, with this pro baker, you'll discover that you can make more than a hundred of cookies in less than an hour.
Are you worried about the negatives you read online and hear from other people?  Worry no more! You won't need to leave the machine anymore because baking with this pizzelle maker is continuous.
As earlier mentioned, this product comes with 1-year warranty. This is more than enough time for you to experience satisfaction.  Go to Amazon page to purchase the Chef's Choice Pizzelle Pro Express Bake today.