Do you want to learn how to make delicious Italian cookies known as pizzelles at home? Then you're definitely in the right place. Keep on reading for all the details you need to know!
Make Homemade Pizzelle: Italian Tradition at Home
There are three words to describe the Italian word pizzelle. These are flat, round, and small. Pizzelle is known to be the oldest Italian cookie. It is a waffle-type cookie made by pouring in batter between two iron plates which are typically heated electrically. Like the waffles, these cookies are cooked through an electric machine called a pizzelle maker or press.
Food history has it that these thin versions of waffles originated in the Region of Abruzzo during the 18th century. More so, these Italian cookies were usually served during special occasions like festivals in honor of the citizens' patron saints. Celebrants ate them to celebrate the festive occasions.
At present, these biscuits are found in almost all celebrations of the said region and even the whole of Italy. Because of the information gathered about this type of biscuit, pizzelle has already been considered part of the Italian tradition. It is very seldom that weddings in Italy do not have the cookies on the dessert table.
Relatively, these old Italian biscuits are closely related to family. As a matter of fact, pizzelle makers are normally designed with family's crest for a pattern. Also today, the famous Italian cookies are favorite eats during Christmas, Easter, and family reunions.
Bring home the Italian tradition
Did you find the information interesting? If you are a waffle lover but you want it thinner and crisper, then you'll definitely love the pizzelle! It is even healthier because all ingredients and components found in the waffle from preparation to serving are reduced. Yes, they are reduced because, as mentioned, they are thinner and sometimes smaller than the conventional waffles.
Here's the good news: You can bring home this popular Italian tradition wherever you are! The better news is that, you don't have to buy ready-to-eat from the grocery store which are most of the time quite expensive. You don't even have to go to a fancy Italian restaurant to enjoy the delicious sweet cookies. All you need is a reliable pizzelle machine or maker to enjoy the biscuits in generous servings.
Here at Kitchen Gadget Reviews, our #1 pick for Pizzelle Maker is the Piccolo Pizzelle Baker. It's a top-quality machine at a very reasonable price. You can easily get it on Amazon today:

Delicious Italian Cooking at Home
If you have this reliable kitchen equipment, can make homemade Italian cookies wherever you are in the world. Whether you are in the United States, Canada, Australia, or even the Philippines, it doesn't matter! You'll still enjoy the same old delicious taste of these Italian cookies.
Great, isn't it?! Eating these cookies with your family and loved ones at home is like attending a wedding in Italy. Imagine celebrating Italy's Eastern activities at home over a cup of coffee or tea, partnered with crispy pizzelles.
With a pizzelle maker, you can make the traditional cookies at home and serve them in many different ways. Some prefer their cookies soft to wrap over their choice of filling (a la crepe). Others eat them in alternating layers of heavy cream and fruits. Here is an easy-to-follow basic recipe of how to make this traditional Italian cookie .
To make the homemade pizzelle, you will need:
3 eggs (large)
¾ cup sugar
a pinch of salt
1 teaspoon vanilla
1-3/4 cups all-purpose flour
2 teaspoons baking powder
½ cup butter (melted)
Here's how to Make these Italian Cookies: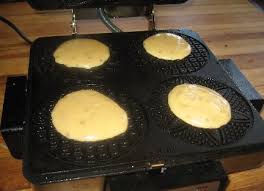 Beat the eggs, sugar, vanilla and salt. Combine well.
Add the flour and baking powder. Continue mixing until the mixture becomes smooth.
Pour in the melted butter. Continue mixing again until it becomes smooth. Your batter should be soft and thick by this time.
Set the machine to desired heat. When heated, the batter gets stiff.
Bake the cookies according to the machine's manual or instruction. Typically, the pizzelle cooks for 45 seconds to up to about 2-1/2 minutes if you prefer it more toasted.
Remove the baked cookies from the iron and let it cool. If you want, you can use a pair of cooking scissors to perfect the edges.
Dust the cooled cookies with confectioner's sugar if you want your biscuits sweeter.
You can store them in an airtight container. If they get a little bit soggy, you can crisp them up in a toaster oven, or by giving them a quick blast with a culinary torch.
All about Pizzelle Makers
Isn't this recipe easy to follow? If you have yet to get yourself a pizzelle maker but you don't know how to get started, worry not. It's easier than you might think to make these delicious sweet treats at home.
Our Top 5 Pizzelle Makers will help you choose the pizzelle baker you need. The pizzelle presses in our list vary according to functionality, price and features.
Check out the Full Review of the Piccolo Pizzelle Baker. It's the No. 1 in our list because of its unique features and yet it is still reasonably priced. It's easy to use and has a nice, non-stick surface that won't cause you stress and unhappiness with sticking cookies or a difficult clean-up!
Have Your Say about Making Pizzelles
What are your thoughts about this delicious recipe? Any tips or tricks for making them extra delicious and crispy? Leave a comment below and let us know what you think about this handy Italian cookware. We'd love to hear from you.
Also be sure to give this article a share on Facebook, Pinterest, or Twitter. It'll help other Italian cookie enthusiasts, like yourself find this useful resource.