Do you want to know how to clean a panini maker (or quesadilla makers) the easy way? Then keep on reading to find out all the details you need to know in our handy how-to guide.
How to Clean a Panini Press: 5 Simple Steps
To clean a panini press, follow these simple steps:
Unplug and let your panini iron cool down.
Wipe with a damp paper towel.
Use a small amount of warm, soapy water to get rid of any oil or crusty bits.
Wipe with a damp paper towel to remove any soap.
Let dry completely and then store away until next time!
Everything you Need to Know About Cleaning a Panini Press
Who doesn't love a nice, toasty sandwich, right? But, it's often the clean-up that can give people pause before pulling out their grill. It doesn't have to be terrible though!
A healthy and clean panini can only be the work of a top-of-the-line panini press. But that can't be possible if the sandwich maker isn't properly cleaned or maintained from time to time.
Most of the kitchen appliances are pretty easy to use, but perhaps the most challenging part of it is the cleaning. It's what often puts off a lot of people from owning these nifty gadgets. But part of owning a panini press or grill comes with the mindset of being able to clean it as well. The use and cleaning are a package deal and there's no way around it.
If you want to learn how to clean a panini press, this is the article for you. And if you do it just right, you can have your grill cleaned in just under a minute. But before we get to the maintenance part, let's have a look at some of the challenges that many go through in cleaning this appliance.
Challenges in Cleaning a Panini Press
If you were to assume that a panini press can easily be cleaned like other kitchen utensils such as a pot or toaster oven, you'd be really disappointed. In truth, the cleaning procedure required for this device is tricky due to the following two reasons:
Some panini press models are made with the plates permanently attached to them. This means that you have to clean the whole thing along with the plates. This process can be both annoying and messy to deal with. It can also be dangerous if you leave the press plugged into an electric source when you're cleaning it. So to avoid such a hazard, it's best to go through the manufacturer's instruction manual on how to properly clean it.
Many panini press models generally come with non-stick plates, which provides a good leeway to your cooking experience. But sadly, you also have to be extra cautious in order to keep non-stick properties intact. Like the last point, browse through the manufacturer's instruction manual along with the tips below on how to clean the panini press plates non-aggressively.
How to Clean a Panini Press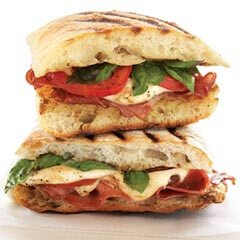 There are a few simple steps you'll need to follow to clean a panini a press. Here's a quick preview:
Safety first (unplug it)
Use your dishwasher for removable plates
Soak the plates in hot, soapy water if there is lots of baked on foods, or you were cooking something very greasy.
Use dishwashing soap for non-removable plates
Wipe with a soft, damp cloth until there's no more food residue
Use wooden chopsticks for scraping stuck on cheese
Cleaning a Panini Press: Not So Difficult!
The steps involved in cleaning a panini press are quite simple. That is, provided you follow them to a tee.
And the best part of it is that you don't need any special cleaning agent or equipment to get the job done. You probably already have everything you need around your house. The methods below aren't simply for cleaning sandwich grills, but also effective ways to clean a commercial panini press.
So here's what you have to do to get rid of food residues, melted cheese, and oils from your panini grills. Read our quick guide for the few simple steps you need to know.
Step #1: The Most Important Things
We're ALL about safety first. Make sure to unplug it from the wall because water and electricity don't mix well.
Besides that, make sure it's not hot when you clean your panini press. Warm is better than cold though because the grease will not have congealed yet.
Step #2: Utilize Your Dishwasher
This method is appropriate for those panini press models that come with removable plates. And if this is so, then you might want to reaffirm it from the manufacturer's manual to see if it's recommended to wash the plates in the dishwasher.
This procedure is arguably the easiest and most efficient way to clean the plates. They get extra shiny and have no grease on them this way. Just be sure that the plates are cool before you handle them.
Step #3: Soak the Plates
If the manufacturer of your Panini press recommends washing the device using only your hands, regardless of whether or not it comes with removable plates, then all you have to do is simply fill the sink with hot water and then add some dishwashing soap to it.
Then leave it like that for some time, just so the melted cheese, as well as other food residues, soften up. Then use a soft cloth to wipe the plates. The residue should come off easily.
Step #4: Use Dishwashing Soap on Non-Removable Plates
If your Panini press comes with non-removable plates, you can even use dishwashing soap to clean it up. To do this, first, get a bowl, fill it with hot water and then add dishwashing soap into it. Then get a soft cloth, a sponge or a rag, soak it in the hot water, and then gently rub it on the plates until all residue is removed.
Remember that hot water works much better to remove grease. Use rubber gloves if necessary.
Be sure not to use too much water so that the electrical components of your Panini grill are protected. Refrain from using rough cloths or abrasive sponge on the plates.
Especially make sure that the appliance is both switched off and unplugged before you carry out this cleaning process as failing to do so may result in electrocution. Water and electricity don't mix!
Check out: recommendations for a sink sponge holder.
You'll want to consider picking up a panini grill cleaner to get the job done right. Here are some of our favourite options for a panini cleaner:
Step #5: Simply Wipe the Plates
If there isn't much food that you're preparing with your Panini press, then there's no need for you to go through the dishwashing process. You can simply use a soft cloth to wipe away any food particles and soak up any oil deposits. If you're using this procedure, make sure you do a thorough cleaning to always prevent the buildup of germs and bacteria.
If you don't put a lot of cheese for example on your sandwiches, this might work for you. The real mess comes when cheese goes over the edge of the sandwich.S
Step #6: Use Wooden Chopsticks for Scraping
If your plates have some stubborn cheese stuck to them, and you've used just about every other method to get it off without any give, then try wrapping a soft cloth at the end of a chopstick and use it to gently scrape the cheese off.
Avoid using steel wool, a knife, or any other type of object that could adversely affect non-stick plates. And be gentle, even with the chopsticks.
How to Clean a Panini Press with Less of a Mess
There are other ways in which you can clean your Panini press without dealing with a lot of mess in your way
If you like to eat your Panini with some cheese, just know that the cheese will melt and escape from openings in your bread made from your sandwich press, which leads to the cheese pouring out on the plates of the press. So if this happens, try reducing the amount of cheese you need for your sandwich.

Most panini grill manufacturers recommend you use a small quantity of oil on the plates to prevent sticking. If the oil gets stuck between the ridges of the plates, it will be difficult to get rid of. Simply apply only a touch of oil.

If you're hungry to the point where you feel like stuffing your panini with every filling that comes to mind, the filling itself will easily spill out as you close the panini press, thereby messing up the entire grill with food particles. Just consider the modest recipe as you're still going to enjoy every bite of it anyway.
Cleaning a Panini Press FAQs
There are a number of common questions that people have about cleaning a panini maker. Here are the answers to some of the most popular ones.
How do you clean a panini press with baking soda?
To clean a panini press with baking soda, mix 2 TB of soda with a 1/2 cup of warm water. Pour this running mixture onto the bottom plate and use a soft cloth to wipe the top plate. Remove the solution using a clean cloth and season the grill as necessary.
Do you need to oil a panini press?
Crunchy, grilled bread is a trademark of a panini sandwich. If you want this to happen, it's best to use some olive oil or melted butter on the bread, spread with a brush. However, you can also use a cooking spray for the grill directly, which saves a few calories.
How do you clean a burnt sandwich maker?
The best way to clean a burnt sandwich maker is to prevent it from getting this way in the first place. Be careful with wet ingredients like cheese and use only the amount necessary. Besides that, remove the plates and soak them in hot, soapy water. Wash well with a soft cloth.
How do you clean a Cuisinart panini press?
To clean a Cuisinart panini press, wipe the base, cover and control area with a soft, damp cloth. Then, remove the plates and drip tray and put them in the dishwasher. If there are any burnt bits, soak them first in hot, soapy water in the sink.
Can a sandwich maker be washed?
A sandwich maker can be washed with a soft, damp cloth. Never use a scrub pad because this can damage the finish. Also, never put it into the sink because you can destroy the electrical parts of it. If you have baked-on food, soak with a mixture of baking soda and water, or remove the plates and put them into a sink with hot, soapy water.
Do you Have any Tips or Tricks for Cleaning a Panini Maker?
Please share them with us! Leave a comment below and let us know. We'd love to hear from you.
Also be sure to give this article a share on Facebook, Twitter or Pinterest. It'll help other toasted sandwich lovers, like yourself find this useful resource.
Last update on 2021-04-09 / Affiliate links / Images from Amazon Product Advertising API