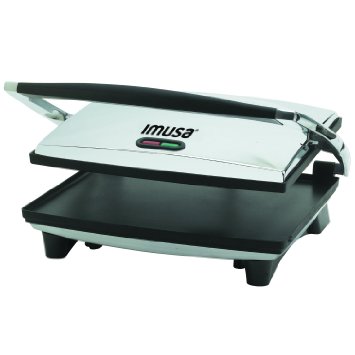 Are you looking to make crispy, hot, delicious grilled sandwiches? Yes? Thought so. then you'll need to keep on reading for our review of the popular Imusa sandwich maker.
IMUSA Panini and Sandwich Maker Review
The IMUSA Sandwich Maker is a high-quality panini press and sandwich maker with an excellent rating on Amazon. It's made of stainless steel and has two flat, non-stick plates that make for very easy clean-up. Just wipe the cooking surface, even with sticky foods like melted cheese.
Learn more here: How to Clean a Panini Press.
Cooks Sandwiches of Any Height
The locking hinge on the lid allows you to cook sandwiches of any height evenly and the single temperature setting will grill them to perfection in under five minutes. See: Basic Panini Recipes for some ideas!
A quick tip: try it out for grilled cheese sandwiches and you'll wonder why you've never tried it before! It really is that good. At our house, it's one of our most used kitchen appliances and it sits permanently on our kitchen counter.
Imusa Electric Sandwich Grill: Durable and Will Last for Years
This panini press is one of the more expensive ones, but it's extremely durable and will last for years. One reviewer on Amazon mentioned buying this for their restaurant, making over 2000 sandwiches with it and it's still going strong.
90-Day Limited Warranty
One of the small negatives is that there's only a 90-day warranty that covers manufacturer's defects. Some companies are far more generous and offer warranties up to a year or money-back guarantees if you're not happy with it.
However, for the price and when considering the quality of the machine? This is actually only a small negative.
Where Can I Buy the Imusa Panini Press?
The IMUSA Electric Panini and Sandwich Maker is Available on Amazon. Click the button below to check for the lowest prices and also to see if this product is eligible for free shipping with a Prime membership:

The Specs on the IMUSA Panini Press:
9 pounds
5 x 16 x 15 inches
Stainless steel construction
Lockable handle for sandwiches of any width
Floating hinge mechanism can handle sandwiches of any thickness
Two large nonstick, flat cooking plates allow for easy clean-up and even cooking
Cool touch surface and handles for added safety
Power and heat indicator lights
1400 Watts of power
People that like the IMUSA Panini Maker are Saying:
—>See More Customer Reviews on Amazon<—
"I love the flat grill plates and use it for a ton of stuff other than sandwiches. My favourite is pancakes and French toast when I have a crowd over for breakfast. Of course, it also makes delicious panini sandwiches. We just keep this on our countertop because we use it so much."
"My family uses this the Imusa panini maker every single day. We love it and find that clean up is super easy. You just to wipe it with a damp cloth once it cools down. I thought it'd be a hassle to have non-removable cooking plates, but it's surprisingly not."
"This press makes a perfect sandwich in less than two minutes. It's amazing and I recommend it to anyone. I bought it as a cheap starter panini press for a coffee shop that I recently opened and expected it to last only a couple of months. The good news? It's been two years now and when it breaks, I'm going to replace it with another one of these."
Imusa Sandwich Maker Review
Do you want to find out more about this popular electric sandwich press? Then you'll want to check out this short video on YouTube for all the details you need to know:
IMUSA Sandwich Maker Negatives:
Has no on/off switch. Plugging it into the wall turns it on.
Not good for things like burgers because there is no drainage for fat.
Non-removable plates, although the flat plates are extremely easy to clean-up.
A bit big to store in a small kitchen.
Non-adjustable temperature setting (for some that do have this, check out: Top-Rated Panini Presses)
Compare Panini Makers
Besides the Imusa sandwich press, there are a ton of other options available today. They range in sizes, and whether or not they have flat, or ridged grills surfaces. Of course, surfaces vary too and some of them feature things like a floating hinge, or removable, dishwasher safe plates. And prices vary considerably too.
If you want to see some of the other options, then you'll want to check out this handy comparison chart below:
The Takeaway on the IMUSA Electric Panini and Sandwich Maker:
Overall, the IMUSA panini press is an excellent product from a trusted name and you will likely be happy with it for years. The flat, adjustable locking plates allow for even cooking of even the thickest sandwiches and clean-up is a breeze. Just wipe and put away.
Makes Perfect Toasted Sandwiches
While there are a few negatives such as lack of on/off switch and non-removable plates, these are pretty standard for most panini presses and not specific only to this brand. This IMUSA panini maker is one of the best high-end panini makers. The best part? It makes toasted, grilled panini sandwich perfection!
Not Just for Sandwiches Though
The large nonstick cooking plates make this a very versatile kitchen appliance. The company recommends using it for meats (steaks and pork chops work particularly well), vegetables, grilled cheese, arepas and more.
At our house, we love to use it for French toast, pancakes or scrambled eggs. However, things like bacon or burgers don't work that well with this unit because there is no drain for the fat.
Where Can I Buy this Electric Sandwich Maker?
The best place to get the IMUSA panini press is Amazon. Click the "buy now" button to go to the product description on Amazon now:

What to Look for in a Panini Press?
If you're looking to buy a new panini maker, there are a number of factors to consider. Here are some of the most important ones.
Storage
If you don't have a lot of space in your kitchen, you'll want a unit that's designed for easy, upright storage. If you have to store it flat, it can take up a ton of space in one of your cupboards.
Flat, or Ridges
Some panini makers have ridges, while others are flat. The ridged ones leave those nice grill marks on sandwiches are ideal for burgers, steaks or grilled chicken. Another popular way to cook meat is with an immersion circulator so be sure to consider this option as well!
However, the flat ones cook more evenly and are a versatile kitchen appliances because you can cook everything from pancakes to veggies on them.
Floating Lid Mechanism
We prefer the units with a floating lid. This means that you can easily cook toasted sandwiches of any height, and they'll cook evenly from the front to the back. The ones without this often cook the sandwiches near the back faster than the ones at the front of the grill.
Adjustable Temperature Settings
Some of the lower-end panini makers have only one temperature setting. There will usually be a single indicator light that shows when the grill is ready to use.
However, some of the higher-end ones have a range of temperature settings so you can customize it based on what you're cooking.
Ease of Cleaning for an Electric Sandwich Press
Does it have removable plates and are they dishwasher safe? If you hate cleaning up, then you might want to consider a sandwich toaster with this feature.
However, most people find that it's not a big deal to give their unit a wipe down with a damp cloth after it cools down. The ones with a flat cooking surface will be easier to do this when than the ones with ridges.
Have your Say about the Imusa Sandwich Maker
What are your thoughts about the Imusa Panini Maker? Is it the right one for you, or are you considering another brand? Leave a comment below and let us know. We'd love to hear from you.
Also be sure to give this article a share on Facebook, Pinterest, or Twitter. It'll help other toasted sandwich enthusiasts, like yourself find this useful resource.
Last update on 2021-04-09 / Affiliate links / Images from Amazon Product Advertising API