IMUSA Electric Panini and Sandwich Maker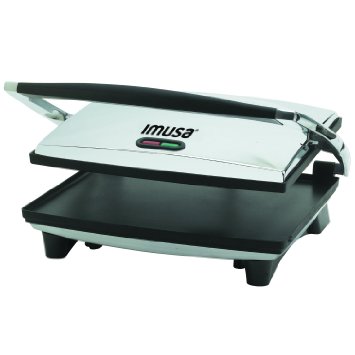 IMUSA Electric Panini and Sandwich Maker Review
The IMUSA Electric Panini and Sandwich Maker is a high-quality panini press and sandwich maker with an excellent rating on Amazon. It's made of stainless steel and has two flat, non-stick plates that make for very easy clean-up. Just wipe and go, even with sticky foods like melted cheese. The locking hinge on the lid allows you to cook sandwiches of any height evenly and the single temperature setting will grill them to perfection in under five minutes. See: Basic Panini Recipes for some ideas!
This panini press is one of the more expensive panini presses, but it's extremely durable and will last for years. One reviewer on Amazon mentioned buying this for their restaurant, making over 2000 sandwiches with it and it's still going strong.
The IMUSA Electric Panini and Sandwich Maker is Available on Amazon:

The Specs on the IMUSA Panini Press:
9 pounds
5 x 16 x 15 inches
Stainless steel construction
Lockable handle for sandwiches of any width
Two flat plates allow for easy clean-up and even cooking
People that like the IMUSA Electric Panini and Sandwich Maker are Saying:
"I love the flat grill plates."
"My family uses this machine every single day. We love it!"
"This press makes a perfect sandwich in less than two minutes. It's amazing and I recommend it to anyone."
IMUSA Electric Panini and Sandwich Maker Negatives:
Has no on/off switch. Plugging it into the wall turns it on.
Not good for things like burgers because there is no drainage for fat.
Non-removable plates, although the flat plates are extremely easy to clean-up.
A bit big to store in a small kitchen.
Compare Panini Presses
The Takeaway on the IMUSA Electric Panini and Sandwich Maker:
Overall, the IMUSA electric panini and sandwich maker is an excellent product from a trusted name and you will likely be happy with it for years. The flat, adjustable locking plates allow for even cooking of even the thickest sandwiches and clean-up is a breeze. Just wipe and put away.
While there are a few negatives such as lack of on/off switch and non-removable plates, these are pretty standard for most panini presses and not specific only to this brand. This IMUSA panini maker is one of the best high-end panini presses.
The best place to get the IMUSA panini press is Amazon. Click the "buy now" button to go to the product description on Amazon now:



Tags: best panini press, panini press, panini press review, sandwich maker


Categorised in: Panini Presses