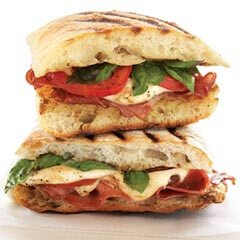 Do you love sandwiches? Who doesn't, right? They're delicious. Why not take your home sandwich making to the next level by grilling them on a panini maker. No longer the domain of coffee shops and restaurants, it's easier than you might think to make a delicious toasted sandwich at home.
Keep on reading our guide for how to make a panini sandwich at home. Of course, this is the basics recipe, so get creative because the sky's the limit in terms of what you can put in between two pieces of bread.
Panini Recipe: The Basics
It's easier than ever to make a delicious panini at home. Gone are the days when you could only get these grilled sandwiches at a coffee shop or restaurant. The sky is the limit in terms of what kind of panini you can make, but there are a few basic things you should keep in mind. Keep reading for a very basic panini recipe that even a child could make!
Here's a basic panini recipe, detailed in a few simple steps. Anyone can do it, even kids so get them involved with cooking their dinner too!
How to Make a Panini Sandwich
1. Start with a Panini Press. Check out this list of top 5 panini presses for help in choosing the best one for you.
2. Choose your bread. I like to use ciabatta, but you can use things like sourdough, focaccia, or even a baguette. Just remember to put the rounded side facing down on the grill if you use something like a baguette so it will grill more evenly.
3. Spread olive oil on the inside of your bread. Just a thin layer will do so use a brush.
4. Add 2 slices of cheese. Put one on the top and one on the bottom. This helps your sandwich glue together when grilling. A common mistake is using too much cheese, in which case the sandwich turns out to be too gooey and messy to eat.
5. Add some fillings. Meat, veggies, herbs, etc. One of my favourite panini recipes is a very simple vegetarian one: fresh mozzarella cheese, tomatoes and fresh basil. It's an Italian classic! If you're stuck for ideas, why not go with a Pizza Panini?
6. Pump up the flavour. Add some salt and pepper, fresh cilantro, jalapeño, hot sauce, or other spices.
7. Add greens after cooking. If you want to add greens like spinach or lettuce, be sure to do it after cooking so they don't get wilted. One of my favourite panini recipes is a BLT: sharp cheddar, pre-cooked bacon, tomato. Then, add some green leafy lettuce after it's cooked. Kids will love this one for sure.
8. Pre-heat the panini press. Put your sandwich in and follow the instructions that came with your unit! Some sandwich makers come with only one heat setting, while others you can select. If this is the case for you, you may have to spend some time finding what works best for you. Some like lightly toasted, while others are all about the grill marks for example.
9. Cut with a sharp knife and enjoy! I hope you find this basic panini recipe useful in cooking your first delicious panini. At my house, we generally eat Panini sandwiches with a simple green salad.
America's Favourite Sandwich Fillings
Not sure what to put inside your toasted sandwich? Here are some of America's favourite sandwich fillings in a survey of more than 5000 respondents:
Lettuce
Mayo
Tomato
Mustard
Ketchup
Ham
Cheddar cheese
Chicken or turkey
Hamburger
Onions
Dill pickles
Swiss cheese
Tuna salad
Whole fried egg
Fried bacon
Does this list get your mouth watering? Try out some of these ingredients in your panini, but remember to include some cheese to bind it all together in a melty, gooey delicious package!
Do you Have Any Recommendations for a Panini Press?
If you're looking for a top-quality sandwich maker, you've come to the right place. Some of our top picks are the Cuisinart Griddler, or the slightly cheaper Hamilton Beach Gourmet Sandwich Maker. Both of them are top-quality kitchen appliances that will toast a sandwich in style and will last forever.
You can also compare out top picks in this handy comparison chart below:
How to Make a Grilled Panini Sandwich
My Panini Isn't Crispy on the Outside
One of the most common problems with panini sandwiches is that they aren't crispy on the outside. Some possible reasons for this are the following:
Not pre-heating your grill
Using veggies with lots of water content like tomatoes
Too much cheese
However, one quick and simple solution is to give it a quick blast with a kitchen torch. It's a nice, simple solution to crisp up the outside of your sandwich.
Have Your Say about Making Grilled Sandwiches
Do you have any tips or tricks for making delicious toasted sandwiches in panini press? And, what did you think about our recipe? Leave a comment below and let us know what you think. We'd love to hear from you.
Also be sure to give this article a share on Facebook, Twitter, or Pinterest. It'll help other sandwich enthusiasts, like yourself find this useful resource guide.