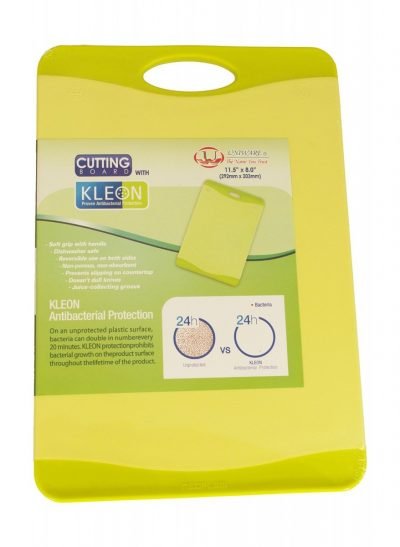 Are you looking for a top-quality, but reasonably priced cutting board that protects against germs and microbes? Then this one from Microban should be at the top of your list.
Read our buying guide packed with information to help you decide if this sanitary cutting board is right for your home kitchen.
Microban Cutting Board Review
The Microban Cutting Board is one of the most affordable cutting boards available. It is user-friendly and it provides total protection with its soft grip and easy handle. Any beginner cook will find the kitchen his favorite place at home because of the ease of use of this cooking tool.
Dual Sided
If most people find the knife and board intimidating, their impression about the said kitchen items is certainly going to change because of this product. Definitely, this is a friendly food preparation must-have because both sides function so there's no wrong way to slice and cut ingredients here.
Reasonably Priced for a Sanitary Cutting Board
With such a very low cost, any individual can own a high-quality cutting board that provides many benefits. This has a special anti-bacterial protection to guarantee a germ-free food preparation all the time.
Non-Absorbent Feature
It has a non-absorbent feature too, so chopping and mincing garlic is always convenient as no bad and garlicky smell is ever going to stay. Another plus factor of this cutting board is its being stain-free. This means that, whatever colorful ingredient one slices or cuts using this board will certainly leave no stain.
Dishwasher Safe and Ideal for Raw Meat
One of the features that we love most about this plastic cutting board is that it can be thrown into the dishwasher, unlike wooden or bamboo boards. This makes it an ideal choice for cutting raw meat with. Just throw it straight into the dishwasher and you'll have a sanitary cutting board after you run your wash cycle. It really is that easy!
Rubber Grip Prevents Slipping
One of our favourite features are the rubber grips on the sides. They help to prevent the board from slipping around, even when doing some aggressive food prep. Try it out for yourself and we're sure that you'll notice a difference.
Where to Buy the Microban Cutting Board?
The Microban Antimicrobial Cutting Board is available on Amazon. Click the button below to check for the lowest prices and also to see if this product is eligible for free shipping with a prime membership:


Key Features of Microbran Cutting Boards:
11 x 5 x 11 inches
1 pound in weight
With anti-bacterial protection
No-slip feature
Soft grip for easy slicing and cutting
With juice collecting grooves for liquid retention
Can be used in both sides
Dishwasher safe
Durable enough that it should last a lifetime
People that Like the Microban Cutting Board are Saying:
"I've owned mine for about five years and it's held up surprisingly well. I use it mainly for cutting meats to keep from contaminating and staining my expensive maple boards. It's nice because you can just throw it into the dishwasher after cutting raw meat, which you can't do with the wooden cutting board."
"I ordered this cutting board because of its description online and have not been disappointed. It's an excellent size and with an indented channel on one side to catch some leaks."
"We just love these sanitary cutting boards. The material is very durable and the color holds even after multiple washings. Plus, they're a nice thickness and just have a good feel to them when chopping a variety of things."
"Love to chop on this board. It is sturdy, small (but the right size for little chopping jobs), and easily stored away."
Drawbacks of the Microban Antimicrobial Cutting Board:
Hard material according to some
A bit small for some
Some issues with scratches
Quite heavy and may be difficult to handle
Not very big and may not be suitable for a large chef's knife
The Best Cutting Boards
Do you want to find out more of our top picks for Antimicrobial cutting boards. Then check out this short video, which includes a Microban review:
The Takeaway on the Microban Antimicrobial Cutting Board:
Don't let the cutting and slicing processes hinder you from becoming a good cook. In fact, you can be your family's great chef as you confidently prepare the household meals every day.
Easy Grip Feature
The Microban Cutting Board has an easy-grip feature that will make you handle it conveniently and confidently. With the no-slip quality of this Amazon bestseller, there's no reason for you to be afraid of holding and handling the knife to slice onions.
Perfect for Beginners
This kitchen tool is a perfect gift idea too, for your loved ones who love to cook. It's also the perfect cutting board to send with your son or daughter when they go away to university.
Shop Now
Do you want to know where to buy Microban cutting board? Then you'll want to head over to Amazon. Hit the button below to purchase the Microban Antimicrobial Cutting Board. Check now for the lowest prices and also to see if this product is eligible for fast, free shipping with a Prime membership:

Compare Cutting Boards
Some people prefer plastic cutting boards like this one because they're very durable, and also easy to clean and care for. However, you may prefer the look and feel of wood. If this is the case, here are some of our top picks for wooden cutting boards and butcher blocks:
Have your Say about this Affordable Cutting Board
What are your thoughts about this cutting board from Microban? Leave a comment below and let us know what you think. We'd love to hear from you.
Also be sure to give this article a share on Facebook, Twitter, or Pinterest. It'll help other cooking enthusiasts, like yourself find this useful resource.
Last update on 2021-04-09 / Affiliate links / Images from Amazon Product Advertising API