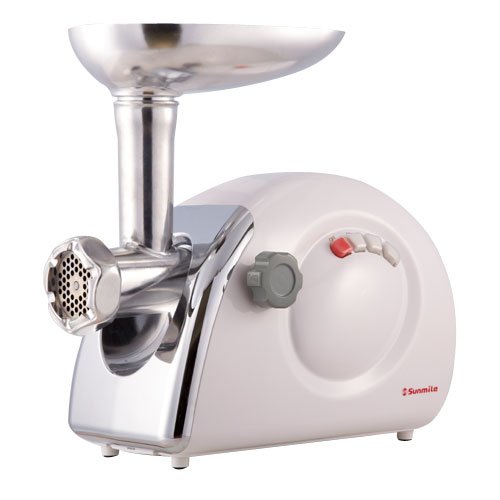 Are you looking for a meat grinder that is simple and very easy to use? Then you'll need to consider this one from Sunmile. Read our buying guide packed with information to help you decide if it's the right one for you.
Sunmile SM-G31 Electric Meat Grinder - Max 1HP 800W- ETL Meat Mincer Sausage Grinder, Stainless...
Basic Model, Simple and Easy to Own One: Easy to operate with an On/Off switch. Easy to assemble...
Powerful and Durable, Much More than Simple: 250W rated power and 800W max locked power heavy duty...
Grind up to 150 lbs. per hour. Powerful also durable motor ensures that you will be using it time...
Fully Functional to Prepare Food : Coming with 3 various stainless steel cutting plates for coarse,...
Die-cast aluminum grinder head is built to last. Remember that the grinder head are made of aluminum...
Sunmile Meat Grinder Review
Do you hate grinding pork or beef manually but you have no choice? Do you still use the conventional huge knife and chopping board or butcher block to grind your meat? If your answer to both is 'yes,' then, you must consider the Sunmile Meat Grinder.
Multi-Purpose
The Sunmile Meat Grinder is multi-functional as it can make not just ground beef and pork for burger patties and spaghetti sauce but sausages, as well. You'll definitely love the tree sausage attachments that come with this product.
Save Money by Making Foods at Home
This means that you don't have to spend for the pricey sausages from the grocery store because you can already make your own. It's safer, more economical and even has better food quality.
Easy to Use and Clean-Up After
You won't even have to sweat anymore because you're saying bye-bye to manual chopping and grinding. This meat grinder is one of the easiest to operate machines you can buy today. In fact, you can even clean it effortlessly.
Where Can I Buy It?
The Sunmile Meat Grinder is available on Amazon. Check now for the lowest prices on kitchen appliances and to learn more about this popular product:

Key Features:
7 x 13 x 14 inches
12.1 pounds
Rubber switch for safe and easy use
With operation options through 'on', 'off', 'reset' and 'reverse' switches
Stainless steel blade for excellent grinding
Easy assembling and disassembling
Comes with accessories to address more grinding needs
Variable power between 250 and 800 watts
Grinds up to 150 pounds of meat per hour, making it ideal for commercial use as well
All copper wiring makes it very durable
All cutting plates and blades are dishwasher safe
Large capacity tray
People that Like the Sunmile Meat Grinder are Saying:
"The machine is well-built and easy to operate and clean. My first project was ground chuck. In a matter of minutes, 2 lbs. were ground with a great texture and taste."
"This is absolutely the best and easiest to use meat grinder I have ever seen!! I cut a very lean and tough rump roast and simply dropped them into the food chute. I didn't even have to use the plunger!"
"Excellent grinder. Like others, I was truly shocked by the quality for the price. It's very durable and seems like it'll last for years, no problem."
"The price of this machine was VERY REASONABLE given the great job it does. I wished I had more meat to grind because I was done in minutes!"
Sunmile Meat Grinder Demo
Drawbacks of the Sunmile Meat Grinder:
Some complaints about failure to grind chicken and make sausages
A bit noisy according to some
A few people find the instructions not easy to follow
Not worth their money according to some
Compare Meat Grinders
Besides this one from Sunmile, there are a number of other top options for meat grinder available today. Some of them are automatic while others are manual.
And of course, they come at a wide variety of price points. With the higher price comes more features such as easy sausage making and automatic burger patties. Check out some of our top picks in this handy comparison chart below:
The Takeaway on the Sunmile Meat Grinder:
Owning a heavy duty machine today does not mean spending a big amount of money. At such a reasonable price, you can use this for both personal and business purposes. Surely, you won't mind spending once for decades and decades of grinding service.
High Quality Grinder
This electric meat grinder guarantees high quality and efficient functions that are definitely easy to follow. The motors are 100 percent durable and the product itself promises a long-term use.
Very Affordable
So, if you're searching for a meat processor that is very powerful and yet so easy to use, opt for this bestselling kitchen mechanism! For the quality and features, it's very affordably priced.
Shop Now
Go to the Amazon page to buy the Sunmile Meat Grinder today. Click the button below to check for the best prices and also to learn more about this popular kitchen product for making homemade sausages or burgers:

Have your Say about this Meat Grinder
What are your thoughts about the Sunmile Meat Grinder? Is it a buy, or are you considering another brand of meat grinder? Leave a comment below and let us know what you think. We'd love to hear from you.
Also be sure to give this article a share on Facebook, Twitter, or Pinterest. It'll help other home cooking, enthusiasts, like yourself find this useful resource.
Last update on 2021-04-09 / Affiliate links / Images from Amazon Product Advertising API