Sunmile Meat Grinder Review: Is it the Right One for You?
Sunmile Meat Grinder Review
Do you hate grinding pork or beef manually but you have no choice? Do you still use the conventional huge knife and chopping board or butcher block to grind your meat? If your answer to both is 'yes,' then, you must consider the Sunmile Meat Grinder.
The Sunmile Meat Grinder is multi-functional as it can make not just ground beef and pork for burger patties and spaghetti sauce but sausages, as well. You'll definitely love the tree sausage attachments that come with this product.
This means that you don't have to spend for the pricey sausages from the grocery store because you can already make your own. It's safer, more economical and even has better food quality.
You won't even have to sweat anymore because you're saying bye-bye to manual chopping and grinding. This meat grinder is one of the easiest to operate machines you can buy today. In fact, you can even clean it effortlessly.
The Sunmile Meat Grinder is available on Amazon:


The Specs:
7 x 13 x 14 inches
12.1 pounds
Rubber switch for safe and easy use
With operation options through 'on', 'off', 'reset' and 'reverse' switches
Stainless steel blade for excellent grinding
Easy assembling and disassembling
Comes with accessories to address more grinding needs
People that Like the Sunmile Meat Grinder are Saying:
"The machine is well-built and easy to operate and clean. My first project was ground chuck. In a matter of minutes, 2 lbs. were ground with a great texture and taste."
"This is absolutely the best and easiest to use meat grinder I have ever seen!! I cut a very lean and tough rump roast and simply dropped them into the food chute. I didn't even have to use the plunger!"
"Excellent grinder. Like others, I was truly shocked by the quality for the price."
"The price of this machine was VERY REASONABLE given the great job it does. I wished I had more meat to grind because I was done in minutes!"
Drawbacks of the Sunmile Meat Grinder:
Some complaints about failure to grind chicken and make sausages
A bit noisy according to some
A few people find the instructions not easy to follow
Not worth their money according to some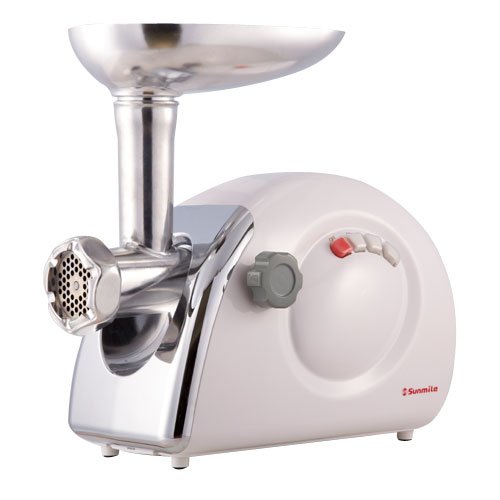 The Takeaway on the Sunmile Meat Grinder:
Owning a heavy duty machine today does not mean spending a big amount of money. At such a reasonable price, you can use this for both personal and business purposes. Surely, you won't mind spending once for decades and decades of grinding service.
This electric meat grinder guarantees high quality and efficient functions that are definitely easy to follow. The motors are 100 percent durable and the product itself promises a long-term use.
So, if you're searching for a meat processor that is very powerful and yet so easy to use, opt for this bestselling kitchen mechanism!
Go to the Amazon page to buy the Sunmile Meat Grinder today:


Categorised in: Meat Grinders