Have eating and buying burgers from the fast food chains been exhausting your savings? Do sausages from the supermarket add up to your monthly grocery expenses? Surely, your answer to both questions is a bit 'YES'. And if it is, you better think of possible solution to save your bank account and wallet…and health, actually!
Eating too much processed meats can be dangerous to one's health. But, no! You don't have to stop buying and eating these comfort foods. Just make them homemade! How? Own a meat grinder. If you don't have one yet and you don't trust your judgment when it comes to picking the right machine, let us help you. Our Top 5 Meat Grinders will help you choose the right equipment easily.
All the machines we have in the list are high quality, durable and have reasonable prices. They are all top of the line and bestsellers on Amazon. What's good with having a meat grinder, especially the ones in our Top 5 Meat Grinders, you can make your homemade burgers and sausages healthier than the store-bought ones.
Substitute your pork meat with chicken or beat meat. And, sometimes, what make the products we buy from the store unhealthy are the seasonings and sauces they put to make them tasty. Grinding meat at home for your patties give you the liberty to choose and use your own healthier seasonings. Read on and see which among here suits our budget and preference in quality and features.
#1: KitchenAid Food Grinder
The KitchenAid Food Grinder is one of today's bestselling meat grinders available. It has impressive features that make you feel confident when preparing food in the kitchen.
Certainly, our #1 in the Top 5 meat Grinders requires no expertise to come up with fresh and clean ground meat. It is easy to operate and it so convenient to clean, too. What's god about this electric grinder is that, it does not cost that much so any homemaker, even those on a tight budget, can undoubtedly afford it.
The better news about this cost-oriented electric grinder is that, it has an attachment that lets you make homemade pasta, too. This is truly worthy to spend for because you need to spend more to buy pasta maker and make your own version of spaghetti noodles.
See: Full Review of the KitchenAid Food Grinder.
Visit the Amazon page to buy the KitchenAid Food Grinder:


#2: Della Electric Meat Grinder
The Della Electric Meat Grinder is one of the most durable meat grinders available today. Its stainless steel design assures you many decades of use with full satisfaction. You can count on it to guarantee clean and safe food preparation for your family.
This will help you avoid food spoilage because you're the one grinding the meat for your meat dishes. You don't even have to spend much for this. Our second best in the Top 5 Meat Grinders is a quality meat grinder and is definitely worth your money.
It is multi-purpose so you can do many things in one machine.  Meaning, there's no need for you to buy another tool like grater as this gadget can do that for you.
It has a grinding plate that produces coarsely, finely or medium ground beef, pork or chicken. The attachments in this bestselling product are designed compact too, so you can conveniently store them when not in use. And the most important of all, grinding meat is easy and effortless using this kitchen product especially that it operates on 1400 watt power.
See: Full Review of the Della Electric Meat Grinder.
Visit the Amazon page for your purchase of the Della Electric Meat Grinder.


3 Pro Tips for Grinding your Own Meat
#3: Sunmile Meat Grinder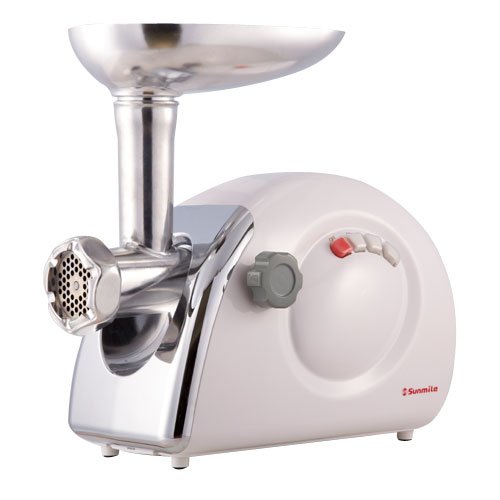 If you have been tired of exerting all efforts to perfectly grind pork or beef and you still use the conventional huge knife and chopping board or butcher block for your ground meat, this one's for you.
Our #3 in the Top 5 Meat Grinders is multi-functional as it can make not just ground beef and pork for burger patties and spaghetti sauce but sausages, as well. You'll definitely love the tree sausage attachments that come with this product.
This means that you don't have to spend for the pricey sausages from the grocery store because you can already make your own. It's safer, more economical and even has better food quality.
You won't even have to sweat anymore because you're saying bye-bye to manual chopping and grinding. This meat grinder is one of the easiest to operate machines you can buy today. In fact, you can even clean it effortlessly.
See: Full Review of the Sunmile Meat Grinder.
Hit the button below to order the Sunmile Meat Grinder:


#4: STX Turboforce Electric Meat Grinder
If you want to make sure that your sausage, meatloaf and burger patties are clean and safe to eat, make them homemade. And, if you don't know how to make homemade burger, sausage or meatloaf, worry no more.
All you need is the STX Turboforce Electric Meat Grinder to make this happen. This high quality machine will let you grind your choice of meat excellently through its different cutting blades.  You don't even need any expertise here as the grinder's locking cap will protect your fingers from any danger.
For an amount worth spending for, our #4 in the Top 5 Meat Grinders is full of features. It has high, low and reverse speeds you can choose from. And for safer food preparation in the kitchen, this machine comes with a circuit breaker.
Whether simple ground beef, burger patty, meat loaf or sausage that you want to make for a homemade specialty, you can certainly achieve it with this top-of-the-line kitchen gadget. It has different stainless blades and grinding plate that let you choose among medium, fine or coarse meat.
See: Full Review of the STX Turboforce Electric Meat Grinder
Visit the Amazon page to buy the STX Turboforce Electric Meat Grinder.


#5: Weston Commercial Meat Grinder
The Weston Commercial Meat Grinder is for individuals who often hold parties and events at home. It is also for those who have decided to do business at home by selling burgers, sausages and meatloaf. With this heavy duty machine, you are sure to succeed in his home-based business.
This does not need an ample amount to capitalize. You don't even have to undergo any business training or seminar to make sure you're doing it right. This machine alone, can already guarantee you food products that you'll be proud to offer and sell.
See: Full Review of the Weston Commercial Meat Grinder.
This product comes with two stainless steel plates for medium, fine and coarse ground meat. You don't even have to buy another machine for the sausage as this meat grinder has a stuffing funnel too. What's even better is that, this food preparation mechanism is not just a practical choice, but a convenient must-have too. It has compact design so you can easily store it when not in use.
Go to the Amazon page to buy the Weston Commercial Meat Grinder.


Factors to Consider When Choosing a Meat Grinder
There are a number of things you'll want to consider when choosing the meat grinder that's right for you. Here are just a few of the most important ones.
Price
You can find meat grinders at a range of price points. In our experience, the most expensive ones aren't really necessary for most home cooks and you can get away with spending a far more reasonable amount.
That said, the more expensive ones may have some extra features that you want such as dishwasher safe parts, or a ton of grinding power.
Grinding Power
If you plan to grind meat, then you'll want a unit with lots of power. It's usually measured in watts, or horsepower and the higher the number, the more power the machine has.
Durability
Take a look at what the appliance is made of. Things like stainless steel are more durable than plastic parts.
Check out the blade as well. Both carbon steel and stainless steel are a good choice. However, carbon steel requires a bit more care, although it is a little bit sharper.
How Easy it it to Use
Are there various speeds? This can sometimes be a nice feature, but we often find that it's not really strictly necessary in many cases, depending on what you plan to use it for. Besides that, is there a reverse function in case something gets stuck? This can be super convenient and save a ton of time.
Cleaning
Is the meat grinder dishwasher safe? And, is it easy to take apart and put back together. Are there any parts that need to be oiled regularly, and is some oil included?
Warranty
At minimum, you'll want to get a meat grinder with at least a 1 year warranty. Something like a 30 or 60 day money-back guarantee is a nice bonus as well so that you can return it after using it if you're not happy.
Have your Say about the Best Meat Grinder
What's your top pick for meat grinder? Leave a comment below and let us know what you think.
Also be sure to give this article a share on Facebook, Pinterest, or Twitter. It'll help other home cooks, like yourself find this useful resource.
Last update on 2019-08-17 / Affiliate links / Images from Amazon Product Advertising API