Are you looking for the top rated food dehydrator? Then you're most certainly in the right place. We're going to give you the rundown on our picks for the best food dehydrator. But first, here's a sneak peak at some of our top picks:
Top 6 Food Dehydrators for Water Elimination from Foods
"Why would I need a food dehydrator?" You're probably asking this yourself. Well, you need one because it beneficially eliminates the water from the food you it though it lets your raw food's enzyme stay intact.
There are different kinds of food you can put inside a food dehydrator to dry and make even healthier to eat. Fruits, vegetables and spices are just some of them. Dehydrated foods are considered as gluten-free treats among the health-conscious individuals. With this being said, you must have found one valid reason why you should have a food dehydrator at home.
To help you pick the one for your kitchen, we're presenting the Top 5 Food Dehydrators for your water elimination from foods.
As we always do, we've arranged our Top 5 Food Dehydrators according to their affordability. From the cheapest to the most expensive, you'll find these kitchen appliances impressive with their features, ease of use and innovative operation settings.
These food dehydrators may vary in price and features but there's one common thing that has made us decide to include them in our Top 5 Food Dehydrators. All of them are highly rated on Amazon!
Read on and  find which one suits your food dehydrating preference and need.
---
#1: Presto Dehydro Electric Food Dehydrator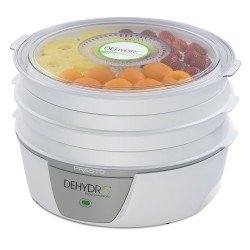 The Presto Dehydro Electric Food Dehydrator is our #1 in the Top 5 Food Dehydrators list.This is a perfect must-have for you especially if you opt to preserve foods without any additive.
Ideal for People Wanting to Eat Healthier
Those spending a healthy lifestyle will find this kitchen equipment perfect for their all-natural diet, too. One good thing about this appliance is that, you can use it for parties and special occasions at home.
4 Drying Trays Included
Its four-tray feature allows for large amounts of fruits to dehydrate. This means that your guests can enjoy desserts and appetizers in generous serving.
Clear Cover so you Can Watch the Drying Process
The clear cover allows you to monitor closely the drying status. It has a heating component and bottom-mounted fan that offers consistent and equal air flow for optimal dehydration. There's no problem cleaning this homing product. It is safe to use in the dishwasher so this means less effort and more time saved for you.
Sale
Presto 06300 Dehydro Electric Food Dehydrator, Standard
NOTE :Item does not have an on off switch. This unit turns on when plugged in.
Four-tray system for dehydrating foods at a fraction of the cost of commercially dehydrated foods...
See-through cover to monitor drying progress on top tray; Bottom-mounted fan and heating element...
Drying trays and cover are fully immiscible and dishwasher safe; Fruit roll sheets, nonstick mesh...
Easy to store; Drying trays nest for compact storage; Cord stores in base
Very Reasonably Priced
When compared to other popular dehydrators on the market today, you'll probably notice that this one from Presto is around half or even 1/3 the price of some of the more expensive ones. That's quite impressive, and although it doesn't have all the features of this more expensive appliances, it's a nice, basic unit that does a great job.
Key Features:
15 x 15 x 6 inches
5 pounds
600 watts of power
Comes with a 4-tray food dehydrating system
Clear cover for easy monitoring of dehydrating status
With consistent air flow
Dishwasher safe
With fruit roll sheets
Compact and doesn't take up a lot of space on the countertop
Easy to get up and running with minimal hassle
People that Like the Presto Dehydro Electric Food Dehydrator are Saying:
—>Read More Customer Reviews on Amazon.com<—
"This little machine makes 'amazing' dried fruits and vegetables. I ordered the slick sheets and extra trays. We use it for making backpacking and camping meals and snacks. To make quick work of the things you want to dehydrate, you'll need a vegetable dicer machine."
"I cannot say one bad thing! It's a great dehydrator for the price. I've made apple/banana chips and beef jerky so far."
"I bought one of these to use primarily for making jerky and it is excellent. Fairly easy to clean and isn't quite as loud as other dehydrators."
"This unit is excellent for the price. I've used it several times to make beef jerky and a variety of other stuff too. I'm actually preparing for a thru-hike on the Pacific Crest Trail and this is the ultimate device!"
Where Can I Learn More About one of the Best Affordable Food Dehydrators?
You can easily get the Presto Dehydro Electric Food Dehydrator on Amazon. Click the button below to find the lowest prices and also don't forget to check and see if this product is eligible for free shipping with a Prime membership:


Compare Food Dehydrators
Do you want to see how they stack up head to head, including pricing? Then check out our handy comparison chart for the top dehydrators to choose from.
#2: Nesco Snackmaster Pro Food Dehydrator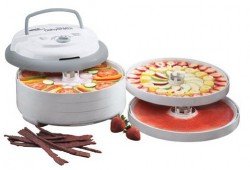 Are you a heavy fruit eater? Surely, you're worried about it being overripe or spoiled because you are not able to consume it all in one eating.
Retain All the Flavour of Fresh
With the Nesco Snackmaster Pro Food Dehydrator, you can definitely retain the flavor of your favorite fruit even if it has already been in your kitchen for quite some time already.
Takes only a Few Hours
If drying fruits for other dehydrators takes days, you only need hours for the drying with our second in the Top 5 Food Dehydrators. The good news is that, with this kitchen equipment, you don't have to spend much. You won't even have any difficulty learning how to use it as it is easy to operate.
A Top Seller Online
The impressive score and reasonable price are enough reasons for you to choose this high quality food dehydrator. What will convince even you more is the fact that this is the #1 bestseller in Amazon's dehydrators category.
This is definitely worth its title because it assures you that the flavors don't mix even if you put different fruits together in the dehydrator in one drying.
Nesco Snackmaster Encore Food dehydrator, Gray
500 watts of drying power provides even heat distribution
Adjustable temperature control (95°F - 160°F)
(5) BPA Free trays with 0. 8 sq. ft. of drying area per tray - Expandable to 12 trays
Proudly made in the USA of global and domestic components
Includes (1) Jerky Gun with three tip attachments, (2) Fruit Roll Sheets, (2) Clean-A-Screens, (5)...
Get Your Top Food Dehydrator Today
Do you want to find out more about more about one of the fastest dehydrators? Check out the following: Nesco Snackmaster Pro Food Dehydrator Review.
You can easily purchase the Nesco Snackmaster Pro Food Dehydrator on Amazon:


---
#3: NutriChef Countertop Food Dehydrator
If you want a healthier substitute for canning and freezing food, opt for the NutriChef Countertop Food Dehydrator. You'll find this impressive because of its high rating on Amazon and affordable price.
Very Affordably Priced
On top of the reasonable cost and high rating are the niece features that offer you total convenience. Our third in the Top 5 Food Dehydrators is among easiest to operate in the dehydrators category. And, with the healthy benefits it offers people, this food dehydrator is definitely worth spending for.
Includes 6 Trays and has an Extra-Large Capacity
If you are looking for a food dehydrator with a reasonable price, you'll find the NutriChef Countertop Food Dehydrator a perfect choice. It includes six trays for improved airflow and it guarantees to dehydrate the food efficiently to result in enhanced preservation.
Sale
NutriChef Food Dehydrator Machine - Professional Electric Multi-Tier Food Preserver, Meat or Beef...
ELECTRIC DEHYDRATOR: A multi-tier electric food dehydrator that can preserve varieties of food....
EASY ACCESS AND OPERATION: Built with easy to use one operational button. Choose to dehydrate with...
STACKABLE TRAYS: Comes with 5 removable stackable food trays or dryer trays. These trays can also be...
PRESERVE FOOD: This dehydrator uses temperature control for food preservation. It can dehydrate and...
HEAT CIRCULATION: Scientifically tested to increase food shelf life with high heat circulation that...
Excellent Ratings
On top of the reasonable cost and high rating are the niece features that offer the user total convenience. It is one of the easiest to operate in the dehydrators category. And, with the healthy benefits it offers people, this food dehydrator is definitely worth spending for.
Key Features
9 pounds
Functions as food storage too
Includes five trays
With moisture removal feature
Easy one-touch operation
With flavor and taste retention features
With improved air flow to assure circulation of high heat for even dehydration
User Reviews
"This NutriChef food dehydrator works great! There is only one switch, the power on and off, so its extremely user friendly. I make fruit leather all year round for the kids' lunches. It's healthier than anything you can buy at the store!"
"This food dehydrator is the BOMB for making snacks that are diet compliant and delicious. For a special treat, we make some beef jerky too."
"This is the third dehydrator we have had and this one works the most quickly out of them all. So far, it's very durable and has lasted for a couple years now. We go backpacking all the time and like to prepare our own food instead of buying those freeze-dried ones that are quite expensive."
"I'm so impressed with the product. Already made delicious zucchini chips and even better…. Dried Mango. So, so delicious and easy! And customer service has been great."
Shop Now
It does not need an expertise to own this Amazon favorite. With just a simple press at the button, you can already operate a high-quality food dehydrator.
Hit the button below to easily purchase the NutriChef Countertop Food Dehydrator:


Nutrichef Dehydrator Review
Do you want to find out more about this affordable option? Check out this short video below for reviews of the Nutrichef Dehydrator:
---
#4: Aroma Housewares Food Dehydrator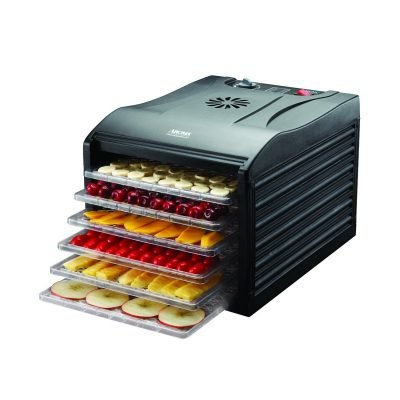 The Aroma Housewares Food Dehydrator is among of today's most innovative food dehydrators. You can operate it by just a touch at the button. And since it is digital, it is easier to control and manage the food dehydration process.
Easy to Use
This product is so ideal especially if you are millennial homemaker because of its one-touch feature. If the conventional dehydrator takes days to completely dry foods, with our fourth in the Top 5 Food Dehydrators, you only need hours to take away the food moisture.
Reasonably Priced
At such a reasonable cost, you already get to own a highly-technological kitchen appliance for food preservation. This has large capacity so you can dehydrate foods in ample amounts.
Built in Thermostat
What makes this product special is its automatic fan to equally dry the food. You can also adjust the thermostat according to your desire. And, above all, it is easy to handle and manage this food dehydrator especially that it comes with a drip tray to collect all the residues from the drying procedure.
Sale
Aroma Housewares Professional Food Dehydrator, 6 Tray, Black
Variety of options – from meat to fruits, nuts and herbs, you can dehydrate just about anything...
Large capacity – with 6 large trays, your batch sizes of jerky and banana crisps just got a whole...
Healthy alternative – there are so many benefits waiting to be unlocked by you through dehydrating...
Precise temperature control – The AFD-815B has 7 different temperature settings allowing for the...
Item Shape: Square/Rectangle
Key Features of the Aroma Food Dehydrator:
18 x 13 x 12 inches
7 pounds
Includes six trays and has a larger capacity than many other dehydrators
With innovative digital control
Adjustable thermostat with precise controls
With drip tray for residue collection
Ideal for the health conscious
Trays are adjustable
Spacious trays
Circulating air fan so no need to rotate trays
Suitable for drying a wide variety of foods
Customer Reviews for the Aroma Housewares Food Dehydrator
—>Read More Customer Reviews on Amazon<—
"It dehydrates quickly. The jerky was done in eight hours, even the pieces on parchment. I just turned those once. Kale took 2-3 hours. I have a giant garden, so like to use my pressure cooker canner for some stuff, but a dehydrator for others."
"Since I received mine on Wednesday, I have been using it every day since then. I do lots of backpacking trips and love to prepare dehydrated meals for that. You can also do all kinds of fruit and fruit leather for snacks."
"The design is excellent. You don't have to un-stack the trays to add or remove them like you do with circular ones. The whole door lifts off and you have easy access."
"I like this dehydrator a lot. I use it for toasting sprouted nuts and seeds on a regular basis, and it does a fantastic job. It's also perfect for preparing food before backpacking trips with my family. There isn't much not to love about it."
Where Can I Find out More about this Best Rated Food Dehydrator?
Does this sound like the right dehydrator for you? You can effortlessly buy the Aroma Housewares Food Dehydrator on Amazon. Click the button below to find the best prices and deals that may include free shipping:

Aroma Dehydrator Review
Do you want to find out more about this popular option? Then be sure to check out this detailed review on YouTube for the Aroma Housewares Food Dehydrator:
httpv://www.youtube.com/watch?v=nZTwXWrg–E
---
#5: Excalibur Food Dehydrator
Many individuals consider the Excalibur Food Dehydrator a heavy kitchen appliance in all aspects. It may be literally heavy at 22 pounds, but it is indeed, weighty too, in features, price and rating online.
A Ton of Features
Undeniably, this product is a biggie in features as its users find convenience, ease of use and assurance of healthy results. It may be a bit heavy on the budget but certainly, this food dehydrator is worth its price.
Expensive, but a Very Large Capacity
Undeniably, our last in the Top 5 Food Dehydrators is a biggie in features as you'll find convenience, ease of use and assurance of healthy results. It may be a bit heavy on the budget but certainly, this food dehydrator is worth its price.
Helps Prevent Food Spoilage
Many homemakers will surely agree that this kitchen appliance is an essential for families to avoid food spoilage.
Includes 9 Trays
A nine-tray dehydrator, this item can dry different fruits and vegetables at the same time. And as it does, no taste or flavor is ever sacrificed.
Adjustable Temperature Setting
The 26-hour timer lets you do the food dehydrating perfectly. You can even adjust the thermostat with temperature of up to 165°F at the most. Start investing to guarantee your health. Own this highly-rated food dehydrator and preserve foods at their best quality.
Adjustable Thermostat
The thermostat is adjustable for excellent removal of food moisture. You'll find no room for sticking food inside this food dehydrator too. The tray insert functions to avoid the fruit or veggie from sticking.
Key Features:
22 pounds
With natural flavors retention
A nine-tray dehydrator
For large families
With a 7-inch fan
With easy 'on and off' switch
Easy to operate
Features adjustable thermostat
Comes with a 26-hour timer
User Reviews
"These are very dependable and the company stands behind the product. Super easy to use and I love how many trays it comes with. We use it at our house for making backpacking meals and snacks: beef jerky, dried fruit, and other things."
"From the moment I saw the large box that arrived I was impressed. The Excalibur was packaged really well and it was love at first sight when I opened the box. I mostly use mine for fruit leather for the kids' lunches throughout the year."
"I really love that this model has a timer, as I am spaced out and would totally lose track of when to shut the thing off. It is a bit large, like the size of a microwave – if you use it and love it, you won't care about that fact! You can use it for a variety of foods."
Learn More About It
You can easily get the Excalibur Food Dehydrator on Amazon. Click the button below to find out more about also to check if this product is eligible for fast, free shipping:


#6: Nesco Gardenmaster, one of the Fastest Food Dehydrators
Sale
NESCO Gardenmaster Pro Dehydrator, FD-1018A, White
1000-Watts of power dries foods in hours, not days.
Converga-Flow drying system pushes heated air up and across each tray.
Adjustable Thermostat (95°F - 160°F).
Comes with 8 dishwasher safe trays and expands up to 30 trays.
Includes (8) Fruit Roll-up Sheets, (8) Clean-a-Screens, (1) Recipe Instruction Book, (1) Original...
If you're looking to dry fruits, meat or veggies quickly and efficiently, then consider the Nesco Gardenmaster. It's one of the fastest options available and will dry out just about anything in what seems like very little time. Read on to find out why we like this large capacity dehydrator to be one of the top options.
Important Features
1000 watts of power (takes hours, not days)
Flow drying system pushes heated air up through all the trays
Adjustable thermostat
8 dishwasher safe trays
Can expand up to 30 trays
Includes 8 roll-up sheets and 8 screens
Recipe book and jerky spice included
Made in the USA
Home Dehydrator Reviews
"This is the fastest dehydrator that I've ever used! So awesome and I'm happy that I picked up this Nesco one after my previous one wore out. I do a ton of backpacking trips for kids and this thing gets the job done so well in a short amount of time."
"I regularly dry fruits and veggies from my garden and when I do it, I have large amounts of things to process. This thing comes with a ton of trays and best of all, pushes the air up through even the top ones so you don't have to constantly rotate them. Highly recommend this one from Nesco."
Shop Now for this Fastest Food Dehydrator
If you're looking for a large capacity, powerful device that'll dry food in hours, not days like some of the other ones then the Nesco Gardenmaster is a top choice. Sure, it's not cheap but you get what you pay for and in this case, you're just getting yourself a serious dose of awesome. Head over to Amazon to pick one up today:

---
Factors to Consider When Buying a Top Rated Dehydrator
There are a number of things you'll want to look at before dropping some cash on one of these products. here are a few of the most important ones you'll want to think about.
Size
There is certainly a big variation when it comes to size of these things, usually measured by the number of racks you can fit into it. Some can handle as few as 4-5 layers, while some are industrial sized and can fit 30 or more.
Power/Drying Speed
The units with less than 1000 watts of power can take a while to dry out some particularly moist fruits and veggies. However, there are some powerful dehydrators that work in hours, not days. If time is of the essence, consider one of the faster options.
Ease of Cleaning
We generally look for dishwasher safe racks and screens to make clean-up go more quickly.
Airflow System
The best food dehydrators have a robust air flow system to ensure that the top rack dries at the same speed as the bottom one. Not having to stop and rotate the food is a huge bonus and should not be overlooked.
Noise
Some of these things are super noisy and annoying to have on in the background for a quiet family dinner for example. Others are almost silent.
Auto Shut-Off
We LOVE products where you can set it for a certain number of hours and then it'll automatically turn off. This makes it super easy for overnight or if you have to go out somewhere during the drying process.
Temperature Control
It's a nice bonus to be able to adjust the temp to suit whatever you're drying. Meats, veggies and fruits all have their desired range.
Price
As with anything, price is of course a factor. There are certainly some budget dehydrators that work well enough for most people. However, with a bit more money, you'll be getting ones that are quieter, more powerful and also more durable.
Customer Reviews
It's always wise to take a look and see what people are saying about a product before buying it yourself. In this case, we recommend taking a look at the 3-4 star reviews on Amazon to find out what people are saying because this will give you a great indication of a product's true strengths and weaknesses.
Have your Say about the Best Food Dehydrator
What's your pick for the top rated dehydrator? Is it one of the options from this list or do you have your eye on another one? Leave a comment below and let us know what you think. We'd love to hear from you.
Also be sure to give this article a share on Facebook, Pinterest, or Twitter. It'll help other dehydrated food enthusiasts, like yourself find this useful resource.
Last update on 2021-04-09 / Affiliate links / Images from Amazon Product Advertising API