Are you looking for a top-quality food dehydrator at a very reasonable price? Then the Nesco Snackmaster should certainly be at the top of your list. Read our buying guide packed with information to help you decide if it's the right one for you.
Sale
Nesco Snackmaster Pro Food Dehydrator Review
Are a fruit lover? Surely, you're worried about it being overripe or spoiled because you are not able to consume it all in one eating. Well, worry no more! With the Nesco Snackmaster Pro Food Dehydrator, you are sure to retain the flavor of your favorite apple or strawberry even if it has already been in your kitchen for quite some time already.
Ideal for Drying Fruits and Other Foods
If drying fruits for other dehydrators takes days, you only need hours for the drying with this one. What's good about this kitchen equipment is that, you don't have to spend much. You won't even have a hard time learning how to use it as it is easy to operate.
Reasonably Priced
The impressive score and affordable price are enough reasons for you to opt for this high quality food dehydrator. What will convince you more to opt for this cookware is that, it is a bestseller in Amazon's dehydrators category.
Ideal for Drying Various Things at Once
This is definitely worth its title because it assures you that the flavors don't mix even if you put different fruits together in the dehydrator in one drying.
Shop Now
The Nesco Snackmaster Pro Food Dehydrator is available on Amazon. Check now for the lowest prices and also to see if this product is eligible for free shipping with an Amazon Prime membership:

The Specs:
14 x 22 x 14 inches
9 pounds
With adjustable thermostat
Runs on 600 wattage
Flavors of the food are retained and don't mix
Comes with an easy to follow recipe book
Five trays included and expandable to up to 12 trays
Dries food in just hours, instead of days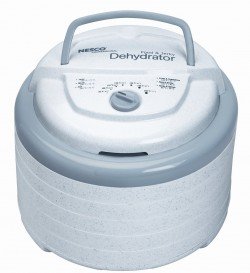 People that Like the Nesco Snackmaster Pro Food Dehydrator are Saying:
—>Read More Customer Reviews on Amazon<—
"I received this in just two days without any damage in the box or product. It came with two 'jelly-roll' disks, two mesh looking disks."
"It's very easy to use and comfortably small footprint for my tiny apartment. It is also quieter than I expected. Fan at the top makes for easy cleanup."
"This is a great product! I have used it to make dehydrated fruit, veggies, and jerky with ground beef."
"This unit is awesome. My brothers and friends think I am a jerky guru. I also love to make fruit leather for lunches for my kids. Easily cleaned after use and has plenty of power to handle twice as many trays as it comes with."
Compare Food Dehydrators
Besides this one from Nesco, there are a ton of great options for food dehydrators on the market today. Some of our top picks can be found here: The Best Food Dehydrators.
Drawbacks of the Nesco Snackmaster Pro Food Dehydrator:
A few complaints about warping trays
Not good for dehydrating veggies according to some
Very few issues with the quality
Some complaints with the heating feature
Nesco Snackmaster Food Dehydrator Review
The Takeaway on the Nesco Snackmaster Pro Food Dehydrator:
If you are looking for something to preserve your fruits and vegetables for a longer time, consider the Nesco Snackmaster Pro Food Dehydrator. This guarantees that you achieve the food's dryness and yet it remains fresh. You can also adjust the thermostat ranging from 95 to 160°F.
5 Trays Included
This adjustable feature gives you all the flexibilities you need to guarantee excellent outputs. Here's more! If you have different kinds of fruits and veggies for dehydration, you can definitely have them processed in this food dehydrator as it includes five trays.
The better news is that, you can add more trays to up to 12 pieces for more foods to dehydrate.
Recipe Book Included
If it is your first time to own and use a food dehydrator, specifically the Nesco Snackmaster Pro Food Dehydrator, don't worry. This product comes with an easy to follow recipe book.
Powerful Motor
In addition to the impressive features this kitchen must-have has, you are also treated to a sleek and modern design in this food dehydrator. It has a powerful 700 watt drying function, on top of its fast dehydrating feature that completes in just hours, instead of days.
Aren't you excited to make some homemade yogurt or sun-dried tomatoes for you pasta?
Get Your Today
Own this top-of-the-line food dehydrator now by going to the Amazon page and placing your order:

Have your Say about the Nesco Food Dehydrator
What are your thoughts about this top-quality food dehydrator? Leave a comment below and let us know what you think.
Also be sure to give this article a share on Facebook, Pinterest, or Twitter. It'll help other dehydrated food enthusiasts, like yourself find this useful resource.
Last update on 2019-07-16 / Affiliate links / Images from Amazon Product Advertising API