If you're looking to make a delicious treat at home, then look no further than this french fry recipe. Keep on reading for all the details you need to know.
Double Fried French Fry Recipe
Homemade french fries are a delicious treat that the whole family will enjoy. They also make the perfect snack for a party of any kind. You're sure to have people coming back to your place again and again once they get a taste of your Double Fried French Fry recipe! Keep reading for the recipe and some tips and tricks to make them perfect, every single time.
Double-Fried French Fry Recipe
Cut potatoes into thin strips. Kennebec or Russet Potatoes work best.
Rinse potatoes with lots of cold water. Put in a bowl or pan and cover completely with cold water. Add some ice. Let rest for at least 30 minutes and up to 24 hours.
Drain potatoes and wrap in a clean dishtowel or washcloth. Pat until thoroughly dry.
Heat oil in your deep-fryer to 300 degrees F.
Fry the potatoes in small batches for about five minutes. Remove and let drain on paper towels for at least 10 minutes, or up to a couple of hours.
Heat the oil to 350 degrees F. Fry potatoes again for 5-10 minutes, until crispy and golden brown. Remove and place on paper towel.
Salt and serve.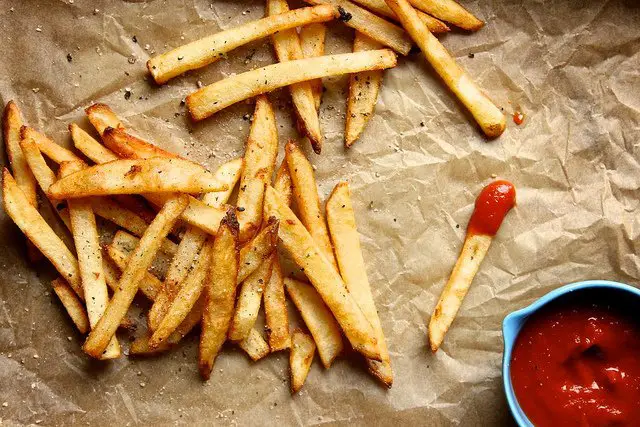 Tips and Tricks for the Double-Fried French Fry Recipe:
#1: Use a Deep-Fryer
While you can make double-fried French fries in a pan on the stovetop (something like this cast iron frying pan will work well), it's best to use a deep-fryer. Deep fryers are much safer than frying something in a pan and it's also possible to set the temperature easily, making for more accurate results.
Our top picks for best deep-fryers include: Secura Triple-Basket Deep Fryer, as well as the Presto Fry-Daddy Deep Fryer.
You might also want to have a look at this handy comparison chart below:
#2: Lawry's Seasoning Salt!
If you're serious about making your double-fried French fries really, really delicious, you'll need to use Lawry's Seasoning Salt. It'll kick your homemade French fries up to the next level of addictiveness. Trust me. If you use this seasoning salt, your fries are guaranteed to be gone within five minutes. Better have that second batch ready to go!
#3: Don't Skip the Second Frying for the Double Fried French Fry Recipe
Many people don't know this, but all delicious French fries are fried twice. While it may be temping to fry them only once, saving a bit of time and skipping a bit of the mess, don't do it. They'll end up a bit soggy and won't turn out like you want them to. Trust us on this one! Always double-fry french fries!
Learn more about Double-Fried French Fries
Guy from the food network:
Do you Have a Recommendation for a French Fry Cutter?
If you want to kick your french fry making to the next level, then you're going to want to seriously consider getting yourself a french fry cutter. They're super easy to use and can save you a ton of time if you have a big family.
But, the best part is that it makes all the fries the exact same size. This is ideal for deep frying because you'll be able to make all of the fries the perfect doneness, instead of having some overdone, and then some a little bit soggy.
You can see all of our top picks here: French Fry Cutters.
Double Fried French Fry Recipe: What do you Think?
What do you think about our simple homemade french fry recipe? Leave a comment below with your #1 tip for deep-frying up potatoes at home. Also let us know if you have a favourite deep-fryer that you'd like to recommend and why you like it.
Please give this article a share on Facebook, Twitter, or Pinterest.