Are you looking for one of the best deep fryers for home use? Then the Presto FryDaddy should be at the top of your list. Read our buying guide packed with information to help you decide if it's the right deep fryer for you.
Presto FryDaddy Electric Deep Fryer Review
The Presto FryDaddy Electric Deep Fryer is rated very highly be users. Ideal for family bonding and weekend gatherings, this cooking gadget is designed to be very lightweight.
Very Economical
This cooker is economical too. One can save up on oil as it has an efficient 4:4 ratio for oil-to-food. This ratio means it can produce four generous servings with only four cups of oil.
Cooks a Variety of Foods
The features of the Presto FryDaddy Electric Deep Fryer are set not just for meal satisfaction but for budget constraints too. At such a reasonable price, this fryer can already fry crispy chicken, French fries, onion rings and shrimps, among others.
Built in Thermostat
It has a built-in thermostat that's preset for perfect frying all the time. Presto FryDaddy has a nonstick surface inside and out. This makes the cleaning effortless.
Very Easy to Use
People who are already using this cooking companion find it very special. Its handy scoop that simply lifts, drains and serves, is what makes it extra special. Not only that, this home deep fryer is designed compact in size for convenient storage.
Where Can I Buy It?
The Presto FryDaddy Electric Deep Fryer is available on Amazon. Check now for the lowest prices on kitchen appliances:

Compare Deep Fryers
For even more options, be sure to check out: Top 5 Best Deep Fryers. Or, have a look at our comparison chart below:
The Specs:
10 x 9 x 8.5 inches
Cool touch outside
Removable nonstick pot for easy serving and cleaning
Extra-large window for viewing
Charcoal filter for the reduction of odors
Tightly sealed cover to prevent splattering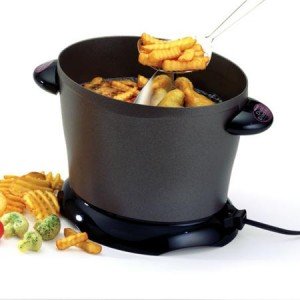 People that Like the Presto FryDaddy Electric Deep Fryer are Saying:
"For someone not needing to fry large amounts at a single time, this little machine is ideal. It requires only a very small amount of vegetable oil."
"I like this fryer because the heat-up time is very quick. There is much less splatter than frying using the pan. I also love the built-in thermometer. No more messing around with that stuff!"
"This is a great basic fryer. It makes great fries, egg rolls, and chicken. Above all, it is very easy to use with just a bit of oil needed."
How to Use the Presto Deep Fryer
Drawbacks of the Presto FryDaddy Electric Deep Fryer
Could be bigger in size (for some)
No temperature control
Some issues with cleaning
Too hot to handle (for a few people)
Takeaway on the Presto FryDaddy Electric Deep Fryer
Do you spend family bonding during weekends and holidays? Then, what you need is the Presto FryDaddy Electric Deep Fryer. This will make your preparation easier to give you more time for the family conversations.  This means, you are guaranteed of an excellent kitchen appliance at such an affordable price.
Small in Size
As earlier said, this is ideal for small family bonding. Therefore, the complaints you hear and read about the size won't matter to you. The removable nonstick pan is another feature to answer the issues with cleaning. When you buy get to try this home deep fryer, you will discover that there are almost no negatives at all!
2-Year Warranty
To make sure you're getting what you paid for, there's a 2-year warranty that comes with this fryer. Try this best-performing deep fryer yourself to enjoy crunchy fried dishes.
Shop Now
Click the "buy now" button to get the Presto FryDaddy Deep Fryer on Amazon today:

Have your Say about the Presto Deep Fryer
What are your thoughts about this deep fryer for home use? Leave a comment below and let us know what you think.
Also be sure to give this article a share on Facebook, Twitter, or Pinterest.