Are you looking for one of the best portable bottle warmers? Then you'll want to consider this one from Gland.
Check out our buying guide packed with information to help you decide if it's the right one for you, and your baby.
Gland Portable Baby Bottle Warmer Review
The Gland Portable Baby Bottle Warmer is a frequently bought baby food warmer on Amazon. This item for parents and babies is designed to heat bottled formula or breast milk and baby food. It is also made light weight for easy bringing during family trips and other outdoor fun.
Works Quickly to Heat up Food
What's advantageous about this portable baby bottle warmer is its fast-heating feature. There is no reason for the baby to feel irritated while waiting to be fed.
Electric Steam Feature
This best-selling bottle and baby food warmer features an electric steam for sterilizing and warming milk. It also has an LCD display for the user to easily view the water used for heating and warming.
Advanced Japanese Technology
The Gland Portable Baby Bottle Warmer utilizes an advanced Japanese PTC. This said technology is the reason for the sterilizer's efficient heat technique. There is no need to worry about overheating the milk too. This highly-regarded item has an audio reminder when the food is warmed or the water is about to run dry.
Auto Shut-Off
At such an affordable price, this portable bottle and food warmer has an adjustable temperature. It doesn't matter which country or province he travels to. What's more impressive is that, this travel bottle warmer has a special feature. It has an auto-cut-off switch to protect the water level when heating.
Where to Buy this Portable Baby Food Warmer?
The Gland Portable Baby Bottle Warmer is available on Amazon. Check now for the best prices and also to see if this product is eligible for fast, free shipping with a Prime membership:

Compare Bottle Warmers
Besides this portable baby bottle warmer, there are a ton of other options available. You can find double warmers for twins, larger ones that can also sterilize, and ones that do a whole ton of other things. Of course, they vary significantly in price too.
It can be a bit overwhelming to choose the right one. But, we've done the hard work for you and narrowed down the choices. For all the options, be sure to check out: Top 5 Baby Bottle Warmers. Or, have a look at our comparison chart below:

Key Features of this Portable Bottle Warmer:
7 x 6 x 6 inches, light in weight for travel
Can warm breast and formula milk, and baby food
Portable
LCD display and voice prompts
PTC heating
Electric steam that can serve as a sterilizing function as well
Audio reminder to prevent low water levels
Auto cut-off switch
Can keep food, or liquids warm for hours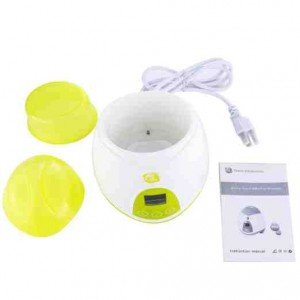 People that like the Gland Portable Baby Bottle Warmer are Saying:
—>See More Customer Reviews and Ratings Here<—
"So far, this travel baby bottle warmer is a life-saver for me and I find that it's easier to use than the Kiinde Kozii. It quickly warms the bottle, and it's light enough to carry it around. Seriously, it's so much easier than stopping at a coffee shop or gas station trying to get hot water to heat up baby food."
"This device heats up nicely! I use the Tommee Tippee bottles and they fit perfectly! I haven't tried it with warming food but I'm sure it will also heat food well."
"The Gland portable bottle warmer functions exactly as intended! It is very easy to use and I'm so happy that I received it as a gift at my baby shower! However, I've seen many of my friends with the Philips Avent, and if I had to buy my own, I'd probably stick with that one. It just seems to be a bit higher in quality."
Learn More about one of the Best Bottle Warmers
Do you want to find out more about one of the best travel bottle warmers? Then you'll definitely need to check out this review video to see it in action and to learn more about it.
Drawbacks of the Gland Portable Baby Bottle Warmer:
Some complaints about the packaging
Complicated settings for some
Takeaway on the Gland Bottle Food Warmer:
If you have a baby in the family, the Gland Portable Baby Bottle Warmer is certainly a must-have for you. Its little bowl and dust cover make it easier for the parent to warm the milk easier and faster. It's one of the best travel warmers out there to heat up baby bottles or food.
And here's the best catch: heat the food or milk minus the noise! You won't ever disturb the sleeping little angel while preparing his food.
Accurate and Easy Heating of Foods and Liquids
Forget about the unforgettable remarks you hear about this item. It's baseless. Refer to Amazon and you'll see all the positive comments that are even weightier than the negatives.
This is the most unique food warmer you'll ever encounter. It has a unique temperature-sensing device for accurate heating. The quality of the food and milk is not compromised either.
Where to Buy the Best Baby Bottle Warmer
Experience the positives yourself. Make sure to have this top-of-the-line food warmer and sterilizer for both home and travel use. Go to the Amazon page now to buy the Gland Portable Baby Bottle Warmer:

Have your say about one of the Top Bottle Warmers
What are your thoughts about the Gland portable baby bottle warmer? Is it the best portable bottle warmer? Is this the right one for you, or are you considering another brand? Leave a comment below and let us know what you think. We'd love to hear from you.
Also be sure to give this article a share on Facebook, Twitter, or Pinterest. It'll help other new parents like yourself find this useful resource.
If you're ready to move away from formula, check out this homemade orange juice recipe.