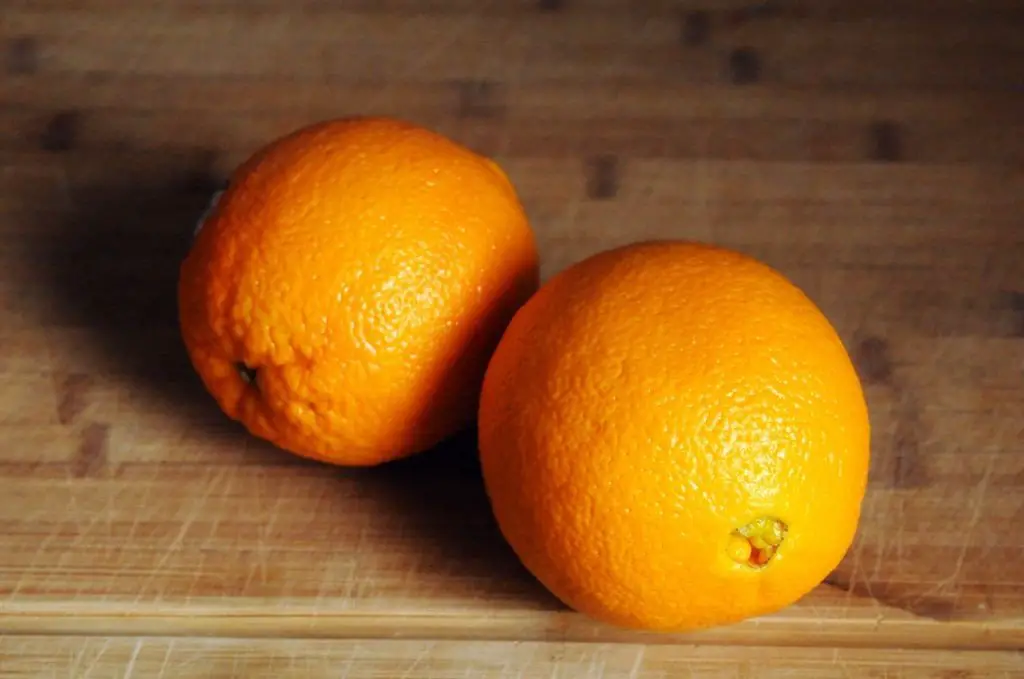 Do you want to get your mornings started off the right way? Then consider a delicious glass of homemade orange juice. Keep on reading for the recipe and everything you need to know about making this sweet, healthy treat at home.
Homemade Orange Juice: My Not-So-Secret Recipe
Oranges pack a nutritional punch. Not only do they contain almost your entire daily allowance of Vitamin C, they have a lot of other benefits to them as well. Some of them include: fiber, folate, niacin, Vitamin A/E, calcium, copper, iron, magnesium to name only a few.
If you buy orange juice from the supermarket, it's often hard to tell exactly what's in it. The labelling is often confusing and it's hard to know what things like "natural" or "100%" mean when it comes to stuff like this. The best thing to do is make your own orange juice at home. Not only is it way cheaper than buying it in the store, but you can also control what goes in it. Save money and be healthy? Yes please!
Here's how you make your own homemade orange juice:
Step 1: Get some fresh oranges. The juicier the better. Seedless is best. Navel or mandarin oranges work well.
Step 2: Peel them if mandarins, or slice off the peel if navel. If you want less pulp, get all that white stuff off. I don't care and just eat it all up! Plus, I'm lazy.
Step 3: Blend that stuff up, serious style. I personally use the Oster Versa, a freakishly powerful blender that'll kick some butt in your kitchen. If you want to step it up to the next level, consider the more expensive Vitamix. It's what you'll find in professional kitchens. If you need to add a bit of water to get it to mix well, do it. This'll often be the case in those cheap, crappy blenders.
Step 4: Strain (optional). I personally like to eat as much fiber as I can because that stuff does wonders for your body. Pulpy fiber: get in my body! But, perhaps you don't like it as much as I do. In this case, run your juice through a strainer for a little pulp, or cheese cloth for no pulp.
Step 5: Put it in the fridge or add some ice. Orange juice is most delicious when served cold. Drink that stuff up and get some before your family and friends do. Your homemade orange juice is going to go fast, trust me.
I love to make some homemade waffles to go along with this!
Optional, Awesome Ingredients for your Homemade Orange Juice
Now, I totally get that you don't want to mess with something good. I often just go pure-style with only oranges and maybe a bit of water to thin it out. But, if you must, consider some of the following optional, yet awesome things to add into the blender:
An apple. Peel and core it.
Ginger. Peel it. It adds a bit of zing.
Fresh mint. Kick up the refreshing factor with this one.
Carrots. Wash them. Peeling is optional. I usually am too lazy for that. Kick up the nutritional power with this one.
Ice cubes. Instead of adding them at the end, put 'em in the blender with the oranges. It'll be more slushy style than juice style, but maybe you'll end up loving that. Who knows? Give it a chance.
Lime. Go South-East Asia style by throwing a lime in there to cut the sweetness of the oranges a little bit.
My #1 Tip for You when Making Homemade Orange Juice: 
If you're going to get serious about making some delicious food like this homemade orange juice in your kitchen, then get yourself a serious blender. Trust me. You'll be way happier with a sweet, sweet blender that can crush everything in its path than some cheap-ass thing from Wal-Mart.
Here are my top 5 blender recommendations for you. They'll last you for years, instead of months like the cheap crap.
Learn How to Make Fresh-Squeezed Orange Juice
For even more ideas and a simple recipe, check out this short video on YouTube:
Have your Say about this Homemade Orange Juice Recipe
Do you have any tips or tricks for making homemade orange juice? Any secret ingredients that you'd be willing to share with us? Please leave a comment and let us know. We'd love to hear from you.
Also be sure to give this article a share on Facebook, Pinterest, or Twitter. It'll help other home cooking enthusiasts, like yourself find this useful resource.