Are you looking for the best blender that money can buy and the one you'll see in all professional kitchens? Then you'll need to consider the Vitamix. Read our buying guide packed with information to help you decide if it's the right one for you.
Vitamix Professional Series 750 Review
The Vitamix Professional Series 750 is a high-powered beast of a machine that is not out of place in restaurant kitchens. It's a serious blender for people who are going to use it every single day for a decade or more.
Impressive Warranty
It comes with a 7-year full warranty, but there are reports of these things lasting 15+ years, even with heavy usage. The Vitamix Professional Series 750 comes with a serious price-tag. But, if you're tired of buying a cheap blender year after year and experiencing frustrating break-downs, this is the one for you.
Vitamix Professional Series 750 Blender, Professional-Grade, 64 oz. Low-Profile Container, Black,...
Automated Blending: Five pre-programmed settings ensure simple cleaning, walk-away convenience, and...
You're in Control: Variable Speed Control and Pulse feature let you manually fine-tune the texture...
Low-Profile 64-ounce Container: Perfect for family meals and entertaining, while fitting comfortably...
Hardened Stainless-Steel Blades: Our aircraft-grade stainless steel blades are designed to handle...
Self-Cleaning: With a drop of dish soap and warm water, your Vitamix machine can clean itself in 30...
Powerful Motor
The 2.2 horsepower, 1200 Watt motor is amazingly quiet, making it a great choice for something like a coffee shop. There are 5 pre-programmed settings to ensure smoothie, soup or frozen dessert perfection. There is a 1-touch cleaning setting so all the hard work is done for you.
Shop Now
The Vitamix Professional Series 750 is available now online. Check now for the best prices and deals on free shipping:

Compare Blenders
For more affordable options, be sure to take a look at our Top 5 Blenders. Or, have a look at this comparison chart below:

The Specs:
5 pre-programmed settings
1200 Watts of power
Ultra-quiet
64 ounce container
7-year warranty
Includes tamper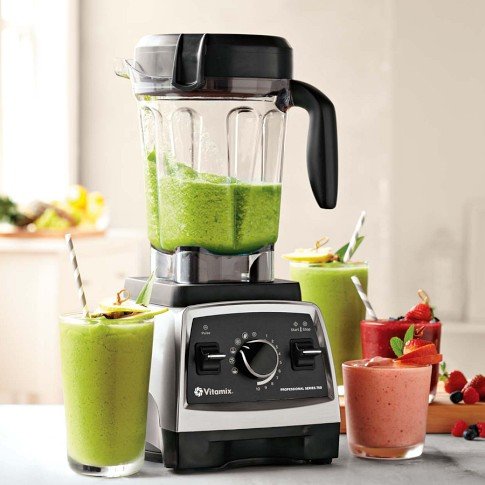 People that Like the Vitamix Professional Series 750 are Saying Things Like: 
"There's a reason why you can find a Vitamix in every single restaurant kitchen. The thing is amazing! Sure, it's a little bit expensive, but totally worth it."
"It can crunch through every single thing you put in there. I've used cheaper blenders in the past and there's just no comparison with this thing."
"Save money and prepare food at home with this beast of a kitchen machine."
"The Vitamix has helped me get healthy with smoothies, hummus, soups and other homemade stuff.
Vitamix 750 Review
Vitamix Professional Series 750 Negatives: 
Poor customer service. Some reports of waiting on hold for almost an hour.
Some people experience Teflon flakes in their food. This is a known problem but the company hasn't really taken steps to fix it.
The Takeaway on the Vitamix Professional Series 750:
This blender is a serious machine that will last for a decade or longer. If you will use it every day in your kitchen for smoothies, soups, hummus, etc. then it's worth the money. It's also worth the money if you work in a restaurant simply for the fact that you can turn it on and walk away.
Quiet, but Powerful
If you need it to make smoothies or blended drinks in a coffee shop, it also makes an excellent choice because it's so quiet. Much quieter than the other high-powered blenders on the market today.
Where Can I Get It?
You can easily get the Vitamix 750 from Vitamix.com. Check now for the lowest prices:

There are Cheaper Options Though
However, if you don't fall into those following groups of people, consider one of the following cheaper options. They do have some negatives when compared to the Vitamix Professional Series 750, but they come are a far cheaper price:
Often less than $250: Oster Versa Professional Blender (1400 Watts of power). See: Full Review.
Usually less than $350: Refurbished Vitamix (1200 Watts of power)
Have your Say about the Vitamix Professional Blender
What do you think about the Vitamix? Worth if, or are you considering a cheaper blender? Leave a comment below and let us know your thoughts. We'd love to hear from y0u.
Also be sure to give this article a share on Facebook, Twitter, or Pinterest. It'll help other home cooking enthusiasts, like yourself find this useful resource.
Last update on 2021-04-09 / Affiliate links / Images from Amazon Product Advertising API