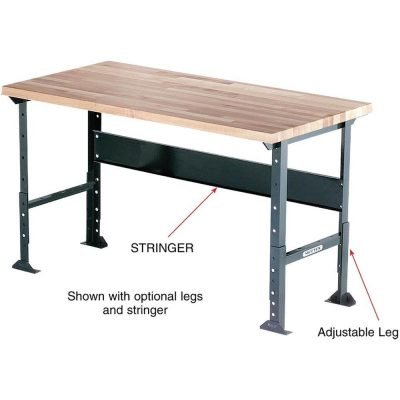 Are you looking for a way to get more counter space in your kitchen? Then you'll want to check out this top-quality wooden workbench that's ideal for food preparation. Read our buying guide packed with information to help you decide if it's right for you.
Grizzly Workbench Top Review
The Grizzly Workbench Top may not fall under the kitchen products category. However, anybody who already has this is sure to agree that this is a home essential that perfectly suits any part of the area.
Similar to a Butcher Block
It may function primarily as a butcher block where one can cut, chop or slice big meats or ingredients in large amounts but this works well in the living room and dining area, too. It's a super versatile thing to have in your home.
Perfect for a Breakfast Nook
Picture frames, candle collections and books are only few of the many things one can nicely put on top of this workbench top. Breakfast nook is another brilliant idea, for this multi-purpose chopping slab.
Beautiful Maple
Boasting of maple wood material, this food preparation furniture is a perfect gift idea too, for a a special occasion for any occasion. One will surely find his money's worth for a very special present for someone so dear to him.
Will Last for Decades
Since this is a wooden material he can guarantee many decades of service of this top. This is quite enough for the reason for one to really appreciate being given this as a gift.
Of course, don't forget to use an oil or wax to keep it in mint condition and prevent splitting, staining or cracking.
Where Can I Get It?
The Grizzly Workbench Top is available on Amazon. Don't forget to sign up for a Prime membership because you can often get free shipping along with your order:

Key Features:
36 x 24 x 1.8 inches
51.9 pounds
Maple wood material
Durable
With four adjustable legs
Offered with free shipping
Sealed edges so it's safe to use
Smooth surface
People that Like the Grizzly Workbench Top are Saying:
"This is such a beautiful piece. I used it as a "counter top" on a kitchen cabinet I made. It has excellent build quality and I've recommended it to so many people now. It's obviously built to last a lifetime, and then some."
"We bought this as an overlay top to our current kitchen island. It is beautiful and well made and it adds a nice, stylish look to our house."
"The top is perfect as a vanity, allowing me to sit in a chair next to it if necessary. It looks very stylish over the slate tile floor of the bathroom."
"These are nice solid maple countertops. I ordered two and they are both attractive, solid and well put together. Packaging was excellent but just be sure to use a nice cutting board oil on it if you're going to use it for food prep."
Drawbacks of the Grizzly Workbench Top are Saying:
A bit heavy and might be difficult to move around
Pricey for some
A few issues about being space-consuming
Grizzly Maple Workbench Review
The Takeaway on the Grizzly Workbench Top are Saying:
Is a special occasion just around a corner? Maybe you're already preparing for your parents' or even your own anniversary. As you prepare, be sure to have a checklist of your must-do's and must-have's from the biggest to the smallest details of the event.
Perfect for a Gift
And, don't forget the present you'd give the celebrant. As you plan what to give him, her or them, consider the Grizzly Workbench Top. It doesn't cost that much and it is definitely worth paying for! It's the ultimate gift for foodie to say the least!
Multi-Purpose 
Let your receiver decide where he wants to put and how he wants to use this multi-functional chopping slab. It doesn't matter anymore whether he's using it for food preparation as what it should originally do, or just as display furniture.
A Beautiful Piece for your Home
What's important is, he is very happy with truly appreciates the gift given him. Equip your (or somebody else's) home with this all-purpose bench at such a reasonable cost.
Shop Now
Hit the button below to purchase the Grizzly Workbench Top are Saying today:


Have your Say about this Wooden Work Bench
What do you think about this wood table top from Grizzly? Leave a comment below and let us know what you think. We'd love to hear from you.
Also be sure to give this article a share on Facebook, Twitter, or Pinterest.
Last update on 2021-04-09 / Affiliate links / Images from Amazon Product Advertising API