Are you looking for a top-quality electric kettle at a very reasonable price? Yes? Thought so. Then you'll definitely want to consider the Ivation electric kettle.
Read our buying guide, packed with information to help you decide if it's the right choice for you.
Ivation Stainless Steel Cordless Electric Kettle Review
The Ivation Steel Cordless Electric Kettle is one of the best stainless steel electric kettles in the market. It is a practical choice for the people who drink a lot of coffee, tea or other hot beverages. It is also a great choice for individuals who love to entertain guests at home over coffee and tea.
Energy Saving Device
The Ivation Stainless Steel Cordless Electric Kettle is an energy-saving appliance. It can keep the water warm for 2 straight hours. The auto keep-warm feature leaves no room for re-boiling. The user can also choose his desired temperature for his hot drink through the 6-preset temperature setting.
Ivation Precision-Temperature Electric Hot Water Tea Kettle Pot 1.7 Liter (7-Cup), 1500 Watt,...
The Ivation K17S Best Rated Teapot Kettle, Features Built-In Temperature Controls, Enabling You to...
Equipped With 6 PRESET TEMP SETTING: Using The Simple One-Touch Controls On The Kettle's Handle,...
Built With High Wattage Capacity Of 1500w For Super-Fast Heating That Will Bring 1.7 Liters of Water...
Automatically SHUTS OFF Once It Has Reached the Temp Selected or when Water Is Too Low To Prevent...
Sleek Brushed Stainless-Steel Designed to Enhance Your Kitchen Counter, 360° Swivel Power Base for...
Detachable Base
Ivation Stainless Steel Cordless Electric Kettle is a best-performing product. It can keep the desired temperature for 2 hours. It also has a 2-minute memory function. Also, unlike the other kettles, the base of this water boiler is detachable. And, despite the detachable base, the preset temperature setting does not change even if the kettle is separated from it.
Perfect for Coffee
Pair up the Ivation kettle with a top-quality coffee grinder and French Press and you'll be well on your way to hot, delicious coffee every morning. It's actually what we do at our house!
Where to Buy It?
The Ivation Stainless Steel Cordless Electric Kettle is available on Amazon. Click the button below to check for the best prices and also to see if this product is eligible for free shipping with a Prime membership:

Compare Electric Kettles
For even more options, be sure to check out our Top 5 Best Electric Kettles. There are a number of options at a wide variety of price points. Or, have a look at our comparison chart below:

The Specs:
One-touch digital controls
7-cup capacity
No-leak or drip spout
Washable, removable scale filter
Easy-viewing window for the water level
Stainless steel
Cordless
Built-in temperature control
One-touch control
1500 Watt voltage for super fast boiling
Automatic shut-off feature when reaches temperature, or kettle boils dry
Adjustable length cord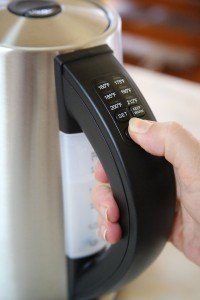 People that like the Ivation Stainless Steel Cordless Electric Kettle are saying:
—>See More Customer Reviews Here<—
"I wanted the versatility of this water kettle for tea and coffee. I'm really glad I found this and love that the kettle is cordless and detachable from the base. This makes it super handy for a whole bunch of things.!"
"This kettle boils water faster than the other brands I already tried in the past. And it's quite durable too…it's been going strong for a couple of years now of daily use."
"I've been using the microwaving to boil water for my tea. Now, with this kettle, my hot drink tastes so much more pure. I'm very happy with this product!"
"It is quite essential that the temperature for both the coffee and tea is very accurate and this one performs very well. I love how fast it is and also the cordless pouring option."
Ivation Electric Kettle Review
Ivation Cordless Electric Kettle Negatives:
Some durability issues
Some expectations with the physical appearance
A few reports of noisy sound
A complaint or two about the weight
The Takeaway on the Ivation Electric Kettle:
If you are in search for variety in your water boiler, consider the Ivation Stainless Steel Cordless Electric Kettle. You need not be a barista to make perfect coffee concoction or tea. All you need is this high-quality electric kettle. It's a top-rated kettle for good reason! It's a sleek, top of the line kitchen appliance with a ton of features that you'll love.
Why We Love It!
Ivation Electric Kettle is the best choice. Its one-touch control panel makes this boiler easy to use. Powered with 1500w, this top-quality electric kettle is a standout. The auto shut-off feature is super handy and also makes sure that it turns off when there's no water in it. The no drip spout ensures no mess on your countertops.
Buy it Today
Purchase the classy electric kettle that won't look out of place in any kitchen or office. Go to Amazon and get the Ivation Stainless Steel Electric Kettle today:

Have your Say about this Ivation Electric Kettle Review!
What are your thoughts about this electric kettle? Is it the brand for you, or are you considering another option? Leave a comment below and let us know what you think. We'd love to hear from you.
Also be sure to give this article a share on Facebook, Pinterest, or Twitter. It'll help other coffee or tea enthusiasts, like yourself find this useful resource.
Last update on 2021-04-09 / Affiliate links / Images from Amazon Product Advertising API