Coffee and tea enthusiasts! You're in the right place. We have all the options for the top-rated electric kettles so keep on reading to find out all the details you need to know.
Electric Kettles: Top 8 Picks
Can't last a day without hot coffee, tea or chocolate? It's not enough that you pour hot water from the water dispenser and make yourself your favorite drink. It will be much better if you have it freshly boiled from the kettle. What you need is a reliable electric kettle to keep your stomach warm even when you're in a hurry and don't have lots of time.
Here are the Top 5 Electric Kettles  to guide you to your best pick. We have come up with our own list to make it easier for you to choose. Surely, you'll get overwhelmed when you browse through all similar products from the Internet.
The items we have included here are the ones we guarantee that will meet all your needs whether you are using the kettles at home or outdoors during your trips and vacation. Boiling water in a short amount of time? You can get it right here!
#1: Ottoni Electric Water Kettle
Let's be honest here, who doesn't love function combined with stylish design? The Ottoni water kettle certainly has both and this thing will look sleek and stylish on your countertop, plus give you all the functionality you need to heat up water quickly and efficiently.
Bodum.com is one of our favourite online marketplaces for all things coffee and tea. Their products are not only beautiful, but they are designed well and produced in an environmentally friendly way.
Features 
As far as design goes, there are a number of things you'll love about this one. It has a 1L capacity and is made from stainless steel, ensuring you that no toxic chemicals are leaking into your water. The indicator light shows that the product is working and there is an auto shut-off for when the water has boiled.
Get Yours Today
We think you'll love yours as much as we love ours so why not pick yourself one up today? Head over to Bodum.com to find out more about this product:

#2: T-fal 4-Cup Electric Kettle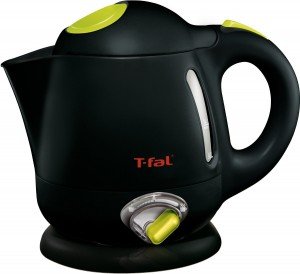 If you are someone who is outdoors or traveling all the time, you need a T-fal 4-Cup Electric Kettle. We're ranking it No. 1 in our Top 5 Electric Kettles for because even when you're not at home, you won't miss taking a sip of your favorite hot drink with this durable kettle.
Perfect for the Office or When Travelling
Its cordless pouring feature makes coffee drinking outside your home handy for you. The viewing window allows you to see the water level and determine the boiling status.
The small and compact, 4-cup size is perfect for at the campground, or in a hotel room on a business trip when you want some coffee, tea or green tea on the go. If you just need a bit of boiling water for a cup or two, this will do it quickly and easy!
Learn More About it Here
Check out the following review:  T-fal 4-Cup Electric Kettle.
You can easily purchase this bestseller on Amazon today. Click the button below to find the best prices right here:

T-Fal Travel Kettle Review
Compare Electric Kettles
If you want to see the head to head comparison of some of our top picks, then you'll want to take a close look at this handy comparison chart we put together for you:
#3: Proctor Silex Electric Kettle
Aside from affordability, this 2nd in our list of best electric kettles has large capacity for more coffee and tea refills. The Proctor Silex Electric Kettle is definitely the kettle to have! You can carry and take it anywhere inside your home where you want to sip your hot drink comfortably because of its light weight.
Automatic Shut-Off Feature
Whether for solo use or sharing for your coffee or tea refills, this electric kettle is the best for you! Now worries about the danger of burning or burning when left unattended. This top-of-the-line water boiler has an automatic shutoff.
Where to Buy It?
If you want to know more about this top-rated electric kettle, then you'll want to check out our review right here:
Proctor Silex Electric Kettle.
Sounds like the right option for your home kitchen? You can easily buy the Proctor Silex Electric Kettle on Amazon today and don't forget to check and see if this product is eligible for fast, free shipping with a Prime membership:

#4: Ivation Stainless Steel Cordless Electric Kettle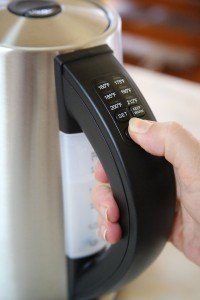 We're including this in our list of Top 5 Electric Kettles  because of the ample savings users can get from using this kettle. The Ivation Stainless Steel Electric Kettle is an energy-saving appliance.
Keep Warm Feature
This feature makes the water warm for 2 straight hours. The automatic keep-warm feature leaves no room for re-boiling. What you'll love about this kettle is its high capacity of up to 7 cups to enjoy coffee and tea refills.
You can also choose your desired temperature for your hot drink. The temperature control feature is unique to the higher-end kettles, and it's super convenient to have.
For example, green tea should be brewed at 75-80 degrees, while coffee made from fresh ground beans should be brewed between 90 and 96 degrees. Instant coffee can be brewed at a lower temperature.
Memory Function
Another feature that makes the Ivation Electric Kettle special is its 2-minute memory function. And, unlike the others, the base of this water boiler is detachable.
Despite this, the preset temperature setting is not affected when the kettle is separated from it. This may be the most expensive kettle on this list, however the features may make it worth it for you.
It's one of our favourite kitchen appliances at our house.
Learn More About it Here
If you want to find out even more details about this top option for an electric water kettle, you'll want to take a look at this: Ivation Kettle Review
You can get the Ivation Stainless Steel Cordless Electric Kettle on Amazon. Head over there now by clicking below:

#5: Bistro Electric Water Kettle
If you're looking for thoughtful design, elegance and durability all in one single product, then you'll want to seriously consider the Bistro electric kettle. One of our favourite online sites to buy anything coffee, tea or small kitchen decor from is Bodum.com. Their products are a cut above the rest and this kettle is certainly no exception to that.
Key Features
This energy saving appliance is ideal for heating up water for coffee, tea, instant soups and more. It's easy to tell how much water you're adding, which can help to prevent waste.
There's not only a manual on/off switch but an auto-sensing one as well. Combine that with the pouring screen to prevent impurities from getting into your food and drinks and this is certainly a great option to consider.
Get Yours Today
If you're looking for a functional yet stylish option for boiling water at home or in the office, then consider this one from Bodum.com. We think you'll love it as much as we love ours so head over to the website today to find out more:

#6: Secura Stainless Steel Electric Kettle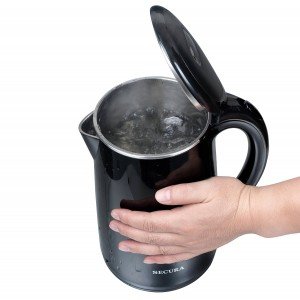 The Secura Electric Kettle is included in our Top 5 best electric kettles for its quality. We recommend it to individuals who still prefer the plastic material but are hoping for the best specs.
Cool Touch Exterior
This kettle features a two-wall cool touch exterior that protects the hand when pouring the water. No plastic is ever attached or included in any part of this kettle. Therefore, one can guarantee clean water that's boiled in pure stainless steel material. This kettle is also designed to save energy.
People who own the kettle though, may no longer find the need of the warranty because of their declaration of satisfaction through the years.
Shop Now
See: Full Review of the Secura Stainless Steel Electric Kettle.
You can get the Secura Stainless Steel Kettle online. Shipping is often free with Amazon Prime:

#7: Hamilton Beach Stainless Steel Kettle
The last but definitely not the least in our list of Top 5 Electric Kettles is the Hamilton Beach Electric Kettle.  It is now hassle-free to serve more and more cups of tea, coffee or hot chocolate at home.
A Ton of Features
The Hamilton Beach Stainless Steel Electric Kettle is a features-filled water boiler made of stainless steel. It is a cordless kitchen appliance that makes it easier for the user to pour water.
Ideal for your tea party at home, you are sure to serve your family and guests hot drinks fast as this kettle boils water faster than the microwave and stove-top kettles.
Shop Now
You can find out a lot more information about this popular option in our electric kettle review here:  Hamilton Beach Kettle Review.
If you want to pick up this beautifully designed kettle for your home or office, you can get the Hamilton Beach Stainless Steel Electric Kettle on Amazon. Check now for the lowest prices:

#8: KitchenAid Electric Kettle
KitchenAid is certainly one of the top brands that we like to recommend here at Kitchen Gadget Reviews. They have a  reputation for some top-quality products with smart, functional designs. Their electric kettle is certainly no exception to this. Keep on reading for just a few of the reasons why you might want to consider this for your home or office.
Key Features
This 1.7L kettle has the ability to boil water both quickly and quietly. The variable temperature control is ideal for coffee or tea connoisseurs who want their water at a precise temperature.
Thy stylish design looks great in any kitchen. Of course, you're also getting a top-notch warranty and excellent customer service when you opt for KitchenAid so you really have nothing to lose. Sure, this kettle is a bit more expensive than some of the other options on this list, but you're getting a product that is in a class of its own.
Get it Today
If you want to pick up this top-quality kettle for your home, then head over to KitchenAid.com to find out all the details you need to know and to check for the lowest prices:

Why Choose an Electric Kettle Over a Stovetop One or the Microwave?
You have a few options for making yourself some boiling water for a cup of coffee or tea: electric kettle, stovetop kettle, or microwave. I personally go for the electric kettle every single time. Here's why:
It's Fast
Okay, not quite as fast as the microwave, but an electric kettle is significantly faster than boiling water on the stove. Plus, it uses less electricity.
No Shrieking!
One of my pet peeves with stovetop kettles is how noisy they are when they're boiling. Same with the microwave—all that beeping.
Precision
If you're on a quest for that perfect cup of coffee or tea, you'll know that precise temperatures matter. With this in mind, consider getting an electric kettle with adjustable temperature control.
Have your Say about the Best Electric Kettle
What is the top-rated electric water kettle in your opinion? Is it one of the options from this list or do you have your eye on another one? Leave a comment below and let us know what you think. We'd love to hear from you.
Also be sure to give this article a share on Facebook, Pinterest, or Twitter. It'll help other coffee and tea enthusiasts, like yourself find this useful resource.