Proctor Silex Electric Kettle Review
The Proctor Silex Electric Kettle is one of the most affordable electric kettles in the market today. Because of this, the product is a #1 bestseller on Amazon. It's not every day that people are offered such a high-quality electric kettle for such a nice price.
Up to Six Cups
The Proctor Silex Electric Kettle is ideal for the hot drink enthusiasts who are fond of bottomless beverages. One boiling can fill and refill up to six cups. It is light in weight. Any member of the family can easily move it around the house. The kettle can remain on top of the counter where coffee or tea time is usually spent.
Automatic Shut-Off Feature
This kitchen appliance is also for the people who always rush for work and hardly ever have time for breakfast. It guarantees to boil faster than the microwave. Now worries about the dangers of overheating and burning when left unattended. This top-of-the-line water boiler has an automatic shutoff.
Frustration Free Packaging!
Safety feature is one major reason why this bestseller should be a must-have at home. Its boil-dry protection is guaranteed much safer than boiling using a stove-top kettle. Those purchasing at Amazon are assured of easy-to-open (frustration-free) packaging.
Where Can I Buy It?
The Proctor Silex Electric Kettle is available on Amazon:

Electric Kettle Comparison
For even more options, check out our Top 5 Electric Kettles. Or, have a look at this handy comparison chart below:
Key Features:
With detachable cord
Designed lightweight for easy pouring
Boils faster than a microwave oven
Automatic shutoff
Double water window for easy filling
Guaranteed boil-dry protection
1500 Watts of power for quick boiling
On/Off indicator light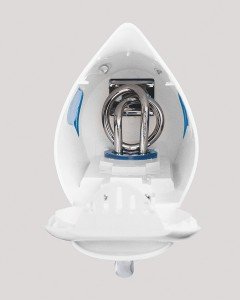 People that like the Proctor Silex Electric Kettle are saying:
"This kettle is terrific on snowy days when the kids come in and want hot cocoa…FAST! I love that it has an auto shut-off feature too..perfect for this forgetful grandma."
"I bought two kettles—one for the home, and another for the office. The items work great! They work as advertised and  boil water very quickly."
"This kettle takes less time and energy to boil the same amount of water compared to the stovetop kettle or microwave boiling."
"This kettle is the best! It only takes 4 minutes to boil a full amount of water for 6 cups. It's perfect for that quick cup of coffee in the morning with my French Press before work."
Proctor Silex Electric Kettle Review
Drawbacks of the Proctor Silex Electric Kettle:
Some issues with ease of cleaning
Apprehensions about chemicals in water because of the plastic construction
Cord is too short for some
Some issues with durability
The Takeaway on the Proctor Silex Electric Kettle:
The Proctor Silex Electric Kettle is definitely the kettle to have! You can carry and take it anywhere inside your home where you want to sip your hot drink comfortable because of its light weight. Whether you are using it alone for your coffee or tea refills, or sharing it with your loved ones, this electric kettle is the best for you!
No Separate Base Needed
The negatives you read are issues and concerns that, even when not addressed, won't affect the quality of the boiled water for drinking. For instance, a separate base is not needed because this is designed a one-piece kettle that completely functions a la heavy duty boiler.
What about a Stainless Steel Kettle?
If you're serious about drinking coffee of tea, then you're going to probably want a stainless steel electric kettle. They're more durable, look nicer on your countertop, and have a higher capacity than this one. Here are a couple of our favourites that you'll want to consider:
Ivation Stainless Steel Electric Kettle
Shop Now
So, worry not about the drawbacks. Get yourself (or gift a loved one with) a Proctor Silex Electric Kettle to enjoy the unlimited hot drink you love the most. Go to the Amazon page to buy the Proctor Silex Electric Kettle today.

Have your Say about the Proctor Silex Water Heater
What are your thoughts about the Proctor Silex Kettle? Is it the right electric kettle for you, or are you considering another brand?  Leave a comment below and let us know what you think. We'd love to hear from you.
Also be sure to give this article a share on Facebook, Pinterest, or Twitter. It'll help other coffee or tea drinkers, like yourself find this useful resource.