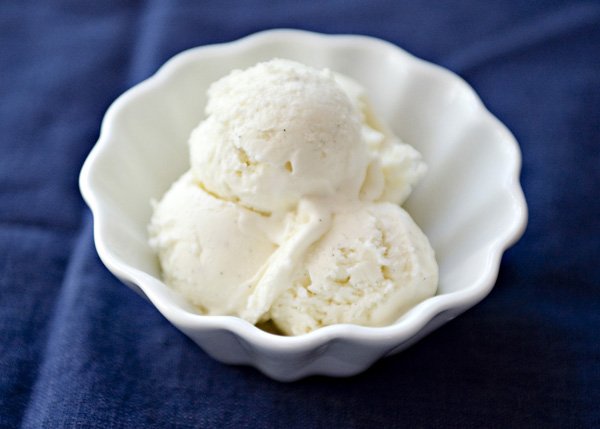 If you like ice cream, then you're going to LOVE homemade ice cream. It's simply one of the best summertime treats that you could enjoy. Keep on reading to find out our simple recipe for homemade vanilla ice cream.
Homemade Vanilla Ice Cream: A Simple Recipe
Homemade Vanilla Ice Cream is a deliciously sweet treat that every member of your family will enjoy on a hot summer day. It can also be enjoyed year-round of course and nobody will refuse your offer of a bowl of homemade ice cream.
While there are a million and one flavours of ice cream that you can make with an ice cream maker, I prefer homemade vanilla ice cream. It's a classic and when you make your own at home with this simple recipe, just about the perfect food.
It's easier than you think to make homemade vanilla ice cream. You just have to follow a few simple steps. Read on for all the details on making this sweet treat for your friends and family.
Step #1: Get an Ice Cream Maker
While it is possible to make homemade ice cream without an ice cream maker, it's far easier and simpler to use one and it does most of the hard work for you. You'll just have to dissolve the sugar into your milk and cream, pout it into the machine and then wait around 30 minutes or so.
There are a ton of choices out there for ice cream makers and it can be a bit overwhelming to choose the best one. We've done the hard work for you. Check out our list of Top 5 Ice Cream Machines for help in choosing the right one for you and your family.
Step #2: Collect your Vanilla Ice Cream Ingredients
In order to make homemade vanilla ice cream, you'll need:
3/4 cup white sugar
1 cup heavy whipping cream
2 1/4 cups milk (2% is fine)
2 teaspoons vanilla extract (the pure/natural vanilla extract is most delicious)
That's it! Just four ingredients.
Step #3: Dissolve that Sugar
Now that you've got your four ingredients ready, put the first three in a small pot over low heat. Make sure the sugar has dissolved and there's a small ring of foam around the edge. Then take it off the heat and transfer to another bowl or glass measuring cup. Add the vanilla and chill thoroughly. Overnight works best, but at least two hours at a minimum.
Step #4: Put into the Ice Cream Maker
Once your vanilla ice cream mix is thoroughly chilled, add it to your ice cream maker. Follow the manufacturer's directions.
When it's done, you can eat it immediately. Or, place a piece of plastic wrap on top of the ice cream and put it in the freezer for 3-4 hours if you like a firmer ice cream. But be warned. People will probably sneak spoonful here and there until there's nothing left come party time. It's best to serve immediately!
Step #5: Eat it All Up
This homemade vanilla ice cream is going to go fast. Really, really fast. So be sure to get at least a few spoonfuls before your family and friends eat it all up. Or, if your ice cream machine is big enough, just make a double-batch. Trust me on this one. People love this delicious classic and one you make it once, people will beg you to do it again, and again. It's that delicious.
We love to put fresh cherries on our ice cream for a delicious summer treat. An automatic cherry pitter makes this process much easier. And we also use an ice cream scoop for the best results.
P.S. My #1 Tip for Making Homemade Ice Cream
If you want to make delicious frozen treats at home, just skip all the hassle and get yourself this amazing Cuisinart Ice Cream Machine. Sure, you can make this recipe by hand too using salt, ice, cans, etc. but it takes a ton of time and effort.
Sure, there are ways that you can make ice cream by hand, but it also comes with a ton of clean-up, time, and hassle. It's fun for a special treat, but it's not great for everyday use. If you want to enjoy homemade ice cream on a regular basis, then you'll certainly want to consider a top-quality ice cream maker that will save you a ton of time.
Check out the #1 best-seller on Amazon, which comes with my own personal recommendation. You'll love it. And it's so simple that even kids can make homemade ice cream easily. The sky is the limit in terms of what kind of ice cream you can make with this thing, so get creative!

Have your Say about Making Homemade Vanilla Ice Cream
Do you have any tips or tricks for making homemade vanilla ice cream? Any secret recipes that you'd like to share with us? Leave a comment below and let us know what you think. We'd love to hear from you.
Also be sure to give this article a share on Facebook, Pinterest, or Twitter. It'll help other sweet tooths, like yourself find this useful resource.