Are you looking for a top-quality, but affordable electric kettle for your home or office? Then you'll want to consider this one from Secura.
Read our buying guide packed with information to help you decide if it's the right electric kettle for you.
Secura Electric Kettle Review
The Secura Stainless Steel Electric Kettle ha some excellent reviews from users. It is also regarded as a bestselling product in the category and makes a great choice for those who like tea at home. A lot of people prefer this water boiler because it's very light. It is also spacious enough to accommodate 1.8 quarts of water.
Secura Water Boiler: An Energy Saving Kitchen Appliance
The Secura Stainless Steel Electric Kettle features a two-wall cool touch exterior that protects the hand when pouring the water. No plastic is ever attached or included in any part of this kettle. Therefore, one can guarantee clean water boiled well in pure stainless steel material.
It is also designed to save energy. This means a lot of savings for the user on both energy consumption and product purchase.
Double-Wall Construction for Added Safety
What makes this kettle more convincing is the safety it provides its user. The double-wall construction of this kitchen item doesn't just keep the hands from danger. It also boils water quickly and keeps it warm for a long time. The Secura Stainless Steel Electric Kettle comes with a 2-year warranty.
Plastic Free Construction
If you're looking for an electric kettle, minus all the plastic, this one may be right for you. We LOVE the stainless steel construction. Not only does it look nice, but it feels sturdy and you can feel secure, knowing that you're not drinking toxic chemicals.
Where to Buy the Secura Kettle?
The top-quality Secura Stainless Steel Electric Kettle is available on Amazon, and you can often get free shipping with a Prime membership:

Compare the Best Electric Kettles
For even more choices, take a look at our Top 5 Best Electric Kettles. Or, check out this comparison chart below:
The Specs for the Secura Electric Kettle:
2-year warranty
1500 heating power
Double Wall assembly
Boils water quickly (1500 Watts power)
Water stays warm longer
Stainless steel construction for the water reservoir, lid, etc.
BPA free exterior that stays cool to the touch
1.7L capacity
Locking lid prevents accidental spills
Automatic shut off features ensure it will never boil dry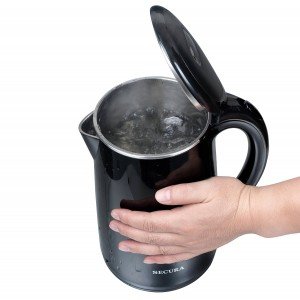 People that Like the Secura Stainless Steel Electric Kettle are Saying:
—>Read More Customer Ratings and Reviews Here<—
"The interior of this Secura kettle (including the lid) is 100% stainless steel. It is also larger than most of the other kettles out there, which I appreciate because there are a few coffee and tea drinkers in my family."
"The Double-wall assembly keeps the boiled water hot for a long time, even longer than expected. It's also cool to the touch, making it a nice choice in a household with little kids who love to touch everything I've tried T-Fal and Hamilton Beach kettles but didn't like them as much as this one!"
"The unit heats up quickly and the outside does not get hot at all. It"s quite impressive and I love that it's plastic-free as well. I make homemade Greek yogurt and need precise temperatures of water. This thing is great for that."
"It's hard to find an electric kettle with ABSOLUTELY NO plastic on the inside. Luckily, I found this! I've had it for a few years now and it's still going strong."
Secura Electric Kettle Review
Drawbacks of the Secura Stainless Steel Electric Kettle:
Too big to handle for some
Only one colour available
Eats up too much space in the kitchen
Takeaway on the Secura Stainless Steel Electric Kettle:
If you are a tea or coffee enthusiast, then, the Secura Stainless Steel Electric Kettle is for you. The water stays hot for a long time. This means you don't need to boil and re-boil every time just to enjoy a refill of your favourite hot drink.  Physically, its two-wall assembly makes the external part cool to handle.
Generous, 2-Year Warranty
The unfavourable feedback is not quite noticeable since it does not affect the quality of the boiled water. Not only that, the new owner is given a 2-year warranty so there's no room for any hesitation here. Space and weight of the kettle are two other issues that should be least when it comes to worries. What's more important is that you get your hot or boiling water anytime you want and need it.
Enjoy Hot Tea and Coffee All Day with the Secura Water Boiler
Enjoy hot tea and coffee with your loved ones at home all day. Buy this kettle that will keep you satisfied with your hot drinks at home anytime of the day.
Buy it Today
Visit Amazon by clicking the "Buy Now" button below to buy the Secura Stainless Steel Electric Kettle today. Check now for the lowest prices and don't forget to see if this product is eligible for fast, free shipping with a Prime membership:

Pair with a French Press for the Ultimate Cup of Coffee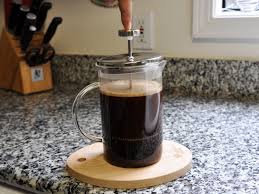 At our house, we pair up this top-quality Secura Electric Water Kettle with a French Press for the ultimate cup of coffee in the morning. It's fast, easy and most importantly, tastes delicious.
Okay, that's not entirely true! We also have a cup or two in the afternoon when we're home. We're a little bit addicted.
With this high-powered kettle, you can have a steaming cup in your hands in what seems like just a couple of minutes. It really is that easy to have a nice, delicious cup of coffee in your hands!
What are your Thoughts about this Electric Kettle?
Leave a comment below and let us know what you think about the Secura Stainless Steel Kettle. Is it the right one for you, or are you considering another brand? We'd love to hear from you.
Also be sure to give this article a share on Facebook, Twitter, or Pinterest. It'll help other coffee or tea enthusiasts, like yourself find this useful resource.