Have you ever dreamed of a theater experience right inside your home? Isn't it nice to see yourself enjoying a grand time with the whole family while watching your all-time favorite movie? If your answer to both questions is a big YES, we have one great tip to make your experience complete and more exciting.
Reasonably Priced Quality
Invest in a top-quality popcorn maker for everyone to have that 'theater feeling' right inside the comfort of your home.
You need not have a big amount of money to enjoy homemade popcorn while watching films with your loved ones. The popcorn machines we included in our Top 5 Popcorn Makers are based on affordability, quality and features.
Our Top Choices
Read on and pick the one that suits your budget and popping preferences. But, here's a sneak peak of our top picks:
Now, let's get into more details for each one.
---
#1: Presto PowerPop Multi-Popper
Are you looking for a popcorn maker that's not too heavy? Opt for the Presto PowerPop Multi-Popper. It is just enough for you to easily move this machine around the kitchen because it is lightweight.
This popcorn maker makes up to three-quarts of popcorn fast, as well, just enough for two to three persons to finish while watching a movie or TV series. It doesn't matter if choose the hybrid, gourmet or the white popcorn.
Less than Three Minutes for Delicious Popcorn
All that matters is, this Amazon bestseller can pop any kind of popcorn with theater quality in just less than three minutes.
We ranked the Presto PowerPop Multi-Popper our first in our list because it is one of the cheapest on the list. It is compatible with any kind of popcorn.
Delicious and Healthy
Whether you prefer the gourmet or regular popcorn, you'll definitely achieve the same high quality and taste. With such an affordable price, this popcorn machine performs as if it costs expensively. So perfect for solo, double and triple eating, the Presto PowerPop Multi-Popper pops fast in more than two minutes.
Clean-Up is a Breeze
We love that you're able to make popcorn in the microwave with this thing with no added oil or butter. This makes clean-up easier than ever. Just a quick rinse and you can put it back in the cupboard. Sometimes, we don't even do that!
Learn More About it
See: Full Review of the Presto PowerPop Multi-Popper.
You can easily buy the Presto PowerPop Multi-Popper on Amazon:


Presto Microwave Popper Review
---
#2: Cestari Kitchen Popcorn Machine
Our second cheapest in the Top 5 Popcorn Maker, the Cestari Kitchen Popcorn Machine, is also highly rated on Amazon today. Its price is reasonable too, that a lot of popcorn fanatics choose it over other brands.
Microwave Popcorn Popper: Cooks Quickly and Easily
You just need less than three minutes to pop delicious kernels with this high-quality product. Popcorn machines like this are ideal for consumers to save more money and spend more quality time with their family.
Those who have already tried this popcorn maker have already attested that eating popcorn with this equipment is a lot healthier than the store-bought one.
It's also very easy to clean with just a quick wipe. It's microwave popcorn made easy!
Healthy, Amazing Popcorn in the Microwave
On top of the popcorn for microwave oven, kernels popped in this Microwave top-rater are surely healthier. The plastic is BPA so you can be assured of safety. Minus the oil, you can cook gourmet kernels using the microwave popper.
The popcorn maker is lightweight so you can easily move it around your kitchen. It is not that big too, so it does not consume too much weight wherever you position it.
Shop Now
See: Full Review of the Cestari Kitchen Popcorn Machine.
You can purchase the Cestari Kitchen Popcorn Machine on Amazon today. Making popcorn is easier than ever.


---
#3: Presto PopLite Hot Air Popper
The Presto Pop Lite Popcorn Maker is the No.1 bestseller in popcorn poppers on Amazon today. A lot of households opt for this popcorn maker for its compact design, and the fact that air poppers are a very healthy way to make popcorn without added oil.
Compact and Sleek
You will definitely address issues on space with this kitchen gadget as it is lightweight and not too big. Put it on top of the kitchen counter or in one corner and this popcorn machine won't consume much of the space.
The top lid is also dishwasher safe.
Requires No Added Oil
For a long time now, the Presto Air Popper has been famous for its reasonable price. Certainly, this popcorn maker pops kernels without oil or added flavor. It can make a lot of cups or popcorn in a very short time and is a perfect snack for hungry children (or adults too!)
No Unpopped Kernels
Not only that. The popcorn machine makes popcorn faster than the microwave oven in less than 2-1/2 minutes. What makes most homemakers love this Amazon bestseller is that, it has almost no 'unpopped' kernels.
Where Can I Buy It?
See: Presto Popcorn Maker Review.
You can easily get the Presto PopLite Popcorn Machine on Amazon today:


---
#4: Whirley-Pop Stovetop Popcorn Popper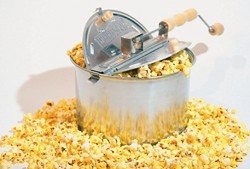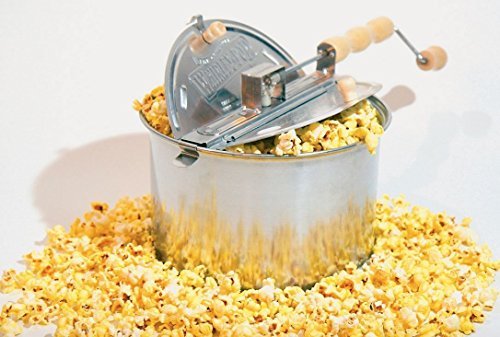 The Whirley-Pop Popcorn Maker is an ideal popcorn maker for home cooking. It makes up to six quarts of theater-quality popcorn in only three minutes. What makes the popcorn excellently popped with this equipment is that, is its nonstick stirring mechanism.
Durable, with a Cool-Touch Handle
This special feature makes the popping almost 100 percent, too. Not only that, this popcorn maker is made of durable aluminum pan with a clip-on cover. It has a wooden handle too, to keep the kernels from burning and ready to eat. Just be sure to turn it often once it starts popping.
Extremely Popular!
Our fourth is one of the most-purchased popcorn machines available in the market today.With only a small amount of money to spend, families can already enjoy quality movie time together over bowls of popcorn inside the comfort of their home.
This means parents need not spend extra for movie tickets and gourmet popcorn. Check out our favourite popcorn seasonings to make this treat even more special.
"I wasn't sure about this thing because I've usually stuck with the hot air poppers. But, I was pleasantly surprised that it produced the best popcorn I've ever tried!"
Quick Tips:
Don't forget to have your serving bowl ready on the countertop beside this one. As soon as you hear the last kernel pop, you'll want to get the popcorn out and into the bowl in order to prevent burning.
Oh, and it's so delicious that you'll probably have to make another batch of popcorn after the first one so have your butter and salt at the ready.
Also be sure to follow the instructions that came along with it because it's unlike any other unit that you've probably tried.
Where Can I Find Out More?
See: Review of the Whirley-Pop Stovetop Popcorn Popper.
This Stovetop Popcorn Popper is now available on Amazon:


Whirley-Pop Review
---
#5: West Bend Electric Popcorn Popper
You don't have to be a movie lover to appreciate a bucket of popcorn at home.  With a West Bend Popcorn Popper at home, you can pop kernel anytime, whatever activity he does. Kids will be inspired to review their lessons, make assignments and complete their project while munching on some popcorn.
Makes a Large Quantity
Your whole family is sure to look forward to Friday and Saturday nights for movie time with popcorn and juice or soda to complete the fun viewing. In just five minutes, this popcorn popper can already make generous servings of popcorn. It can actually pop up to six quarts of kernels.
Fluffy, buttery, delicious popcorn makes the ultimate night-time snack!
Top-Rated Machine
The West Bend Popcorn Maker is one of the highly-rated popcorn machines on Amazon today.  Individuals who love to invite friends and relatives to their homes will surely find this product a perfect must-have.
It has features that make store-bought quality popcorn. Designed not-so-big and lightweight, this popcorn machine is a great attraction, too in the kitchen. If you want a healthy snack and a machine that gets the job done, this one might be it.
Shop Now
See: Full Review of the West Bend Electric Popcorn Popper.
You can easily purchase the West Bend Popcorn Machine on Amazon:


---
#6: Great Northern CounterTop Popcorn Popper
If you're looking for a bit of a novelty item that you can pull out for parties or celebrations, then you'll want to consider this antique style popper from Great Northern. It's sits on the counter and looks just like the machines you'd find at country fairs on carts or at the movie theatre.
Key Features
Runs on 860 watts
Can make 3 gallons per batch
Reject kernel tray
Includes a warmer, warm deck and popcorn scoop
Stainless steel construction
Easy to clean with water

Weighs 36 pounds
5 year warranty
Some minor assembly required
What Do People Think about It?
—>Read More Customer Reviews on Amazon<—
"Excellent machine for a super reasonable price. Some comparable units at the kitchen specialty store near my house are 3-4x more, but they appear to be very similarly made. You do indeed have to set it up, but it required no tools and took only a couple minutes. We pull this thing out for every single party and people love it!"
"Mine is 10 years old and still ran great until a couple weeks ago. No issues with durability, but we moved recently and them movers ended up breaking ours when they dropped it. Ah! But, we're just buying another one from Great Northern."
"Amazing and highly recommended! It has a retro style and feel to it, but also works as well as any modern appliance. Just a quick tip though—the company recommends using water to clean it, but it seems like this may cause some rusting eventually. I just use a dry cloth and it works really well."
Where to Buy It?
Does it sound like exactly what you need at your house to make that next birthday party a special one? You can shop now on Amazon and you'll often get free shipping with a Prime membership:

---
#7: West Bend Stir Crazy Popcorn Popper
If you're looking for a top-quality popper, then you'll definitely want to consider the West Bend Stir Crazy. It's an electric hot oil popper than makes some seriously delicious fresh popcorn at home.
The large, 6 quart capacity is big enough for your entire family during your next movie night. Or, you can make multiple batches in just a few minutes with this powerful machine.
There are also a ton of features that you'll love including lid that can be used a bowl, easy clean-up and convenient storage options. It's obvious the company has put a ton of thought into this kitchen appliance.
Key Features
Clear lid doubles as a bowl for very easy clean up
Cooking plate is nonstick for fast clean-up
Cord wraps under the unit for easy storage
Nesting lid for easy storage
Butter well on lid
Hot oil popper
On-off switch
The base has a small footprint on the counter or in the cupboard
Customer Reviews and Ratings
—>Read More Customer Reviews Here<—
"Amazing, and makes some delicious popcorn, similar to something like the Whirley Pop that is also an oil popper. Just about the only negative is that it's difficult to clean the salt and oil out of all those little nooks and crannies. 
"So much healthier than microwave popcorn with all those weird chemicals in it! I much prefer oil popped popcorn, and this is a little bit safer than just doing it on the stovetop in pot. The butter well actually did well at melting the butter and bowl/lid make it very convenient."
Shop Now for the West Bend Stir Crazy Popper
Does it sound like exactly what you need? You can shop now for it on Amazon:

Have your Say about these Popcorn Maker Reviews!
What is the best popcorn machine? Leave a comment below and let us know what you think.
Also be sure to give this article a share on Facebook, Pinterest, or Twitter. It'll help other popcorn buffs, like yourself find this useful resource.