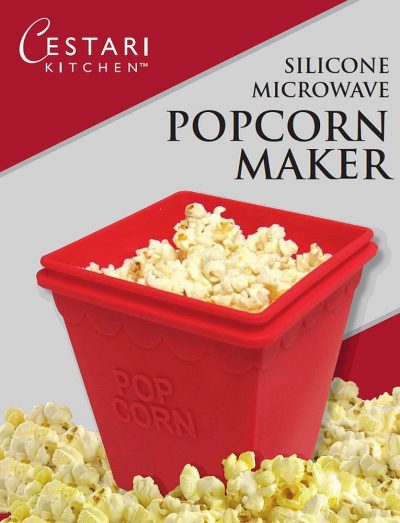 If you're looking for an easy way to make healthy, delicious popcorn in the microwave then look no further than Cestari Kitchen. Keep on reading for our guide to this popular popcorn maker.
Cestari Kitchen Popcorn Machine Review
The Cestari Kitchen Popcorn Machine is one of the popcorn makers that have a high rating on Amazon today. It costs affordably too that many popcorn aficionados opt for it over the other brands. It only takes less than three minutes to pop delicious kernels with this high-quality product.
Very Affordable
Popcorn machines make the consumers save more money and spend more quality time with their family. Those who have already tried this popcorn maker can attest that eating homemade popcorn with this equipment is a lot healthier than those consumers buy from the store.
Doesn't Require Oil
Other than the popcorn for microwave oven, kernels popping in this Amazon top-rater can assure of a healthier life. Without the need of oil, an individual can already cook gourmet kernels using the microwave popper. To add a bit of pizzazz, why not try out one of these fun popcorn flavours.
Sleek and Stylish
The popcorn maker is lightweight so the user can easily move it around the kitchen. It is not that big too, so it does not consume too much weight wherever its owner positions it. Keep it in the cupboard for easy storage when not is use. It's also ideal for college students who want an affordable snack.
Where Can I Buy It?
The Cestari Kitchen Popcorn Machine is available on Amazon:


Key Features:
5 x 5 x 6 inches
11.2 ounces
Pops faster than the other brands
Made from silicone (BPA and Phthalate free)
Use 1/4 cup of unpopped popcorn to make 8 cups of popcorn
Pops kernel generously
High-quality popcorn maker
Air pop (no oil needed)
Healthy option for a kernel popper
People that Like the Cestari Kitchen Popcorn Machine are Saying:
—>Read More Customer Reviews on Amazon<—
"The popcorn popper works GREAT! The kernels were really nice and fluffy. If you want to add salt and butter, add that after. If you do it before, it all ends up sticking to the sides and not to the popcorn."
"We really enjoy this popper. It is a much healthier alternative to prepackaged microwave popcorn and clean up is really easy with just a quick rinse, if that. Sometimes we just put it back in the cupboard without cleaning it!"
"The Microwave Popcorn Popper seems to work very well, and is really easy to use! It is a good-sized popcorn popper that holds about the same amount of popcorn found many Microwave Popcorn bags. You may have to adjust the time depending on your microwave so listen carefully the first few times for when the popping stops."
Cestari Kitchen Popcorn Maker Review
Drawbacks of the Cestari Kitchen Popcorn Machine:
Only those with microwave can use this
Inaccurate measurement according to some
Not recommended for big families as it makes just 2 quarts of popcorn
Some issues with 'unpopped' kernels
Compare the Best Popcorn Makers
For even more of the top choices, you'll want to check out this article: The Best Popcorn Makers.
The Takeaway on the Cestari Kitchen Popcorn Machine:
Do you believe that popcorn is healthy? If for some, the food is a junk, make popcorn a healthy treat for you and your family. Since the Cestari Kitchen Popcorn Machine air-pops the kernels, theirs is no need to add oil to make excellent popcorn.
The kernels get cooked naturally in the hot air this popcorn maker emits. If you want theater-quality yet healthy popcorn, you should own a Cestari Kitchen Popcorn Machine.
Less than 3 Minutes
It's not all the time that you can find a popcorn machine that pops kernel for less than three minutes. The cooking minus the oil results in almost perfect popcorn. It is less likely to burn a kernel with the Cestari Kitchen Popcorn Machine.
A Ton of Features You'll Love
With these special features, there's definitely no reason for you not to opt for this brand. This is a healthier option, too! Imagine yourself enjoying a bowl of popcorn without any drop of oil. Isn't it amazing?
Healthy and Delicious Popcorn
The best news about this Amazon favorite is that, it is environment-friendly as it is BPA-free. Change the wrong connotation that popcorn is not healthy. Own this user-friendly, economical and pro-earth popcorn machine to prove that implication wrong.
Visit the Amazon page to buy the Cestari Kitchen Popcorn Machine today:


Have your Say about the Cestari Kitchen Popcorn Maker
What do you think about this popcorn machine? Is it a winner, or are you considering another brand? Leave a comment below and let us know.
Also be sure to give this article a share on Facebook, Pinterest, or Twitter. It'll help other popcorn enthusiasts, like yourself find this useful resource guide.