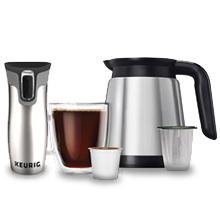 Are you looking for a simple, convenient way to make coffee at home or in the office? Then you'll want to consider the K250 by Keurig. Read our buying guide packed with information to help you decide if it's the right coffee maker for you.
K250 Brewing System Review
The Keurig K250 Brewing System is undoubtedly one of the easiest to operate coffee makers available today. It has an ample 40-oz water reservoir to make more cups of brewed coffee. The LCD touch-screen allows the user to operate this machine with total ease and convenience.
Easy to Use
One needs not be tech savvy to operate this kitchen equipment. The one-touch mechanism lets him easily choose the brew strength for stronger-tasting coffee. Indeed, the user enjoys his freedom of choosing the beverage he prefers.
Brews Quickly
The Keurig K250 Brewing System has a high rating on Amazon. One can already enjoy a coffee shop quality coffee with this this Keurig series. Individuals can certainly use this machine at home no matter how busy they are.
Even if they are in a hurry, they can still have their brewed coffee. Indeed, brewing is convenient with this machine as its water reservoir can be detached for easy filling and refilling.
Where Can I Get It?
The Keurig K250 Brewing System is available on Amazon. Don't forget to sign up for a prime membership because you can often get free shipping along with your order.

For Coffee Enthusiasts 
This highly-rated kitchen gadget is very special. Its brewing technology is designed to recognize each K-Cup lid or carafe pack to make perfect coffee constantly. What's more important is the separate control for making other specialty drinks like mocha, hot chocolate and chai tea.
Additionally, it is Keurig's trademark to allow its user to choose hundreds of coffee and tea variants. Therefore, this kitchen must-have is designed not just for coffee lovers, but for any enthusiast of coffee, tea or mocha.
The Specs:
16 x 11 x 16 inches
11.5 ounces
Can accommodate up to 40 oz of liquid
Touch-screen operation
Detachable drip tray for easy cleaning
Compare Keurig Coffee Makers

Or, check out our Top 5 Keurig Coffee Makers article for even more choices.
People that Like the Keurig K250 Brewing System are Saying:
"I love this Keurig Brewer! It's sleek and sophisticated design goes well with other kitchen appliances. My whole family uses this every single morning for a cup of coffee, hot chocolate or tea."
"I love my Keurig 2.0 brewer. This is the first Keurig product I've tried, but I am glad I made the switch from a regular old coffee pot. It's faster, more convenient and best of all, makes a really nice cup of coffee."
"I LOVE this brewer!! It is really quiet compared to the older versions, which is important to me so that my kids won't wake up with the sound of my coffee maker in the morning."
Keurig K250 Review
Drawbacks of the Keurig K250 Brewing System:
Just K-cup for brewing
Some worries about the environmental impact of all these non-recyclable pods
Older Keurig model is better according to some
Some prefer bigger capacity
Some complaints about the easy-operation
Takeaway on the Keurig K250 Brewing System:
Does the strength of your coffee depend on your mood for the day? Well, not all coffee shops can let you decide how strong you want your brewed coffee to be. But do you know that you this can be possible at home?
Your Own Coffee Shop at Home
With a Keurig K250 Brewing System in your kitchen, you can always dictate the strength of taste of your favorite hot beverage. With this function, there's no more need to bother going to a nearby coffee shop.
Perfect for all Kinds of Beverages
Whatever your mood is, you certainly want a cup of coffee beside you. It's a good thing the Keurig K250 Brewing System comes in different sizes for brewed coffee, tea or hot chocolate.
Various Sizes
You may opt for the 12, 14 and 16 oz depending on your coffee preference at the moment.Experience the coffee shop ambiance inside the comfort of your home with this best-selling brewing system.
Shop Now
Click the button and be led to Amazon to buy the Keurig K250 Brewing System today:

Have your Say about this Keurig Coffee Maker
What are your thoughts about the Keurig K250? Leave a comment below and let us know.
Also be sure to give this article a share on Facebook, Twitter or Pinterest.