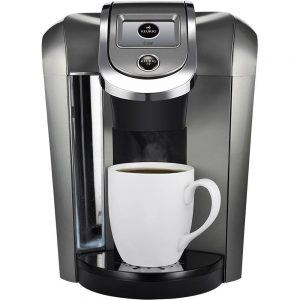 Do you want to brew yourself a hot, delicious cup of coffee with minimal hassle or clean-up? Then you'll need to read our buying guide packed with information for the Keurig 350 and Keurig 350 2.0 to find out if it's the right coffee machine for you.
Keurig K350 Brewing System Review
The Keurig K350 Brewing System is one of the easiest to operate coffee makers available in the market today. It can brew up to 4 cups of coffee that's so ideal for newlyweds and those living solo. One who is having an issue with space in his kitchen will definitely pick this.
It's ideal for coffee brewers!
Small in Size and Perfect for any Kitchen
It is sized just enough to suit the kitchen countertop. Aside from flavorful coffee, this machine can make other hot beverages too. It can make hot chocolate, chai tea and mocha, too.
It's the ultimate gift for the coffee lover that you might know!
We love the single serve feature of these machines so that you can make exactly what you need and no more. This is a negative of things like a drip coffee machine where it's quite difficult to make just one cup.
Chai, Tea, or Hot Chocolate Too
The Keurig K350 Brewing System is a coffee maker that utilizes the modern-day technology. One may opt to have simple and freshly brewed coffee for breakfast. And for after-meal dessert, he may choose to make a homemade chai tea or mocha to partner a slice of cake or pastries.
You can use K-Cups, or some of the other brands of compatible pods as well.
4-Cup Carafe Feature
Couples who love intimate moments over a cup of coffee are sure to love this product's 4-cup carafe. It includes a single-serve Keurig cup that perfectly suits the machine for perfect brewing.
What makes this easy-to-use coffee maker very special is the brand or label itself. Keurig manufactures accessories which the user may opt to have on top of the basic parts that come with it.
Do you just want a single cup? It does that too of course!
Pick up Extra Cups at the Same Time
Though the cup already comes with the machine, extra K-cups are available for perfect blending and direct filling and pouring. A perfect must-have for one to accessorize his coffee maker is the storage drawer where the tea bags can be safely kept and secured.
Keurig k350 Review: The Summary
In review, the K350 from Keurig has a nice, elegant design that'll look nice in any kitchen. It brews coffee or other drinks quickly in just three minutes, making it ideal for busy people on the go. Combine that with the reasonable price and the Keurig K350 is a serious winner among Keurig brewers.
Are Keurig Coffee Makers Worth It?
Is a Keurig coffee maker worth it? If you value convenience, then it probably is. They do offer unparalleled convenience for making a single cup of coffee in a very short amount of time with no clean up. However, the Keurig pods as well as the machine itself can be quite expensive.
Where to Buy the Keurig 350 2.0?
The Keurig K350 Brewing System is available on Amazon, and you can often get free shipping with a Prime membership. Check now for the best prices on the Keurig K350:

The Specs for K350 Keurig:
18 x 13 x 16 inches
14 pounds
Can brew up to 4 cups
60 oz water reserve
Comes with a single-serving K-Cup
Has separate option to make hot chocolate and mocha
Features one-touch brewer
Black and white touch display
Advanced brewing technology for the perfect cuppa!
Strength control to adjust for different tastes
Excellent customer service and support
Includes a water filter
Compare Keurig Coffee Makers
There are a number of other top choices if you're looking for a coffee machine besides the K350 Keurig or the 2.0 K350.
For even more options, check out our Top 5 Keurig Coffee Machines. Or, take a look at our comparison chart below:
People that Like the Keurig K350 Brewing System are Saying:
—>See More Customer Reviews and Ratings Here<—
"After almost a year of having this brewer, I'm still in love with it. We use it every single day, multiple times and couldn't be happier with it! I see that you can now buy the Keurig 2.0 K350, which I'll get after this one breaks down. But, it seems super durable and I have a feeling it'll last for at least a few more years now. "
"This coffee machine brews coffee shop quality coffee. Also, it allows me to brew a single cup with 4, 8 or 10-oz selection. What I love most is that I can fill the coffee directly into my own cup."
"Words cannot describe how much I love my Keurig coffee makers (I have one at home, and one at work). I refer to it as instant gratification giver. It brews so quickly and quietly. Of course, it also tastes delicious and I love experimenting with the different pod options."
"This machine's pretty awesome! I use the "strong" setting when I brew my own ground coffee because it needs to steep just that extra few seconds. I am able to make delicious coffee with this brewing system and I couldn't be happier."
Keurig K350 Reviews
Do you want to find out more about this popular coffee machine for home or office? You can check out this K350 Keurig Review by watching the short video below:
Drawbacks of the Keurig K350 Brewing System:
A bit too small of reservoir
Carafe does not stay warm according to some
Expensive for some when used daily
The 2.0 doesn't allow you to use other brands of coffee
Some environmental concerns with it
The Takeaway on the Keurig K350 Brewing System:
If you are living solo, or you just got married, then what you should have is the Keurig K350 Brewing System. This product is a not-so-big nor not-so-small coffee maker.
It makes cups of coffee, just enough to satisfy 2 to 4 individuals at home. With just one touch of the button, you can already make your choice of coffee concoction at an instant.
So Easy to Use
You don't have to be a barista or culinary master to make a delicious coffee, mocha drink or chai tea. This coffee maker has an easy-to-operate brewing system. The digital one-touch display lets you choose what specific beverage you'd like to make.
Make yourself a hot drink with ease! And skip the clean-up because there isn't any.
Generous Water Reservoir
The 60-oz. water reservoir allows you to enjoy generous servings of coffee and other hot beverages. You may actually opt for the cold drink for a more refreshing feeling. With this coffee machine, you are given hundreds of choices for your coffee, tea and other drink variants—both hot and cold.
Enjoy a Beverage Today with this Coffee Maker!
Aside from the cup included in the box when you order this, other cups are readily and easily available and they are not that expensive at all. So, what are you waiting for? Own this bestseller and start enjoying your homemade hot or cold beverage.
Are Keurig Cups Dangerous?
The good news is that Keurig cups (K-cups) do not contain BPA which is known to be harmful. The company says that their cups are not dangerous and are made from "safe" plastic. However some studies show that even this type of plastic might be harmful when heated. Of course, K-Cups are not great for the environment!
Shop Now
Go to Amazon to purchase the Keurig K350 Brewing System to find the lowest prices. It's an awesome coffee maker that you'll love having in your home. Take a look at it right now and don't forget to see if it's eligible for fast, free shipping with a Prime membership:

K350 Keurig Review
Do you want to see the Keurig 350 in action? Then you'll want to check out this short video below to find out all the details that you need to know:
What about the Keurig 2.0 K350 Brewing System?
Okay, so you may want to know what the deal is with the Keurig 2.0 350 and whether or not you should consider buying it instead of the first version. First of all, these is not a lot of new stuff for this new system, and the both look feel and operate quite similarly.
You can still brew a variety of hot beverages quickly and easily, with minimal mess and fuss. It'll also likely be on your favourite kitchen appliances, just like your old machine!
However, there are some differences for the new models of Keurig brewing systems.
What's New with the Keurig K350 2.0?
Here are a few of the new things about the 2.0 that you need to know:
It reads the bar code on the lid of your K-Cup to make the perfect cup of coffee, every single time
New carafe brew feature, make one cup or multiple cups at the same time
Touch screen for easier customization of drinks
Includes a water filter
Are there any Downsides?
There are a couple things to be aware of with this new machine. First of all, it will only accept the newer K-Cup versions that have a bar code on them.
The second thing is that it can be difficult to use the refillable pods with this machine.
What Do People Think About the Keurig K350 2.0 Brewing System?
—>Read More User Reviews Here<—
"Great product and exactly as I expected it to be. I love how easy it is to make multiple cups of coffee at the same time—a huge improvement over the old one."
"Everything you need to make some delicious coffee at home. Just one small negative is that it comes with a plastic carafe. I ended up ordering the stainless steel K-carafe to use with it."
Where Can I Buy It?
Sounds like the right machine for you? It certainly might be if you have a family of coffee drinkers, or you have to prepare coffee for meetings at the office. Check it out on Amazon today:

Are there Other Keurig Coffee Makers to Consider?
Besides the K350, we've reviewed a number of other machines that you might want to consider. You can check them out here:
Have your Say about the K350 Keurig Review
What are your thoughts about this top-quality kitchen appliance? Is it the right one for you, or are you considering another brand of coffee maker? Leave a comment below and let us know what you think. We'd love to hear from you.
Also be sure to give this article a share on Facebook, Twitter, or Pinterest. It'll help other coffee drinking enthusiasts, like yourself find this useful resource.
Last update on 2021-04-09 / Affiliate links / Images from Amazon Product Advertising API