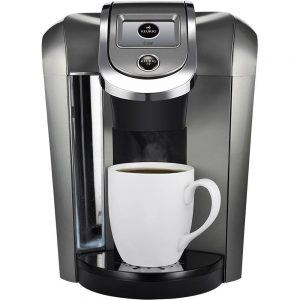 Review of the Keurig K350 Brewing System
The Keurig K350 Brewing System is one of the easiest to operate coffee makers available in the market today. It can brew up to 4 cups of coffee that's so ideal for newlyweds and those living solo. One who is having an issue with space in his kitchen will definitely pick this.
Small in Size and Perfect for any Kitchen
It is sized just enough to suit the kitchen countertop. Aside from flavorful coffee, this machine can make other hot beverages too. It can make hot chocolate, chai tea and mocha, too.
It's the ultimate gift for the coffee lover that you might know!
Chai, Tea, or Hot Chocolate Too
The Keurig K350 Brewing System is a coffee maker that utilizes the modern-day technology. One may opt to have simple and freshly brewed coffee for breakfast. And for after-meal dessert, he may choose to make a homemade chai tea or mocha to partner a slice of cake or pastries.
4-Cup Carafe Feature
Couples who love intimate moments over a cup of coffee are sure to love this product's 4-cup carafe. It includes a single-serve Keurig cup that perfectly suits the machine for perfect brewing.
What makes this easy-to-use coffee maker very special is the brand or label itself. Keurig manufactures accessories which the user may opt to have on top of the basic parts that come with it.
Do you just want a single cup? It does that too of course!
Pick up Extra Cups at the Same Time
Though the cup already comes with the machine, extra K-cups are available for perfect blending and direct filling and pouring. A perfect must-have for one to accessorize his coffee maker is the storage drawer where the tea bags can be safely kept and secured.
Where to Buy the Keurig 350 2.0?
The Keurig K350 Brewing System is available on Amazon:

The Specs for K350 Keurig:
18 x 13 x 16 inches
14 pounds
Can brew up to 4 cups
60 oz water reserve
Comes with a single-serving K-Cup
Has separate option to make hot chocolate and mocha
Features one-touch brewer
Black and white touch display
Advanced brewing technology for the perfect cuppa!
Strength control to adjust for different tastes
Excellent customer service and support
Compare Keurig Coffee Makers
For even more options, check out our Top 5 Keurig Coffee Machines. Or, take a look at our comparison chart below:
People that Like the Keurig K350 Brewing System are Saying:
—>See More Customer Reviews and Ratings Here<—
"After almost a year of having this brewer, I'm still in love with it. We use it every single day, multiple times and couldn't be happier with it!"
"This coffee machine brews coffee shop quality coffee. Also, it allows me to brew a single cup with 4, 8 or 10-oz selection. What I love most is that I can fill the coffee directly into my own cup."
"Words cannot describe how much I love my Keurig coffee makers (I have one at home, and one at work). I refer to it as instant gratification giver. It brews so quickly and quietly. Of course, it also tastes delicious and I love experimenting with the different pod options."
"This machine's pretty awesome! I use the "strong" setting when I brew my own ground coffee because it needs to steep just that extra few seconds. I am able to make delicious coffee with this brewing system and I couldn't be happier."
Keurig K350 Reviews
Drawbacks of the Keurig K350 Brewing System:
A bit too small of reservoir
Carafe does not stay warm according to some
Expensive for some
The Takeaway on the Keurig K350 Brewing System:
If you are living solo, or you just got married, then what you should have is the Keurig K350 Brewing System. This product is a not-so-big nor not-so-small coffee maker.
It makes cups of coffee, just enough to satisfy 2 to 4 individuals at home. With just one touch of the button, you can already make your choice of coffee concoction at an instant.
So Easy to Use
You don't have to be a barista or culinary master to make a delicious coffee, mocha drink or chai tea. This coffee maker has an easy-to-operate brewing system. The digital one-touch display lets you choose what specific beverage you'd like to make.
Generous Water Reservoir
The 60-oz. water reservoir allows you to enjoy generous servings of coffee and other hot beverages. You may actually opt for the cold drink for a more refreshing feeling. With this coffee machine, you are given hundreds of choices for your coffee, tea and other drink variants—both hot and cold.
Enjoy a Beverage Today with this Coffee Maker!
Aside from the cup included in the box when you order this, other cups are readily and easily available and they are not that expensive at all. So, what are you waiting for? Own this bestseller and start enjoying your homemade hot or cold beverage.
Go to the Amazon page to purchase the Keurig K350 Brewing System on Amazon today:

K350 Keurig Review
Are there Other Keurig Coffee Makers to Consider?
Besides the K350, we've reviewed a number of other machines that you might want to consider. You can check them out here:
Have your Say about the K350 Keurig Review
What are your thoughts about this top-quality kitchen appliance? Leave a comment below and let us know what you think.