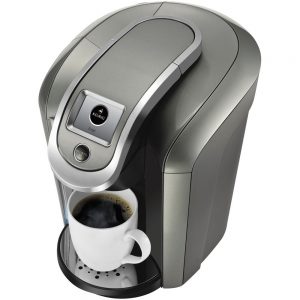 Are you looking for a top quality Keurig Coffee Maker? You've come to the right place. Keep on reading for our full guide to the Keurig K575 to help you decide if it's right for you.
Review of the Keurig K575 Coffee Maker
Keurig K575 Coffee Maker, Single Serve K-Cup Pod Coffee Brewer, Programmable Brewer, Platinum
Large 80 ounce water reservoir: Allows you to brew 10+ cups more before having to refill, saving you...
Multiple k cup pod brew sizes: (4, 6, 8, 10, 12 ounce); brews a carafe (22, 26, or 30 ounce) using k...
Strength control: A strength control setting allows you to brew a bolder cup using any k cup pod...
Extra large color touch screen: A digital clock makes it easy to brew a fresh, great tasting cup in...
The Keurig K575 Coffee Maker is a heavy-duty coffee machine designed to make perfect coffee at home. Families prefer this kitchen product not just for their everyday coffee needs but for special occasions, too.
Perfect for Parties with its Large Water Reservoir
Indeed, this Keurig product is perfect for parties with its large reservoir that can accommodate up to 80 oz of water. Its brewing sizes come in 4, 6, 9, 10 and 12-ounces. This means that, one can choose how much coffee he'd like to drink at a time. And, while waiting to be served, the coffee stays hot with this coffee maker.
Large Touch Screen for Easy Operation
The Keurig K575 Coffee Maker is easy to use too. Its super large touch screen allows the user to operate the machine easily. The one-touch mechanism lets one choose in-between brewing sizes. It's ideal for just about anybody who wants a delicious cup of coffee, tea or hot chocolate.
Like the other Keurig coffee machines, this one runs under the innovative Keurig 2.0 brewing technology. This product has the ability too, to recognize the lid of every cup, mug or carafe pod to make for really easy brewing.
Unique Feature: Temperature Control Setting
One difference the Keurig K575 Coffee Maker has, compared to the other similar machines is its temperature control. This has been the major complaint of many coffee maker owners, the absence of the temp control. Luckily, this kitchen gadget has what the others don't have.
More so, the K575 coffee machine can also brew 4 cups of coffee for those who want more. And just as what Keurig is known for, this product lets the user and coffee lovers choose from more than 500 coffee and tea variants.
Where Can I Buy the Keurig k575 Coffee Maker?
The Keurig K575 Coffee Maker is available online. Shipping is often free with Amazon Prime so click the button below to find out the lowest prices:

Key Features:
10 x 14 x 13 inches
14 pounds
Has a built-in temperature control
Comes with a large 80-ounce water reservoir
Colored touch screen
Can brew 4-12 oz cups, or 22-30 oz carafe
Hot water on demand dispenser
Compatible with the reusable Keurig reusable coffee filter so you can brew your own ground coffee
Compare Keurig Coffee Machines
Besides the Keurig K575, there are a ton of other ways to make coffee, including a number of other Keurig machines. They mostly vary in capacity and features. And of course, the bigger the unit and the more features, the higher the price.
For all the options, check out our Top 5 Keurig Coffee Makers, or take a look at the comparison chart below.
People that Like the Keurig K575 Coffee Maker are Saying:
"I love this thing so much. It has much more freedom than a coffee pot. Put in a cup, choose how much, how strong, froth, hot cocoa, anything! This is just so great. Unlike many other Keurig coffee machines, this one brews multiple cups, making it ideal for office meetings, etc. "
"I've had my new Keurig coffee maker for a week and so far it's awesome. It's a lot of fun to use and the coffee it makes is very good. I also enjoy offering hot drinks to my guests that come over. The large water reservoir and big touch-screen is super handy."
"The machine itself is the best that they have ever made. I especially like that you can put it under the cabinets on the counter and still open the lid. Also the coffee is very, very hot. Just how I like it!"
—>See More Customer Reviews for the Keurig k575 Here<—
Check out this Keurig K575 Review
Do you want to find out more about this single serve coffee machine? Then you'll want to check out the following video, the K575 review:
Drawbacks of the Keurig K575 Coffee Maker:
Is quite loud compared to other Keurig coffee makers
Inconvenient because of the required K-Cups needed according to some
Some complaints about not being easy to operate
Some people find it expensive
The Takeaway on the Keurig K575 Coffee Maker:
How do you like a coffee maker with its own temperature control? Not all brands have it. However, if this is what you're looking for then choose the Keurig K575 Coffee Maker.
A Ton of Features that You'll Love
It certainly has all the things you're looking for in a coffee maker. This feature allows you to select the strength of your coffee, as well as the hotness of your water. This way, you may opt to the temperature to the maximum for fast heating especially when you're in a hurry.
Automatic Shut-Off
The super large colored touchscreen allows you to see the brewing status. It has a digital clock to make your settings easier to adjust. And if you are oh-so-busy with other things at home, you can set the machine to automatic-shutoff. It's really easy to forget, but you don't have to worry about it with this one.
With this setting, the brewing automatically stops at the time you desire so there is no need to worry. Your coffee is still perfectly brewed even if you are attending to other chores at home. This is certainly worth your money.
Shop Now for the Keurig k575
Own this features-filled coffee maker and enjoy generous servings of different coffee and tea variants. Click the button below and be led to Amazon to buy the Keurig K575 Coffee Maker today:

Have your Say about this Keurig Coffee Maker, the K575 Review
What do you think about the K575 coffee machine? Is it the right one for you, or are you considering another brand? Leave a comment below and let us know what you think. We'd love to hear from you.
Also be sure to give this article a share on Facebook, Pinterest, or Twitter. It'll help other coffee enthusiasts, like yourself find this useful resource.
Last update on 2021-04-09 / Affiliate links / Images from Amazon Product Advertising API